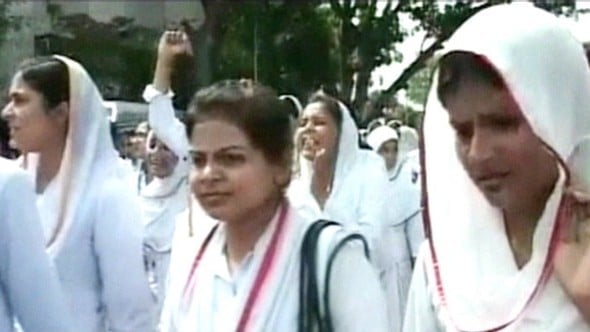 ---
KARACHI: Nurses in Jinnah Hospital Karachi are observing a strike against an attack on one of their fellows by a doctor.

A 22-year-old nursing student was treated for head injuries after she suffered a fall from the first-floor kitchen balcony of a doctors' colony suite inside Jinnah Postgraduate Medical Centre (JPMC) on Tuesday.

According to conflicting reports, student M was allegedly subjected to sexual abuse and had jumped to escape. A Medico-Legal Officer (MLO) is now in police custody in connection with this case.

JPMC Accident and Emergency chief Dr Seemin Jamali said in the evening that they were waiting for the medical reports. Later, a WMLO said that according to their initial examination it was rape. The president of the Pakistan Nursing Association, Iqbal Ahmed, had earlier told The Express Tribune that M had been locked up in the MLO's room for two days.  The police have yet to verify these claims.

According to a doctor on duty, M is a third-year student and hails from the Punjab.

Some children witnessed the fall. "I heard my children scream as they saw the girl fall from the balcony," reported Dr Saleem, who lives in the area. "When I went there I saw her lying face down, bleeding from her head." He said her clothes were torn and the MLO was looking down from his balcony. According to officials, the incident took place around 5:30 pm.

The MLO then jumped from the balcony and tried to escape, police said. As he was injured in the jump, people caught him and handed him over to the hospital administration.

"We complained to the hospital administration about the MLO many times. [He] had illegally occupied the room," claimed Dr Sangeeta, a resident of the colony.

According to reports, the MLO was suspended from his post on disciplinary grounds 15 days prior to the incident. The nursing association's Iqbal Ahmed said the MLO belonged to Badin district and used to work at Abbasi Shaheed Hospital.

The Saddar police registered an attempt to murder case under Section 234 of the Pakistan Penal Code against the doctor on behalf of JPMC security chief Arshad Janjua. In the FIR, Janjua stated that the MLO threw M from his room.

Saddar SHO Shabbir Hussain said that M was not in a position to record her statement. He said that it had yet to be ascertained whether she jumped of her own accord or was pushed or fell by mistake. "We found broken pieces of glass in the room, which suggests that there was some resistance before the incident," said the officer.

Published in The Express Tribune, July 14th, 2010.
COMMENTS (60)
Comments are moderated and generally will be posted if they are on-topic and not abusive.
For more information, please see our Comments FAQ