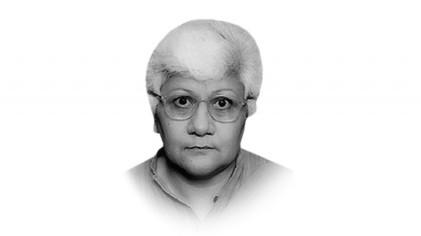 ---
These days America is out shopping for another war. The one in Afghanistan is down the toilet with the world's great power looking for an elusive face-saving exit strategy. The one in Iraq is winding down after gobbling up millions of innocent lives. The war gluttons are eyeing Iran covetously in the hope that it would provide an impetus for an economy chugging along at a slow pace.

Americans are addicted to war as much as they are to petroleum. The Hope-and-Change President Barack Obama has finally succumbed to his war time generals by saying "wars and conflicts will always be with us". His view is reinforced by General George Casey, the Chief of Army Staff, who declared that the United States could face another "decade or so" of persistent conflict in Iraq and Afghanistan.

However, the luscious prize now is Iran, the recalcitrant nation that refuses to bow down before US diktat. The 'independent' media and political ideologues are furiously making the case for military strikes on Iran, ignoring reports by 16 intelligence agencies, IAEA and Russia. The consent is being manufactured by using a number of myths that resonate deep with 'the American national psyche': 1. War is good for the economy because it generates aggregate demand and stimulates economic activity; 2. Iran has enough low-enriched uranium to make two weapons, which could be ready for delivery as early as 2012, a statement made by CIA Director Leon Panetta; 3. Iran is a major threat to Israel and world peace, an idea repeated ad nauseum by the neoconservatives and their representatives in the Congress and US Administration.

All three myths are open to challenge. The first is based on the idea that World War II brought the Western countries out of the Great Depression. However, the prolonged deception called 'war on terror' has stimulated a global economic downturn, and the US and some European states find themselves in deep recession and a threatening debt crisis.

The second myth that Iran is close to making a nuclear weapon is reminiscent of the manner in which false intelligence was manufactured to invade Iraq and the then CIA director George Tenet called it a 'slam dunk'. All reports by IAEA head Mohammad El-Baradei and weapons inspector Hans Blix were brushed aside arrogantly to launch a disastrous attack on Iraq until the chief of the Iraq Survey Group, David Kay, declared that "we were all, all wrong".

The third notion that Iran is a threat to world peace leaves one incredulous for it is the US aided and abetted by obsequious allies, which has gone on a rampage around the world.  Iran has not engaged in a major war against any country since its encounter with Iraq, reportedly instigated by the US. As for the threat to Israel, it is Israel itself that is an expansionist, racist state which does not believe itself to be subject to international law.  It is Israel which is reported to possess some 200 weapons of mass destruction.

There is no exit strategy from war because war is a necessary corollary of capitalism.  To quote Carl Von Clausewitz, "War is a mere continuation of politics by other means".  It is instructive here to revisit Vladimir Lenin. Describing imperialism as the monopoly stage of capitalism, and expounding upon the phenomenon of rival and competing imperialisms which seek a division and re-division of the world into spheres of influence, Lenin asks: "What means other than war could there be under capitalism to overcome the disparity between the development of productive forces and accumulation of capital on the one side, and the division of colonies and spheres of influence for finance capital on the other?"

The most widespread myth of modern times is that we live in a post-colonial world, even as countries continue to be attacked and become colonies before our very eyes.

Published in The Express Tribune, July 14th, 2010.
COMMENTS (10)
Comments are moderated and generally will be posted if they are on-topic and not abusive.
For more information, please see our Comments FAQ