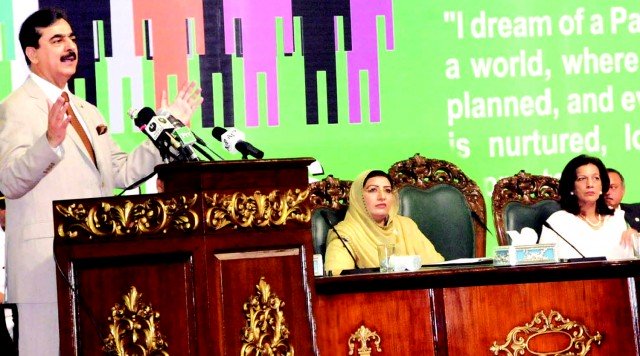 ---
ISLAMABAD: Prime Minister Yousaf Raza Gilani has said that rapid population growth is a bigger problem for the country compared to the water and electricity crises.

Addressing a national convention on population on Sunday, the prime minister said that the incumbent government is aware of the fact that rapid population growth is directly linked with poverty. "I take pride in sharing that the Pakistan Peoples Party is the only political party that includes population planning in its party manifesto," the premier said.

Praising the role of the ministry of population welfare, the prime minister said, "I am happy to note that despite the odds and challenges, the ministry has been working with dedication." The prime minister also announced that the year 2011 would be celebrated as 'Population Year' in order to highlight several issues linked with population and development. The prime minister called upon people from all walks of life to join hands with the government to control population.

Meanwhile, a special report prepared by Express 24/7 on the world population day has exposed that women in Pakistan are still struggling to face health care problems and a lack of female health rights.

Twenty-one-year-old Saba is one such woman. At such a young age, she has seen much of life at its worst. Her marriage of three years has been marred by physical abuse and this mother of two is now pregnant with her third child. It was only after much insistence, that her husband, a farm worker agreed to not to have any more children.

"Three months after my first son, I found out that I'm with my second child. Now we have decided not to have another one after our third baby. We live hand to mouth, there are days when my husband does not get his daily wage, so how will we bring up another one in such circumstances," she told Express 24/7.

Saba lives in the Padhana village along the Wagah border, an area with a total population of more than 20,000, all of whom have access to a single medical facility - the Basic Health Unit of the Punjab government.

Negligence is one of the prime reasons behind the high mortality rate of women in Pakistan during childbirth. And for many of these women, even affording good food and healthcare is not always possible. While talking to Express 24/7, health worker Mumtaz Akbar said, "Proper diet is crucial for a mother's health, and all that we can do is give advice to them. We can't help them afford healthy food."

It seems that the advice is working somewhat as more and more people now approach medical health facilities to know about family planning and contraception. Health visitor Zaibun Nisa said, "First we used to go after people, but now they come after us. Even after their first child, women come to us for advice."

However,  eventually it is poverty that rules the decision of couples who decide not to have children anymore while a shortage of medicines and a lack of adequate health facilities for women is a major issue that plagues Pakistan. APP (With additional reporting by Rabia Mehmood)

Published in The Express Tribune, July 12th, 2010.
COMMENTS (2)
Comments are moderated and generally will be posted if they are on-topic and not abusive.
For more information, please see our Comments FAQ