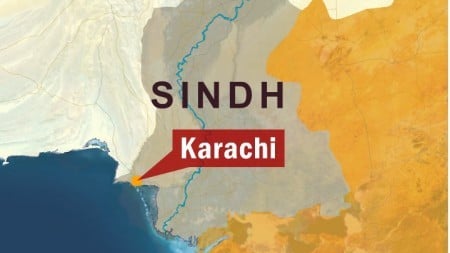 ---
KARACHI: Mechanics and three-stroke rickshaw drivers were right beside the government's team sent to clean up the kerosene spilled along the road to Bilawal Chowrangi after an oil-tanker overturned on Thursday.

A Kandahar-bound oil tanker carrying 40,000 litres of kerosene overturned near Bilawal House. The vehicle was carrying fuel supplies for Nato forces in Afghanistan. It was removed with the help of heavy cranes after a six-hour struggle.

According to a waiter at one the restaurants in the area, several people brought drums and filled them with the spilt kerosene. "A man on a donkey cart was stopped by police [when he was scooping up the oil] but was later released," added the waiter.

Meanwhile, the restaurants, including Bar-B-Q Tonight which is right where the accident took place, ignored the environment minister's instructions to stay closed for 24 hours after the spill occurred. Nearby restaurants had been asked to remain closed in order to avoid contamination of food and drinks from the dangerous fumes, which health experts said could mix with the air and cause respiratory conditions.

However on Saturday, an official from the environment department reassured people that the oil spill had not affected the drainage system of the area nor did it pose a threat to the marine life. By now the oil fumes have already vaporised, he said, adding that they were still changing the sand that was scattered over the oil to get rid of the slipperiness.

According to a senior officer with the Sindh Police, these oil-carrying tankers which speed along even in the densely populated areas of the city pose serious safety risks. While they are dangerous on account of accidents and oil spills, another greater threat is that of a possible terrorist attack.

"The tankers parked in lanes near the beach can lead to an unpleasant situation because if there is an explosion in even one tanker, there could be a chain reaction, resulting in heavy loss of life and property," the officer said.

The hundreds of tankers that were parked in Shireen Jinnah Colony, block one, Clifton have finally moved after several court orders and been placed along the KPT fountain at the Seaview beach.

Various logistics operators transport oil from Karachi to parts of Khyber Pakhtunkhwa, from where it is taken to Batgram Base among others.

After the tankers are filled from National, Shell and Daud Depots they are taken to Mauripur to be weighed at Gul Bhai Kanta. From there they return to a temporary station at Clifton and stay there for three days after which they leave for their destination, explained Azam Khan of MBT Tankers. "The tankers supply JP-8 oil for the aircraft to Nato forces."

However, the Sindh police officer maintained that the monitoring system at Kanta was scarcely effective. All transporter groups get clearance chits no matter how overloaded their tanker is, he added.

The tanker line is classified into contractor groups such as MBT owned by Mengal Brothers, VPL by Nazeer contractor, BLP by Bilal Borthers and AHL by al Haj brothers who are the main men in the business. Each tanker group is issued a license number and the entire group operates under that number. For instance, the VPL tankers were issued license number 2522, which is on all of their tankers. According to Azam, it takes a month to make a round trip from Karachi to KP and Batgram Base at a cost of Rs0.25 million per tanker.

An average 18-wheeler tanker carrying 60,000 litres of oil weighs 46 tons while the weight of a tanker on its own is 21,500 kilogrammes. A 14-wheeler carrying 44,000 litres of oil weighs 38 tons with the tanker's weight being 18,500 kg.

Published in The Express Tribune, July 12th, 2010.
COMMENTS
Comments are moderated and generally will be posted if they are on-topic and not abusive.
For more information, please see our Comments FAQ