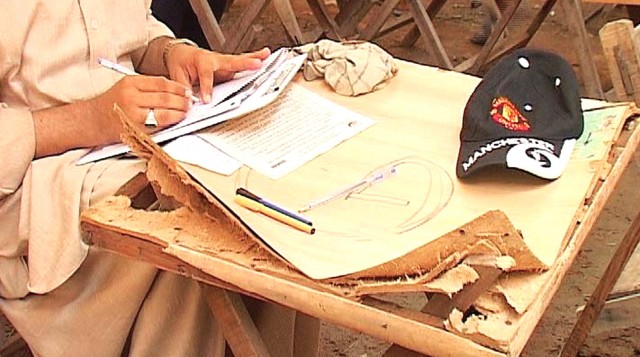 ---
KARACHI: Exam season is not a fun time of the year to begin with but when you add broken chairs and blackouts, the situation is worsened considerably.

Thousands of private candidates take their exams in the expansive grounds of Karachi University (KU), the city's largest university. As a result, four or five times a year the tents are set up, old chairs and tables dragged out and students invited to sweat it out in the natural environment. BA, BCom, LLB and MA private exams are all held in KU classrooms and corridors, where the tents would be put up.

According to the KU management, they rent tents, tables and chairs for these exams. The furniture and arrangements for a single exam costs around Rs2,500,000 to Rs3,000,000.

"The furniture is old and tilted with rusty nails poking out," sympathised a former KU student. "I've seen how they sit their papers and it's quite terrible."

This year, however, the boys have it even worse. While the female MA private candidates will take their exams in the classrooms of the Arts department, their male counterparts will face the heat of exams in the blistering weather.

KU has decided to set up an examination complex for the many private candidates who are tested at the university. However, since the management does not have the funds to construct a building yet, right now the examination complex just refers to a wide expanse of land near the Maskan Gate.

A huge tent has been put up there with a few pedestal fans for more than 7,000 candidates.

"This happens," said KU examinations controller Javed Ansari. "We don't have enough funds so proper arrangements cannot be made. There are many problems, sometimes it gets too hot, sometimes we don't have enough cold water."

The management eventually plans to build a centre that will be able to accommodate around 30,000 students.

Faisal Amin, a candidate, complained, "This is our fourth paper and we've been asking them since day one to arrange fans but nobody listens to anything. It feels like we haven't paid our examination fees."

Another student, Shahid, said, "All that we have learnt we need to produce during the exams, but for that we need to think hard, which just doesn't happen in these conditions, its just too hot."

The hot weather made worse by almost 60 per cent humidity rates and rain forecasts threaten for a highly uncomfortable testing experience.

It is not just the students who complain about the arrangements but even teachers have noticed how bad things are. Superintendent exams centre Muhammad Kamran said, "We are wrought with anxiety too, different students' organisations put pressure on us as well."

According to the teacher, the administration was trying to maximise its resources so that they could provide students with the best arrangements possible but the students maintained that the adverse environment was sure to affect their performance in the Masters exams.

Published in The Express Tribune, July 10th, 2010.
COMMENTS
Comments are moderated and generally will be posted if they are on-topic and not abusive.
For more information, please see our Comments FAQ