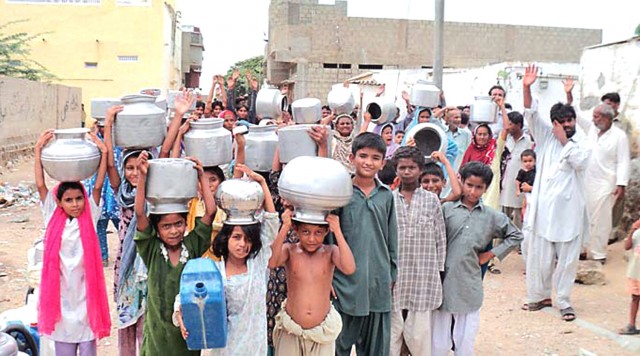 ---
Wednesday's rainfall was seen as a blessing by many residents of Karachi, who felt that the humidity levels in the city were becoming unbearable. But the people who live in 145 settlements along the 129-kilometre-long Karachi coastline said they are at their wit's end because they are submerged.

The problems were caused by choked sewerage lines that overflowed when the rain hit.

Desperate residents held demonstrations in their neighbourhoods on Thursday, hoping that someone would come to their rescue.

A large number of children, carrying empty containers and earthen jars, blocked the main road leading to Baloch and Syed Paras in Ibrahim Hyderi as residents said that they had not received any water for the past two weeks. They alleged that the union council and Bin Qasim Town administration were "creating difficulties" for them.

According to a recent survey conducted by the Pakistan Fisherfolk Forum (PFF), several villages situated in Hawks Bay, Keamari Town, Rehri Mayan and Bin Qasim Town are suffering from an acute water shortage.

"It is an artificial problem," said Majeed Motani, a fisherman who lives in Ibrahim Hyderi. "Funds are available but the town administration has been misusing the money for many years. This has allowed tankers belonging to the water mafia to operate in the area."

Residents said that they cannot afford to buy water as they had no income in the month of July due to a ban on fishing. The ban on fishing for two months has robbed fishermen of an income, making it impossible for them to pay for water, said PFF Women's Wing president Tahira Ali, who added that, "Officials and elected representatives have not paid heed to our problem despite numerous complaints and demands for the provision of basic facilities."

She said that the "special package" to alleviate the problems faced by coastal communities in Karachi has made no difference to the socio-economic conditions of the people.

The coastal communities are only skilled in fishing. They need the government's support to resolve their problems, Ali said. "The provincial minister, who belongs to the constituency, had earlier assured the fishermen that they will be provided water supply. These assurances have yet to be lived up to."

Published in The Express Tribune, July 9th, 2010.
COMMENTS
Comments are moderated and generally will be posted if they are on-topic and not abusive.
For more information, please see our Comments FAQ