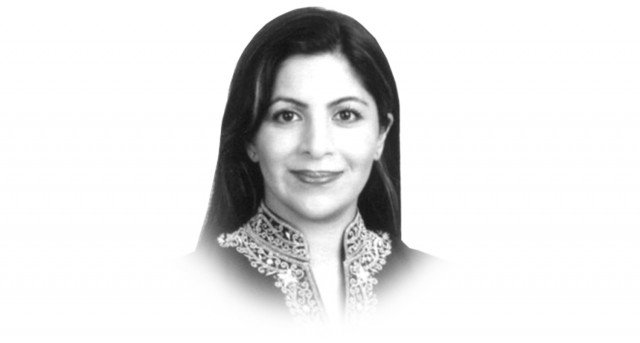 ---
"I don't watch TV anymore". It's the new mantra of the educated middle class, the "thinking classes" who are quite literally switching off their television sets and proudly making it known at every social gathering. From the excitement and hype that met the glasnost of the Pakistani media eight years ago, how has it come to this state of affairs? Is it simply that multiple channel choice has lost its novelty or is the quality of what's on the box to blame? Well, despite being a part of the media fraternity, I would have to say that what's on our channels, particularly in the current affairs and news genre, ranges from atrocious and offensive to mediocre and vacuous.

With over 80 channels, the majority being so called "news" channels, the Pakistani viewers should be spoilt for choice. Except they are not. Far from it. Most of the "news" channels are miserably short on original content and high on opinion masquerading as reporting, bias dressed as analysis, and rabble rousing substituting for impassioned debate. The multiple political talk shows resemble clones of each other, with standardised sets and unoriginal formats for nightly shouting matches between the political egos that appear as guests. There are of course a couple of notable exceptions where solid research and in depth analysis are presented in an informative and intelligent manner. But, by and large, what is offered is an ungainly assortment of "anchors" browbeating their guests, who themselves are regulars, often appearing simultaneously on multiple channels thanks to pre-recording. The end game is to encourage, cajole or instigate by any means necessary, a cat fight amongst the handful of politicians offered up for the evening. With the majority of anchors gunning for the government of the day, the result is a shouting match — the television equivalent of a neighbourhood backyard argument laced with scurrilous allegations, name calling and low blows.

This Jerry Springer version of political talk shows on our screens is literally turning "thinking" people away. For what does anyone learn from this daily exercise of the same old faces screaming allegations and counter allegations? All whilst serious issues remain unintelligible to the common man and insufficiently analysed for the more educated viewer. Instead, public personalities are openly and repeatedly slandered and defamed along with the offices they hold, often on the flimsiest of grounds, let alone evidence. Does the viewer come away with a better understanding of events or issues? Declining ratings for most of these shows would say not.

Okay it's not all bad — yes the news/current affairs media has played a constructive role on some issues, most notably in the change in public opinion towards those who commit acts of terrorism on our soil. The self-imposed code of conduct has worked fairly well and stemmed the horrible trend of showing carnage and panic in the aftermath of tragedy, of sensationalising terror acts by adrenaline fuelled breaking news. But the electronic media is crucial for shaping public opinion on key issues, especially in a largely illiterate society and has a much greater duty. Yet the vast majority of these shows are compromising content quality to suit the lowest common denominator rather than raising standards and providing viewers with informed discussions.

I shall resist making appeals to sense of duty, since that has a poor track record for results. So let me exhort self-interest instead. Most news channels are losing ground and revenue due to the downward trend of viewership, so they should take action to avoid losses. Anchors are turning people away from the news/current affairs genre and losing audiences to entertainment — just witness the increase in TV drama productions and ratings in the past year. And, most of all, politicians are damaging their own (little remaining) credibility by taking part in these verbal brawls, so they need to take a stand by opting to not to appear on shows which openly disrespect and lower the tone of our political discourse. The viewers are already voting with their remote controls. They have had enough of this mindless media-ocrity.

Published in The Express Tribune, July 9th, 2010.
COMMENTS (27)
Comments are moderated and generally will be posted if they are on-topic and not abusive.
For more information, please see our Comments FAQ