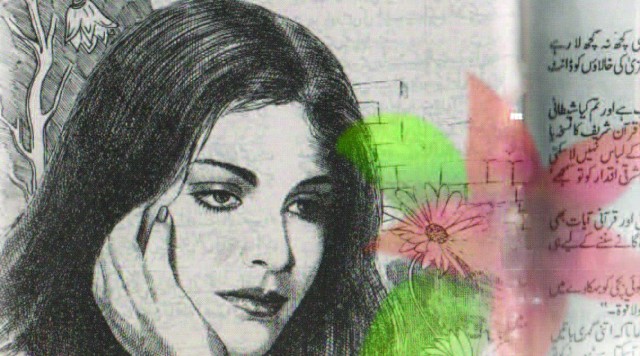 ---
Zindagi ki dhoop chaon mei koi bhi shaqs ek ehsaas... ek kayfiyat... ek jazba jise mohabbat kehte hain is ke baghair zinda nahi reh sakta. Mohabbat ek yaqeen hai, ek aitebaar hai...aasmano ki janib sar bulandi ka zinda ehsaas hai...ek bulawa hai bhichre huo ko milane ka...mohabbat ke alawa jo gham hain wo mohabbat na hone ki waja se hain.

No one can live without love. It is an intense feeling, an emotion that one cannot live without. Love is faith, a trust that gives one the strength to reach for the skies, the strength to deal with life's ups and downs. Love is a call that unites lost strangers. All the sorrows in one's life are due to the absence of love.

This passage from the story Mohabbat Humsafar Meri written by Anjum Ansar, editor of the monthly Pakeezah digest, is typical of the tone and content carried by the Urdu romantic digest, a popular category of fiction, boasting titles such as Khwateen, Pakeezah, Shua, Resham, Sacchi Kahania and Doshiza and consumed by a largely — but not exclusively — female readership from a wide variety of economic backgrounds. Roughly the local equivalent of legendary British publishing house Mills & Boon, these romantic digests are as popular with housewives and college students as their equivalents elsewhere in the world.

From Reform to Romance

Most of the stories in these digests revolve around women who are either victims or martyrs of love. In true subcontinental form, if women do not fail at love, or God forbid, actively pursue love, then they are villainous vixens condemned to a lonely fate.

Despite the fact that a significant percentage of the readership of these digests are women who are no longer confined to their homes and whose lives have expanded to encompass concerns such as higher education, employment and financial stability, these issues are rarely highlighted. For the past few decades, these digests have only been perpetuating stereotypes because no new writer is willing to step in and provide the audience with some decent literature — stories that will make women think, says cultural commentator Mohsin Sayeed.

While romance is the theme of choice for current digests, this has not always been the case. In the early days of independence, women's magazines were popular because they highlighted women's issues in a progressive manner and were aptly referred to as reformist literature. Also, prolific writers such as Ismat Chughtai and Qurat-ul-Ain Haider contributed to feminist literature by providing readers with a counter viewpoint, they were iconoclasts who broke through stereotypes, as seen in seminal works such Bahishtee Zewar.

Stories of that era usually revolved around real-life characters and came with a sense of history, weaving fact with fiction, unlike the largely fictitious and comparatively insipid cast featured in modern day digests. But over the years, these stories were transformed and romance took the place of any other concerns, such a woman's status in society. The digests became far more domestic affairs and this trend has continued to date. As a result what we read today in the name of literature is clichéd attempts at poetry, or thinly veiled erotica, which are as popular as one would expect in a country with Pakistan's levels of moral policing and subsequent repression.

The relevance of romantic digests

Some readers follow digests as an anthropological exercise, looking for an insight into the concerns and pressures faced by Pakistani women today. Along with the stories themselves, the feedback section is particularly telling.

"These stories about the exploitation of women often have a moral as well that one tends to ignore," says Seema Samad, a housewife, who has been reading women's magazines since the 1970s. Samad has subscribed to seven different kinds of monthly digests including Khwateen, Pakeezah, Shua, Sacchi Kahania and Doshiza. "At my age, I dont buy these to enjoy the romantic stories. I simply buy them because I enjoy Urdu literature and want to understand the social issues we are faced with, of what youngsters today are up to."

Over the years, Samad says she has seen society change through the writing of these authors. "Since some of the content is based on true stories, it can be helpful for a mother like me who has young daughters. It helps me give them the right sort of advice when they step out of their home."

Samad recalled a story she had read recently about the exploitation of female students by their male teachers in schools or madrassahs. "These are stories which the mainstream media cannot show because most victims do not report the incident, but we all know this is happening."

Sayeed maintains, however, that issue-based stories are few and far between, and that the bulk of digests offer nothing more than inane romantic fantasies, whereas they could instead be used as an instructional  tool, highlighting, for example, human rights issues, and getting them to a segment of society in a way that will have a lasting impact.

Writers and their Writing

Farhat Ishtiaq, Saira Arif and Bushra Masroor are some popular authors among readers whose writing focuses on the 'dreams and desires of a woman'. Most of them write on social issues with a romantic spin that greatly interests women who can relate to them. Their stories are about our society and the plots are based on friendship, love, hatred and injustice. Through their writing they also bring into light the hard facts of life and teach you how to deal with people, comments a fan of Bushra Masroor, writer and managing editor of Resham Digest, on a blog.

Other readers like Sabeen Jamil, a lecturer at Jinnah University for Women, adds that monthly magazines such as Shua, Khwateen or Kiran interest her because their writers discuss social and political issues as well. That is, however, a rarity. Most stories revolve around the Meena Kumari syndrome where a woman is betrayed by a man, who is always very good-looking. And marriage is often the most important part of a woman's life because she cannot survive without a man's support. The voice of an economically independent woman often looked down upon by other authors can only be heard in a few stories by writers such as Aneeza Syed. The woman in her story is often a journalist or an activist, who has an independent mind and is able to think. Anjum Ansar, writer and editor of the Pakeezah Digest, however, sticks with domestic disputes.

Apart from this, there is another class of writers that focuses on adult content, a job for which they are paid twice as much. "There's no harm with light romance in novels, but most of the so-called romantic digests actually sell trash," comments Muhammad Iqbal Qureshi, Deputy Editor Urdu Digest.

The world of Urdu literature has produced writers such as Manto, Ismat Chughtai and Wajida Tabassum who have been known for using themes of candid sexuality, but the 'adult content' contemporary writers are trying to sell is of another category altogether.

"What authors of romantic digests are trying to sell is actually litter not literature," remarks Sahar Ansari, a professor of Urdu Literature at the University of Karachi. But despite the criticism, these digests remain popular not only among locals but among migrant Pakistanis based in the Middle East, UK and the US. Expatriate Pakistanis read the Pakeezah and Khwateen digest with great interest in the UAE and Saudi Arabia, where they are sold for 10 riyals and 10 dirhams each and Pakeezah is the most popular digest among his customers.

One feature of the stories in these monthly digests is that they are often penned by men under female pseudonyms. Editors believe that the popularity of their digests increases and they receive more letters when they use the female voice. This is because most women are not comfortable reading romantic stories written by men but instantly relate to the story if the writer is a woman. "This may sound conservative," says Qureshi, "but that is what our readers demand." Those who write under pen names are sometimes paid double their usual rate for romantic stories, taking them from Rs. 10,000 for an action-adventure story in Suspense Digest to Rs. 20,000 for a pot-boiler in Pakeezah.

Revisiting Literature

Social movements such as the Women's Action Forum (WAF) should target women through this mass medium because it has the potential to change the way people think. "We need to revisit the literary works of prolific writers such as Qurat-ul-Ain Haider who contributed towards social change through their works such as Kaar-e-Jahan Daraz Hai (The Work of the World Goes On) if we really want to create awareness about human rights," comments Sayeed.

Gulnar Tabassum, WAF convener in Lahore, agrees. She admits that WAF has not invested time in the writers of this industry who can be major agents of social change. "Presently, women who run WAF belong to the upper-middle or upper class and look down upon popular literature because they stereotype women. Most of them prefer to communicate and issue their statements in English, and only target the English media," she says.

But there is a powerful incentive for tapping the potential of Urdu digests — the hope that the average Pakistani woman will read, not about the martyr who was faithful to her love after all hope was lost, but about her sister who got up the gumption to change things for herself.

Published in The Express Tribune, July 11th, 2010.
COMMENTS (14)
Comments are moderated and generally will be posted if they are on-topic and not abusive.
For more information, please see our Comments FAQ