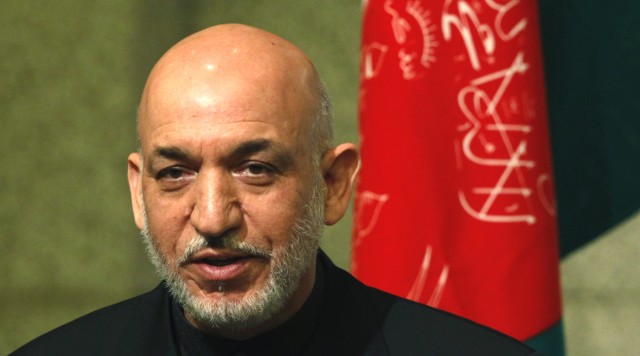 ---
Afghanistan's national security adviser has called on the Pakistani government to "take serious measures" against militant groups launching attacks on Afghan targets from "secure havens" inside Pakistan, the Agence France-Presse  (AFP) reported on Tuesday.

Rangin Dadfar Spanta's comments come a week after the Al-Jazeera Television Network reported that Afghan President Hamid Karzai had met the man who runs the al Qaeda-linked Haqqani network in talks that were mediated by Pakistan. Afghanistan, Pakistan and the Taliban have all denied any such meeting but Pakistani security officials had indicated last month that they were planning to help broker peace efforts in Afghanistan by acting as a bridge between the Kabul government and powerful Haqqani network, which often launches attacks in Afghanistan.

Spanta, who is a former foreign minister and a senior cabinet-level adviser to Karzai on security issues, in an interview to AFP denied that Karzai had met Sirajuddin Haqqani, who runs the Haqqani network, or the Taliban "through mediation of Pakistani forces or otherwise". His comments signal an about-turn by the Afghan government after months of overtures to Islamabad in efforts to prompt Pakistan to deal with militant groups, including the al Qaeda and Taliban militants based along the Afghan border.

Spanta said that Afghanistan had "tremendous evidence" that Pakistani authorities allowed al Qaeda and other terror organisations to operate on their soil. He said that Afghan authorities had presented proof to Islamabad "many times" but Islamabad had failed to act against the groups based in Pakistan's tribal areas along the Afghan border.

"We have evidence that terrorists from Pakistan are involved in daily attacks against our people and international jihadi groups are active here. They have their base and sanctuaries behind our border and this is a serious problem," Spanta said.

Foreign Office spokesperson Abdul Basit has brushed aside these remarks and called them 'inconsistent' with the discussions between Pakistani and Afghan authorities. "Together, we are working towards these issues. Karzai and the Afghan foreign minister were in Pakistan just a week ago and no such thing was mentioned in the meetings. This does not reflect the Government of Afghanistan's position," he told The Express Tribune.

Spanta further said that Pakistan had failed to act against al Qaeda, the Afghan Taliban leadership known as the Quetta Shura, the Haqqani network, the minor Hekmatyar group, Hizbul Tahrir, as well as "Uzbek and Chechen terrorist groups".

"My expectation is that Pakistan after nine years – because theoretically Pakistan is part of the anti-terror alliance – they have to begin to take some serious measures against terrorism," he said. "They [Pakistan] must hand over the leadership of terrorist groups and give a list of the people arrested who were being detained in Pakistan."

Afghan officials have blamed a number of major attacks on Pakistan-based groups whom they say are supported by Pakistan's intelligence and military. Such militants were blamed for the 2008 attack on the Serena Hotel in Kabul, attacks on the Indian embassy and other Indian targets, and a UN guesthouse attack in October that led to a mass withdrawal of UN staff from Afghanistan.

Relations between Kabul and Islamabad have been traditionally marked by distrust, but there had been growing signs of rapprochement. Karzai had been seen as trying to reach an arrangement with Pakistan – possibly including a power-sharing deal with the Taliban – that would help bring an end to the war in Afghanistan, now in its ninth year. This was also seen as a way of giving Pakistan a stake in Afghanistan's future, despite broad opposition among Afghan politicians and the public.

Senior Pakistani military and intelligence officials had visited Kabul in recent months on goodwill visits, Spanta said. "I hope we can begin a constructive dialogue with a serious agenda during the next meeting in Islamabad or in Kabul...maybe next month," he said.

Spanta said that Afghanistan and Pakistan had "brotherly" ties but if Islamabad believed it could exploit a weak neighbour after US President Barack Obama's projected date to start drawing down US troops next year, it was mistaken. "If the calculation is that after July 2011 they [Pakistan] will have a weak government in Afghanistan and they can turn Afghanistan into a kind of strategic [puppet]...that is a wrong calculation," Spanta said.

Published in The Express Tribune, July 7th, 2010.
COMMENTS (2)
Comments are moderated and generally will be posted if they are on-topic and not abusive.
For more information, please see our Comments FAQ