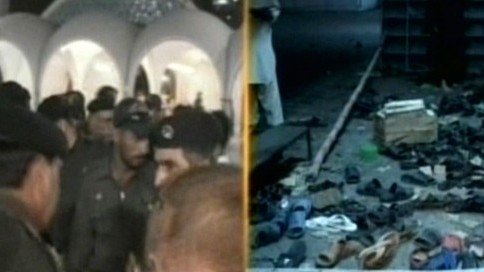 ---
At least thirty five people were killed and 175 injured as three blasts hit Data Darbar in Lahore, Thursday night.

One explosion took place in the courtyard of the shrine, one at gate number five and the third in the basement. Police has cordoned off the area and traffic is being diverted away from the shrine. According to sources, the shrine had previously received threats and security had been stepped up.

The injured have been shifted to Mayo Hospital where emergency has been declared, according to DG Rescue Ahmed Raza. Emergency has also been declared at hospitals in the area.

All three blasts are said to be suicide blasts according to DCO Lahore Sajjad Bhutta.

Commissioner Lahore Khusro Pervez appealed to people not to rush to hospitals and that the doctors are doing their job. He also said that the body parts of two suicide bombers have been found, including two heads. He said the suicide bombers were very young and that each suicide jacket can carry up to 10-15KG of explosives.

Media personnel were also attacked by enraged people present at the site.

Police resorted to aerial firing to disperse people gathered at the shrine to clear the area. Scuffles took place between protesters and police, as people demanded that investigations be made on loopholes in the security arrangements.

Administrators of the shrine said that strict security arrangement had been made, and that all people entering the shrine were being thoroughly checked.

Thursday is the busiest day at the darbar as large number of devotees come to pay their respect and attain blessings. A large number of women and children were present at the time of the blasts as well.

Data Darbar is the tomb of Syed Abul Hassan Bin Usman Bin Ali Al-Hajweri, where hundreds of thousands of people, come each year to pay their respects and to offer prayers. The large complex also includes Hajveri Mosque.

Lahore has been hit by numerous low intensity blasts during the last month, including attacks on CD shops in Zaitoon Plaza.
COMMENTS (48)
Comments are moderated and generally will be posted if they are on-topic and not abusive.
For more information, please see our Comments FAQ