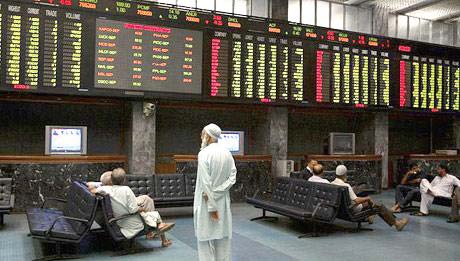 ---
Stocks remained range-bound on Wednesday but ended higher on the last trading day of the fiscal year, while dealers said trade was likely to rise in coming days.

The Karachi Stock Exchange's (KSE) benchmark 100-share index ended 0.20 per cent, or 19.88 points, higher at 9,721.91.

"It was a cautious day with not much happening but we are hoping that investors would start returning to the market in coming days," said Asif Jan Mohammad, head of sales at Taurus Securities.

Mohammad said volumes were soon likely to pick up after the expected reintroduction of margin buying. The KSE authorities and the Securities and Exchange Commission of Pakistan (SECP) met last week to discuss margin buying and other leveraged products. They decided to form a committee, which is required to submit its recommendations within 15 working days.

Dealers said trade has also been affected in recent days by uncertainties over the implementation of a new capital gains tax on July 1. The fiscal year runs from July 1 to June 30. However, they said that the market was slowly factoring in the new tax as it was inevitable.

Wednesday's turnover was 71.29 million shares, compared with 62.85 million shares traded on Tuesday. Total exchange value stood at a disappointing Rs2.76 billion.

Trade was dominated by second and third-tier stocks. At the end of the day, 217 stocks closed higher, 167 declined and 25 remained unchanged in value.

Jahangir Siddiqui Company (KSE: JSCL) was the volume leader with 9.04 million shares gaining Rs0.45 to close at Rs12.57. Lotte Pakistan (KSE: LOTPTA) came second with 6.72 million shares losing Rs0.08 to end at Rs8.05. Engro Corporation (KSE: ENGRO) came third with 2.57 million shares losing Rs3.82 to close at Rs174.

"News of the cement price hike in the north produced no interest in the sector as both DG Khan Cement (KSE: DGKC) and Lucky Cement (KSE: LUCK) closed 0.8 per cent and 2.4 per cent down respectively," said Muzzamil Mussani, an analyst at JS Global Capital.

There were some developments in the oil sector as "Pakistan Refinery Limited (KSE: PRL) announced that Pakistan State Oil (KSE: PSO) has shown interest in acquiring Shell's share in PRL," Mussani added.

Soneri Bank (KSE: SNBL) was the KSE-100 top gainer of the day rising 12.55 per cent to Rs8.43.

Published in The Express Tribune, July 1st, 2010.
COMMENTS
Comments are moderated and generally will be posted if they are on-topic and not abusive.
For more information, please see our Comments FAQ