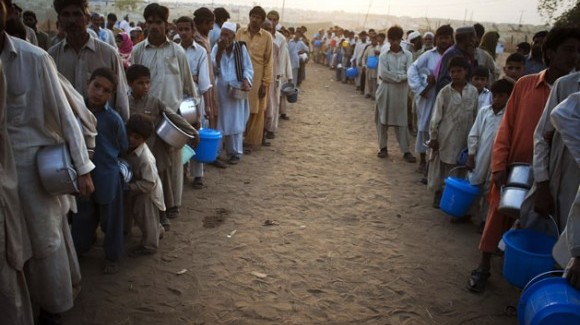 ---
PESHAWAR: It's a scorcher of a day – 40 degrees centigrade in the shade. Forty-five-year-old tribesman Shaukat Aziz squirms in his wheelchair as he waits outside a registration point for Internally Displaced Persons in Peshawar. He's been waiting for hours already and there are still hours to go. Meanwhile, the sun beats down relentlessly.

The Kurram Agency refugees are the latest to join the ranks of IDPs in Peshawar. As waves of sectarian violence and militancy buffeted the agency, thousands fled for their lives. But, as scores are finding out, it's a life which doesn't have much going for it.

Money matters

Aziz hails from the Sadda area of Kurram Agency. A road accident last year left his spinal cord damaged and he's been in a wheelchair since. And then, some three months ago, he was forced to flee from his home.

"For the last three months, my brother-in-law, my 14-year-old disabled son Iqrar and I have been living in rented quarters on Kohat Road in Peshawar," he confides. "Now doctors are asking for Rs100,000 for an operation but how am I to arrange such a huge sum?"

Aziz's brother-in-law Haji Abdullah Jan jumps into the conversation. "Just getting to Peshawar was such an ordeal: the main road is closed due to the law and order situation so we had to use alternative routes, which are even more dangerous as militants patrol those areas," he recounts.

Kurram Agency was long a hotbed of sectarian violence and the roads from the agency to the settled areas have been closed for many months now. Even locally, both sects use circuitous routes to avoid each other's areas. Earlier, Thall-Parachinar Road was closed for Shias while Parachinar Road was closed for Sunnis of Upper Kurram Agency. Tribesmen fleeing from the agency recount stories of having to cross into Afghanistan, travelling to Jalalabad and then reaching Peshawar after crossing into Pakistan at Torkham.

Militancy

But complicating matters now in Kurram is the infusion of militancy. "The Taliban are fighting on behalf of Sunnis while the Mehdi Militia is the gang of Shia militants," explains Nasiruddin Shah, a resident of Biliyamin village. "Our village and four others were torched during the sectarian clashes in 2008 and at least 50,000 people were displaced as a result," he recounts.

And the city of Peshawar – with its big city expenses – isn't large enough to accommodate everyone. "Our farm produce was enough to sustain us at home but we had to leave everything behind and run for our lives," mourns Jan. After paying Rs7,000 in monthly rent for three months, we're trying to figure where the next meal and this month's rent will come from."

"At home, we could live off our farms but in Peshawar, one needs money to survive. For the last two years, we've been eking out a living here by working as labourers. Now we just want to be able to go back home."

Khilwat Shah is a Massuzai tribesman from Tapa Mandokhel area. "I came to Peshawar four months ago and rented a house for Rs4,000 in the Landai area of Peshawar," he says. "But as a labourer, I make just Rs250 a day and I'm finding it impossible to make ends meet."

While the Frontier Corps has now begun escorting convoys back to the agency, return isn't a real option. "We hear the villages are empty and militants and security forces are still fighting," says Khilwat Shah. "How can I expose my family to this? What security will I be able to provide them?" he worries.

Returning home

And then there's the worry of the migrant who's been displaced too long. "We don't know what is left for us to return to," says Shah. "An exchange of fire between security forces and militants reduced our fuel wood stalls to ashes; we barely managed to escape with the clothes on our backs."

"When people talk about the effect of conflict on economies, they talk about infrastructure; why doesn't anyone talk about the fact that a kilogramme of sugar in the area now costs an unaffordable Rs80 or that an 80-kg bag of flour costs Rs3,500?" wonders Shah. Security forces are now transporting rations for the area but those who've lived in IDP camps for any period of time have learned – the hard way – to not rely on relief efforts.

"I keep on thinking of my wheat crop, which should be ready for harvest but will end up going to waste," says Khilwat Shah. "The women and children can't bear this heat and keep begging to go back but what would we be taking them to?"

Pessimism notwithstanding, he's right. Mohammad Farooq is a resident of Pir Qayyum area in Kurram and is now desperately looking to shift his family to Peshawar. "At least 85 per cent of people in Kurram are mentally disturbed due to the prolonged conflict and I'm on anti-depressants myself," he says. "The local economy is in ruins and one needs at least Rs100,000 to shift one's family and belongings to Peshawar; even finding a house is so difficult because owners ask for advances."

"It's just a never ending cycle of despair for the people of Kurram," Farooq laughs bitterly. "First there was the Shia-Sunni conflict, then came the Taliban and now we're up against homelessness without any support from either the government or humanitarian organisations. We've given up on even hope now."

Published in The Express Tribune, July 1st, 2010.
COMMENTS (3)
Comments are moderated and generally will be posted if they are on-topic and not abusive.
For more information, please see our Comments FAQ