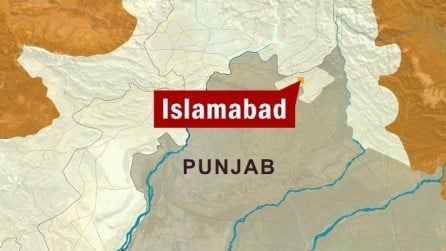 ---
Kuch Khaas is fast gaining popularity and recognition in the capital city for being a community space for meaningful dialogue and creative expression. A not-for-profit social enterprise, it advocates the pursuit of knowledge and civic engagement to slowly bring about "lasting social change in Pakistan."

Talking to The Express Tribune, the brain child behind Kuch Khaas Shayan Afzal Khan said she came up with the idea because she felt there was a lack of space for public discourse.

Mindful of a school system that discouraged the exploration of a variety of avenues for creating awareness, Farukh Abbas, Shayan's husband, added, "We want progressive minds. We need to encourage our children. In our society, there is a track of going to O Levels, A levels, college and so on. But this platform gives them another track of exploring themselves and being creative through self expression."

The idea of Kuch Khaas was spontaneous and grew in a short span of time. The venture also supports smaller groups who want to create a larger impact through their respective expressions, whether it is art, film, theatre, discussion or dialogue.

"Everyone has been pitching in ideas, whoever is comfortable in whatever they want to do are more than welcome to do so. It encourages freedom of speech," Shayan added.

"Part of our goal is to keep on developing and taking up issues for younger people."

Kuch Khaas also seems to be the place to be for children this summer. Art, music, film and acting classes are carrying on for youngsters of the capital.

Shahana Khan Khalil, a program manager at Kuch Khaas said that at the end of their term, the children and  teachers will present a show where musicians, theatre actors and film makers will come together.

"Everyone in their respective area of interest will be a part of this event and will own it," Shahana added.

Wali, 14, who comes for acting classes at Kuch Khaas said, "It's a nice way to promote art; Otherwise we are busy with other activities which are not so productive."

Noori, 11, said meeting new people was exciting and she was "not bored this summer" unlike the previous ones.

Instructor Tulin Khalid Azim who has been acting for 11 years expressed amazement at the progress of Kuch Khaas. This is her first time giving acting classes to students and she is enjoying the experience.

"It's great to see the level of commitment of the owners, and how they are personally involved in the project."

Ten-year-old Zoya said, "I am usually not in Pakistan for the summers but this time I am glad that I have a fun activity to stay back for."

Kuch Khaas will also be hosting a cafe, a library and a media centre. Privately funded and working with personal donations, Kuch Khaas has minimal charges for students who can afford the classes, while lesser privileged people can benefit from the group for free.

"It's our aim to bridge the socio-economic gap at Kuch Khaas; not just make linkages with the lesser privileged but also get them across to the right people," said Shayan.

Published in The Express Tribune, June 30th, 2010.
COMMENTS (1)
Comments are moderated and generally will be posted if they are on-topic and not abusive.
For more information, please see our Comments FAQ