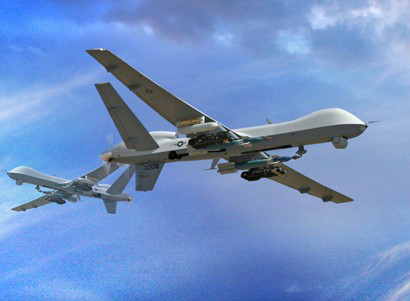 ---
PESHAWAR: A US drone fired two missiles into a compound used by militants in Wana on Tuesday, killing at least eight militants, security officials said.

The attack comes a day after President Asif Ali Zardari urged the US for early transfer of drone technology to Pakistan to fight against militancy.

The missiles targeted the compound in Karikot village, about 10 kilometres (six miles) southwest of Wana, the main town in South Waziristan district, a senior security official told AFP on condition of anonymity.

"Eight militants have died in the attack and at least two were wounded," he said. The compound belonging to a militant commander, Maulana Halimullah, had been destroyed. "The dead included some foreign militants," he said.

Officials in Wana also confirmed the attack and the toll.

South Waziristan, considered a stronghold of militants, was the scene of a major offensive last year. The district borders North Waziristan, where a similar drone strike on Sunday also killed six militants.

Washington has branded the rugged tribal area on the Afghan border a global headquarters of al Qaeda and the most dangerous place on earth. Around 950 people have been killed in more than 100 drone strikes in Pakistan since August 2008, including a number of senior militants.

However the attacks fueled anti-American sentiment in the country. The US military does not, as a rule, confirm drone attacks, but its armed forces and the Central Intelligence Agency operating in Afghanistan are the only forces that deploy pilotless drones in the region.

Meanwhile in central Kurram, at least 11 militants were killed and six others were injured in clashes with security forces. The clashes took place in Ghundai area of the agency.

Also an operation against militants is underway in neighbouring Orakzai Agency. Hundreds of militant hideouts have been wiped out in this operation in the last five months and more than 1,200 militants have been killed.
COMMENTS (3)
Comments are moderated and generally will be posted if they are on-topic and not abusive.
For more information, please see our Comments FAQ