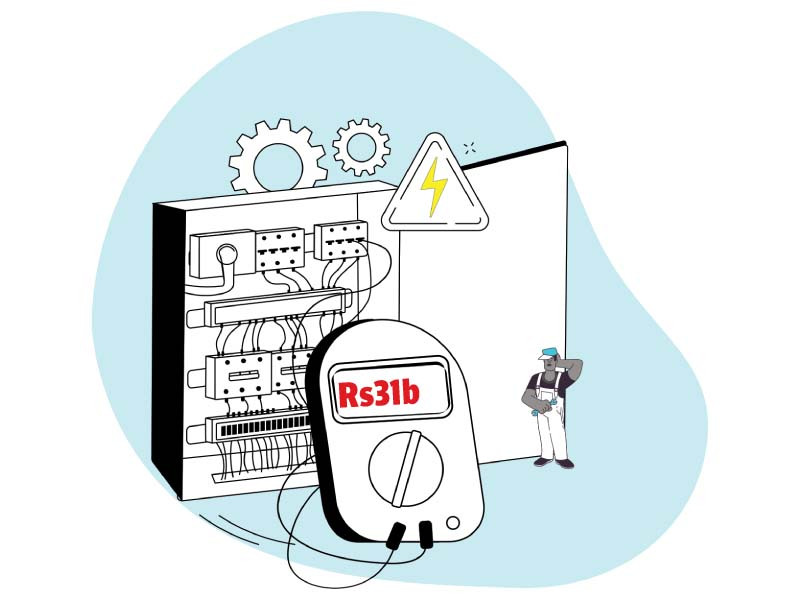 ---
KARACHI:
K-Electric (KE), the utility company that has remained profitable since fiscal year 2011-12, except for the Covid-19 impacted year, has reported net losses of a staggering Rs31 billion in the fiscal year ending June 30, 2023. These losses, which are ten times greater than the less than Rs3 billion incurred in FY20 during the pandemic, are attributed to various factors, including rising power prices, rupee depreciation, high inflation, and the high cost of borrowing from banks.
KE's financial challenges were further exacerbated by inflationary pressures and government-mandated increases in electricity prices, which impacted customers' ability to pay, reducing KE's recovery ratio from 96.7% to 92.8% between FY22 and FY23. This decrease led to increased impairment losses against doubtful debts. Additionally, surging finance costs, mainly due to a higher effective borrowing rate, added to the company's financial burden.
The company supplied 7.3% less power during the year "due to reduced economic activity" compared to 19,802 Gwh in the prior fiscal year FY22.
These losses were incurred before the recent power tariff hike of Rs7.5 per unit, which became effective on July 1, 2023, and before the rupee depreciated by approximately 3.70% to Rs297/$ while petrol prices surged by almost 30% to around Rs330 per litre since July 1 to date.
Read Crackdown on power theft hailed as a success
The significant losses reported by KE in the private sector raise concerns about the financial health of underperforming state-owned power generation, transmission, and distribution companies.
Some experts argue against increasing power tariffs, stating that expensive electricity could lead to more people being unable to pay their monthly utility bills, exacerbating the circular debt issue. KE, for example, reported a reduction in its recovery ratio from 96.7% to 92.8% between FY22 and FY23. Trade bodies and households have protested against the power price hikes and are calling for their withdrawal.
The caretaker government is in discussions with the International Monetary Fund (IMF) to seek relief on this issue. To address circular debt, the government can focus on controlling power theft and line losses, however, bigwigs who regularly get away for not paying their bills have yet to be brought to justice. KE alone reported line losses exceeding 15% in FY23, which were typically recovered from households and businesses that paid their bills promptly.
Despite the losses, KE's revenue increased by 10.52% to Rs382.82 billion in FY23 compared to Rs346.38 billion. Other income also rose by nearly 22% to Rs12.43 billion compared to Rs10.21 billion, likely due to higher returns on bank deposits and favourable rupee-dollar parity.
On the downside, finance costs more than doubled to Rs34.57 billion in FY23 compared to Rs15.12 billion in FY22 due to high-interest rates on bank borrowing. KE reported a loss per share of Rs1.12 for FY23, compared to earnings per share of Rs0.31 in the previous year.
The company has also announced plans to invest in renewable energy projects like solar and hydel to increase the share of renewable energy to 30% in its energy mix by 2030, compared to 3% at present.
K-Electric, CEO, Moonis Ali, said in a statement, "We understand the current concerns our customers may have, but any direction on the price of electricity for the country will come from the federal government and is not in KE's control." "We navigated choppy waters this fiscal year, but our commitment to Karachi did not waver. We are not only strategizing to address the immediate challenges but also fervently working towards the future."
REITs announce dividend
Globe Residency REIT (GRR), Pakistan's first listed Developmental Real Estate Investment Trust (REIT), has declared a cash dividend of Rs3 per unit for the fiscal year ended June 30, 2023. Additionally, Dolmen City REIT, a rental project, distributed Rs4.02 billion for the financial year 2023.GRR, which was listed in December last year, is a closed-ended Developmental REIT that offers investors an opportunity to participate in the ownership of apartments, with plans to house more than 50,000 families upon completion.
Arif Habib Dolmen REIT Management Chairman Arif Habib said in a statement that, "The REIT instrument allows investors a fresh avenue of safe investment. They ensure fully documented real estate development activities in a transparent manner." The Arif Habib Group has registered 14 REITs in total, with a fund size of Rs125 billion.
Published in The Express Tribune, September 17th, 2023.
Like Business on Facebook, follow @TribuneBiz on Twitter to stay informed and join in the conversation.