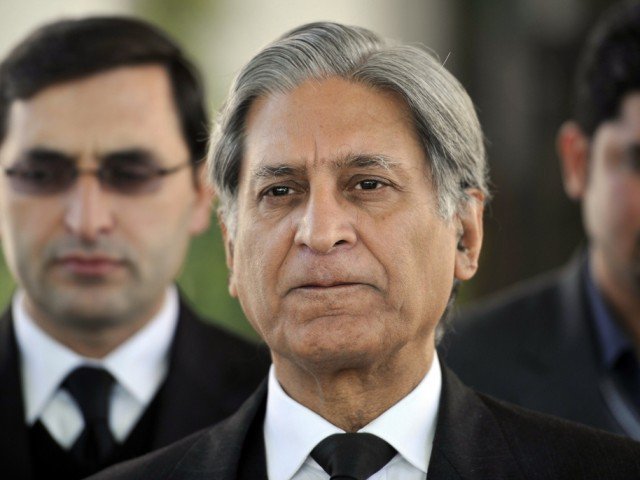 ---
LAHORE:
PPP senior leader Aitzaz Ahsan, who is under fire from his own party for deviating from its policies, on Saturday lambasted the federal government for tear gas shelling and storming the gates of PTI Chairman Imran Khan's residence in Lahore's Zaman Park area earlier in the day.
Speaking to the media at Imran's Lahore residence, the PPP leader asked PTI activists to stay calm and not resort to violence.
He alleged that police attacked the PTI chief's residence with armoured vehicles.
Aitzaz, who was asked by the PTI leadership last year to join the party but he had refused saying that though Imran was his friend but the PPP his family, claimed that there were no female police officials during the raid at the deposed premier's house.
Read more: Govt mulling legal options to declare PTI a banned outfit
"If the police had search warrants, then who did they show them to?" he questioned.
He advised the PTI to take legal action against the police action.
He criticised the police by saying that in the history of the Subcontinent, he never saw a search operation where cops used armoured vehicles.
"Are there thieves living here [Imran's residence]?" he asked.
Read more: Imran says over 70 PTI workers arrested in Islamabad
The PPP leader demanded Chief Justice of Pakistan Justice Umar Ata Bandial to take suo motu notice of the situation.
"The PTI is a political party and this type of operation should not have happened against it," he added.
Aitzaz continued that the PPP stood tall even after the martyrdom of its two former chiefs, Zulfikar Ali Bhutto and his daughter Benazir Bhutto. "Political leaders can never be removed from the [public's] scene," he added.
Aitzaz, a founding member of the PPP and a former senator, was labeled a "traitor" by Defence Minister Khawaja Asif in October last year.
Asif had claimed that Aitzaz had first ditched former premier Zulfikar Ali Bhutto after winning a "rigged" election in 1976.
"He has been betraying the party since then," he added.
Around the same time, the PPP's Punjab chapter had adopted a resolution which sought immediate expulsion of the 'betrayer' from the party and expressed anger at Aitzaz's "continuous support" for the PTI chairman's style of politics, while opposing his own party's policies.
(With input from DNA)
COMMENTS
Comments are moderated and generally will be posted if they are on-topic and not abusive.
For more information, please see our Comments FAQ