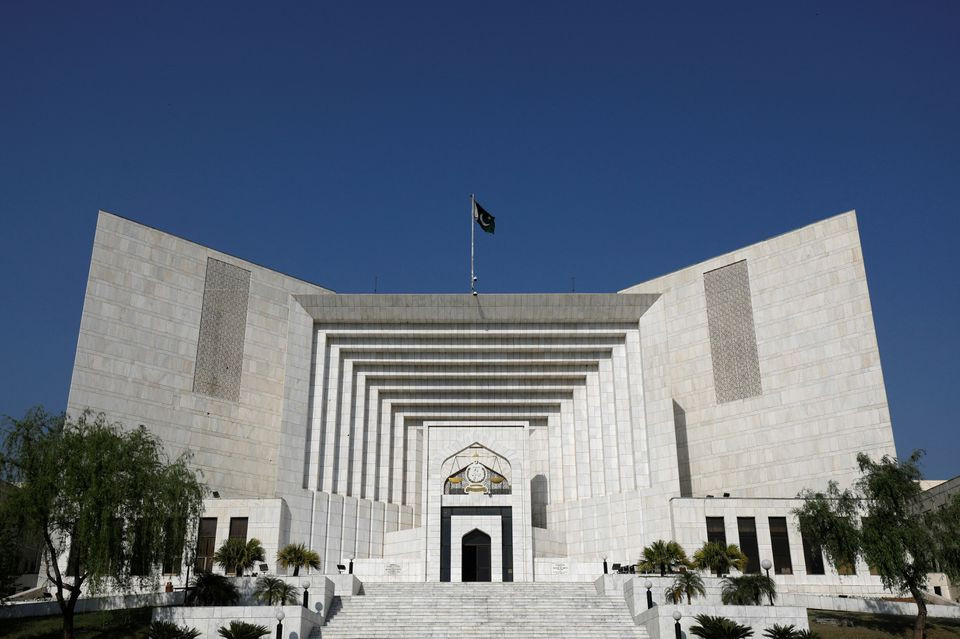 ---
ISLAMABAD:
Pakistan Tehreek-e-Insaf (PTI) Secretary General Asad Umar on Saturday requested the Supreme Court to take suo moto notice to "save and protect" PTI chairman Imran Khan's fundamental right to life.
In his letter, the PTI leader wrote that the Islamabad High Court (IHC) while setting aside Imran's non-bailable arrest warrants issued by the Islamabad district judge, directed the former prime minister to appear before the trial court. He added that Imran had left Lahore in compliance with court orders.
Further, the letter stated that Imran has received protective bail from the Lahore High Court (LHC) in nine cases. Umar added that the LHC has directed state authorities to refrain from taking coercive measures against the PTI chairman.
The party leader noted that Imran's Lahore residence "has been stormed by the police" and the "doors and walls have been raised to the ground".
He furthered that the Islamabad police has "blocked the roads" leading to the G-11 Judicial Complex in Islamabad "in order to create terror and harassment". The motorway and other highways have also been blocked "to create hurdles in Imran Khan's lawful endeavor in pursuant to the above referred order," he added.
Read 'Govt intends to arrest me': Imran makes his way to Islamabad court
Umar claimed that these "unlawful and illegal actions" are with the intention to arrest Imran in cases that are not to his knowledge, adding that access to Imran's legal team and media presence was also refused.
The PTI leader added in his letter that Imran's "fundamental right to access to justice and fair trial has been hampered and compromised by the police and law enforcement agencies".
Further, Umar claimed to have firm reason to believe that state authorities are "acting at the behest of the present PDM government" and are "hell bent" on compromising Imran's liberty in the "most unlawful manner".
He highlighted that the PTI chief has reiterated time and again that "his life is at stake and he may be taken out in a bid to take his life".
Umar appealed that "if the respondents are not stopped from acting illegally" and arresting Imran, the former premier may face "unseen consequences".
He requested that the matter be taken up in suo moto jurisdiction in order to save and protect Imran's fundamental right to life.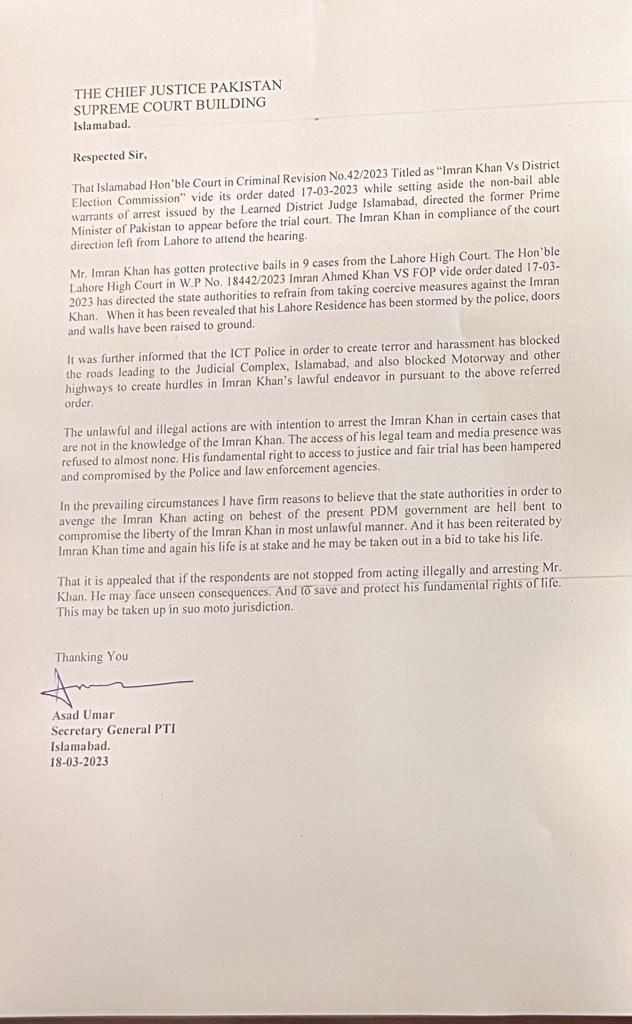 COMMENTS
Comments are moderated and generally will be posted if they are on-topic and not abusive.
For more information, please see our Comments FAQ