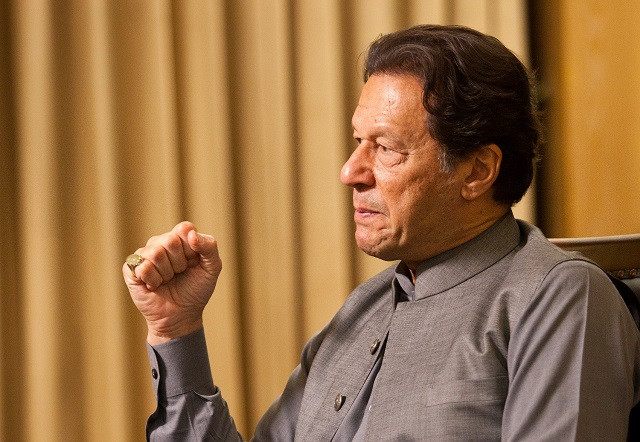 ---
LAHORE:
Pakistan Tehreek-e-Insaf (PTI) chief Imran Khan on Thursday thanked the Supreme Court Bar Association (SCBA) for condemning the "excessive use of force by authorities" at Zaman Park in Lahore.
Expressing gratitude to the association for their condemnation, Imran thanked them for taking a "firm stand" regarding the supremacy of Constitution and the rule of law in the country.
"We also appreciate your condemnation of the excessive use of force by the authorities in Zaman Park", read the tweet.
ملک میں آئین کی بالادستی اور قانون کی حکمرانی کے حوالے سے نہایت ٹھوس مؤقف اپنانے پر میں سپریم کورٹ بار ایسوسی ایشن (SCBAP) کا شکرگزار ہوں۔ ہم آپ کی جانب سے زمان پارک میں حکام کے ہاتھوں طاقت کے بےتحاشہ استعمال کی مذمّت کو بھی قدر و تحسین کی نگاہ سے دیکھتے ہیں۔ pic.twitter.com/clJVWTUjxt

— Imran Khan (@ImranKhanPTI) March 16, 2023
The ousted premier furthered that his party was founded on the principle of rule of law, adding that the PTI "will stick to this commitment with full determination".
میری جماعت قانون کی حکمرانی کے اصول پر قائم کی گئی اور ہم اپنے اس عزم و عہد پر پوری استقامت سے کاربند رہیں گے!

— Imran Khan (@ImranKhanPTI) March 16, 2023
A day earlier, Islamabad Police, backed by Punjab Police and Rangers had resumed efforts — which began on Tuesday — to arrest the ex-premier in connection with the Toshkhana case. Imran has skipped indictment several times, which led to the judge issuing a non-bailable arrest warrant for him.
Read more: Imran asks supporters to 'carry on struggle' even if killed or arrested
However, they were met with strong resistance from PTI workers, who threw stones at them. The police responded with volleys of tear gas.
After an hours-long back and forth — described by international media as "pitched battles" — the personnel pulled back to Mall Road, from where they cleared out.
Following the development, the SCBA condemned all violations of the law and "any excesses committed by law enforcement agencies or anybody who has taken the law in their own hands".
The statement, issued by SCBAP President Abid S. Zuberi and Secretary Muqtedir Akhtar Shabbir, said the association stood for rule of law, the constitution and the dignity of the judgements issued by the courts.
"Any form of violence is not acceptable in a democratic country governed by rule of law and the Constitution. The use of excessive force against the former prime minister of Pakistan is highly condemned. Furthermore, the method of service of warrants is also highly arbitrary, vindictive and not in accordance with [the] law. Therefore, such violence must be stopped forthwith," the statement said.
Read Toshakhana: Imran eyeing relief from SC
"Every person must be treated in accordance with [the] law and due process must be adopted. Law enforcement agencies must not use excessive force and citizens must not initiate confrontation or damage public and private property. It is incumbent upon all citizens to obey orders passed by all courts," the statement said.
The body also emphasised that the state must focus on and ensure implementation of the judgement of the Supreme Court and must make arrangements for the holding of elections as per the directive of the top court and "not create unnecessary law and order situation under any pretext".
COMMENTS
Comments are moderated and generally will be posted if they are on-topic and not abusive.
For more information, please see our Comments FAQ