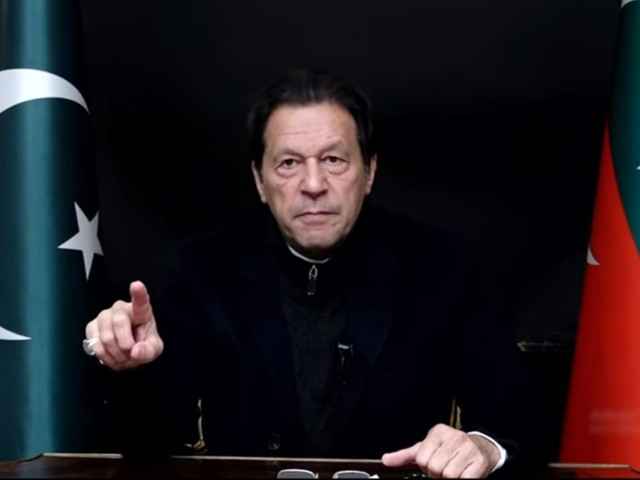 ---
ISLAMABAD:
Pakistan Tehreek-e-Insaf (PTI) Chairman Imran Khan said on Monday his 'Jail Bharo Tehreek' would start if the general elections to the two provincial assemblies, Punjab and Khyber-Pakhtunkhwa, went beyond the constitutional period of 90 days.
In a video address, the former prime minister sought names of volunteers for courting arrest as part of the movement. He asked the people to come forward in response to his call, which, he said, would restore real democracy in the country.
"This is not politics but a war for true freedom, ie true democracy," the PTI chairman said. "If the election goes beyond 90 days, Article 6 will apply," he added, while referring to the constitutional provision against high treason.
Imran announced the movement for courting arrests over the weekend in order to press the Pakistan Muslim League-Nawaz (PML-N)-led coalition government to hold elections in K-P and Punjab and stop arrest of the leaders and allies of his party.
The Punjab and K-P assemblies were dissolved in January on the instructions of Imran in an effort to force Prime Minister Shehbaz Sharif to call general elections in the country. According to the Constitution, the elections have to take place within 90 days of the dissolution of the assembly.
Read Imran ups the ante in political battlefield
Almost a month had passed since the dissolution of the two provincial assemblies but so far, no date of election has been announced, as the Election Commission of Pakistan (ECP) is still in process of holding consultation on the matter.
The PTI chairman said that if the elections went beyond 90 days, his 'Jail Bharo movement' would start, promising that his movement would "give real democracy" to the country. He asked the volunteers to register themselves with the party's district offices for participating in the drive.
Imran said that the present-day situation was in front of everyone. "What is the state of the country's economy," he wondered. "We gave a clear message [during the days leading to the no-confidence motion in April last year] that the economy will not be managed by them," he said.
"Every country in the world is governed by the law ie the Constitution. But when this government came, they flouted the Constitution and the law. The police does not listen to the orders of the courts, nor does the state pay attention," he charged.
"We had two options before us, one was violence and the other is to fill the prisons by courting arrests," Imran said, pointing out that the ECP and the governors of Punjab and K-P had not yet given a date for provincial elections, stating that this was a violation of the Constitution.
COMMENTS
Comments are moderated and generally will be posted if they are on-topic and not abusive.
For more information, please see our Comments FAQ