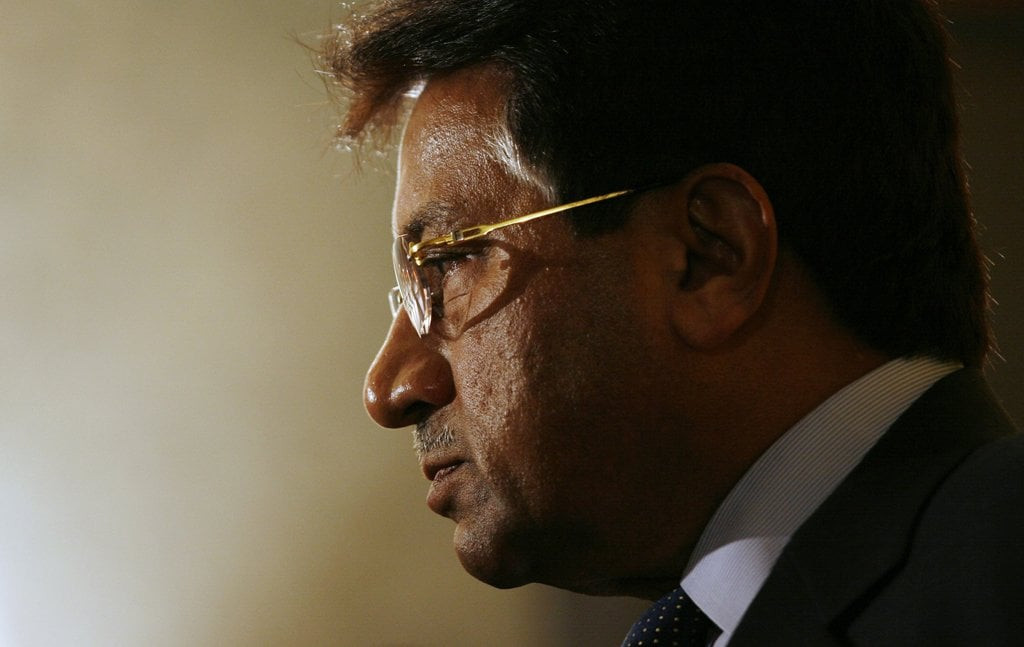 ---
KARACHI:
Former military ruler General (retd) Pervez Musharraf, who had been living in Dubai since 2016, breathed his last on Sunday at the age of 79.
The former president and army chief was suffering from amyloidosis, a rare disease caused by a build-up of an abnormal protein called amyloid in organs and tissues throughout the body, according to his family.
The build-up of amyloid proteins (deposits) can make it difficult for the organs and tissues to work properly.
The former ruler's illness came to light in 2018 when the All Pakistan Muslim League (APML), Musharraf's party, announced that he was suffering from the rare disease.
He leaves behind his widow, a son, and a daughter to mourn his demise.
His body will be brought to Pakistan for burial, his family has confirmed.
The burial site remains to be confirmed but sources said that it was likely to take place in either Islamabad or Karachi.
According to the sources, a chartered plane would reach Dubai from Islamabad on Monday, alongside his family members, to transport the body to the country.
However, a Pakistan air force source told AFP that Musharraf's body would be flown back to Pakistan aboard a civilian liner or UAE air force jet.
The country's top leadership and authorities are reportedly in contact with the family for the funeral preparations.
Once the aggrieved family has decided on the details, a formal announcement would be made.
It is likely that his body would be buried in Karachi but his family would make the final decision about his funeral.
APML Information Secretary Tahir Hussain said the family had confirmed that Musharraf's body would be brought to Karachi on Monday through a special plane.
Musharraf seized power in a 1999 bloodless coup and was acting simultaneously as Pakistan's army chief, chief executive, and president when the 9/11 attacks on the US took place.
The general twice suspended the country's Constitution and was accused of rigging a referendum shoring up his power, as well as rampant rights abuses including rounding up opponents during his nearly nine-year rule.
Nonetheless, he became Washington's chief regional ally during its invasion of neighbouring Afghanistan.
The decision -- made after the US issued a "for us or against us" ultimatum -- put him in the crosshairs of Islamist militants, who made several attempts on his life.
But it also earned Pakistan a huge influx of foreign aid which bolstered the economy.
"There was good in him," 69-year-old Naeem Ul Haq Satti told AFP in an Islamabad marketplace.
"But his one act, which will be remembered throughout history, was he violated the Constitution," the retired civil servant continued.
"The most important thing a country has is its Constitution," he added.
Musharraf ruled Pakistan for nearly nine years, starting when then prime minister Nawaz Sharif attempted to remove him as army chief, having appointed him above more senior officers a year earlier.
In 2002, he forced then president Rafiq Tarar to resign and declared himself the head of the state.
A retired brigadier of the Pakistan Army, Said Nazir, told Anadolu Agency that Musharraf was also the "main architect" of the Kargil war between Pakistan and India in 1999. The war took place months after then premier Nawaz had signed a peace accord with his Indian counterpart Atal Bihari Vajpayee in Lahore.
Musharraf won a five-year term as president in a 2002 referendum but reneged on promises to quit as army chief until late 2007.
Although he was a military dictator, he nonetheless introduced some key reforms, including reserved seats for women and minorities, the introduction of a powerful local bodies system and allowing a rush of news channels to dot Pakistan's media landscape.
These reforms were retained by successive democratic governments.
"Pakistan's decision under Musharraf to join the war against terror turned out to be a boon," analyst Hasan Askari told AFP.
However, it also brought the conflict to Pakistan's doorstep, with an explosion in militancy in the northwestern regions bordering Afghanistan.
"He was neither a good man nor a bad man," said 45-year-old gem merchant Muhammad Ayaz in Peshawar.
"Thousands died in terrorist attacks but business boomed during his tenure. He made graveyards and at the same time built housing developments," he added.
In a statement issued after Musharraf's demise, the Inter-Services Public Relations (ISPR) said that Chairman Joint Chiefs of Staff Committee General Sahir Shamshad and all the services chiefs had expressed their heartfelt condolences.
"May Allah bless the departed soul and give strength to the bereaved family," the military's media wing added.
Prime Minister Shehbaz Sharif also extended condolences to Musharraf's family.
"I offer my condolences to the family of General (retd) Pervez Musharraf. May the departed soul rest in peace," he tweeted.
President Arif Alvi also expressed his grief over Musharraf's demise.
Foreign Minister and PPP Chairman Bilawal Bhutto-Zardari changed his Twitter profile picture to a picture of the late Bugti and his mother -- highlighting the fact that Musharraf was among the people nominated in the Benazir murder case.
PTI leader Fawad Chaudhry, who was a close aide of Musharraf, said though he was called a military dictator, there had never been a stronger democratic system than that under him.
"He [Musharraf] gave Pakistan a free media and he stressed on diversity of opinion in Pakistan," Fawad said in a video message.
"History will always remember him. Pervez Musharraf, we will miss you," he added.
Fawad also tweeted that Musharraf was a "great person" whose ideology was to always keep Pakistan first.
Former Pakistan ambassador to the UN Maleeha Lodhi tweeted that may the Almighty rest Musharraf's soul in peace.
She told Reuters that Musharraf faced many challenges but of them the three crisis he navigated with much prudence were the aftermath of 9/11, the year-long Indian military mobilisation on the border with Pakistan and the AQ Khan affair.
Senate Chairman Sadiq Sanjrani expressed deep sorrow over the former president's death and extended condolences to the grieving family.
"May God grant the deceased a high rank and give patience to the family," he added.
Indian politician Shashi Tharoor wrote on Twitter: "Once an implacable foe of India, he became a real force for peace 2002-2007. I met him annually in those days at the UN & found him smart, engaging & clear in his strategic thinking."
Mosharraf Zaidi, CEO OF Tabadlad, an Islamabad-based think tank, said the most important legacy Musharraf left behind predated his time as president.
"It was his planning and execution of the Kargil War against the judgement of military officers that preceded him and initially unbeknownst to the elected leaders at the time. He maintained that the 1999 Kargil War had permanently altered Pakistan.

(With input from agencies)
COMMENTS
Comments are moderated and generally will be posted if they are on-topic and not abusive.
For more information, please see our Comments FAQ