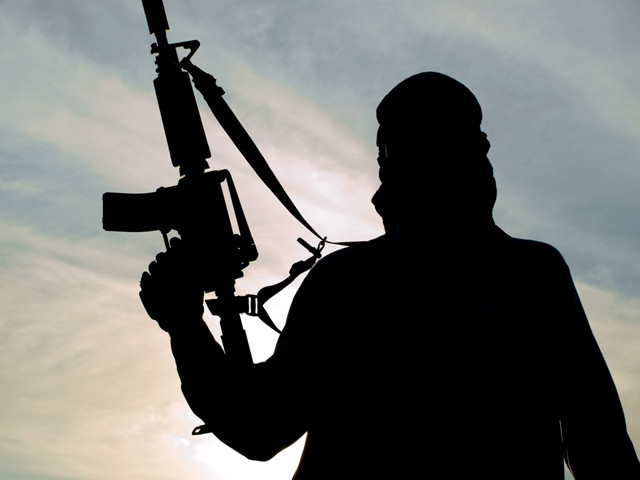 ---
CHARSADDA:
Police on Thursday foiled a terrorist attack in Charsadda district of Khyber-Pakhtunkhwa (K-P) and killed one of the assailants.
District Police Officer (DPO) Khalid Sohail told The Express Tribune a police picket was attacked when it stopped two bike riders for checking in the Shabara area in the jurisdiction of Parang police station.
"Police had established a checking point where the bike riders were stopped for checking but they opened fire at police. Police retaliated and killed one of the attackers while his aide was arrested along with the bike," he said, adding that two pistols and two hand grenades were recovered from the possession of the two attackers.
"The slain attacker has been identified as Sajjid and the arrested one as Yasir," he said, adding that Sajjid was wanted to police in connection with the target killing of a police constable in September 2020.
A police mobile was hit in the firing but luckily police escaped unhurt.
Three terrorists killed
Later, on the basis of intelligence, police reached Nisata, Charsadda where terrorists were hiding.
"They were asked to surrender but they opened fire on the police party. Police also responded, killing three terrorists," a police official said, adding that arms and ammunition were recovered from their possession, including one bike.
This is the second attack of its kind in Charsadda district as on January 21 a police post in Dheri Zardad was attacked in which three policemen were injured. They were rushed to hospital and later shifted to Lady Reading Hospital (LRH) in Peshawar where Constable Imran succumbed to his injuries.
Police claims that the fall of Kabul to Taliban in Afghanistan has provided TTP with a gold opportunity to regroup and operate with impunity as those terrorists who were in Afghan prisons were also released by Taliban.
TTP also took full advantage of the US withdrawal and procured state-of-the- art military grade gadgets including night vision goggles and thermal imaging sites and military sniper rifles which are being em- ployed in staging successful attacks at police across K-P. Peshawar, Lakki Marwat, Bannu and DI Khan as well as North and South Waziristan are among the worst hit districts where terrorists have managed to stage large scale successful attacks in recent months including the Peshawar police lines suicide attack which left 101 people dead.
Man killed in blast
A scrap dealer was killed in the Sarband area of Peshawar when a scrapped mortar shell exploded.
Police said that in Jabb Korona area of Sarband on the outskirts of Peshawar, a scrap dealer Khan Muhammad brought home some scrap out of which an old mortar shell exploded during unloading, killing him on the spot.
Police reached the spot and BDU was called to inspect the site of the explosion.
COMMENTS
Comments are moderated and generally will be posted if they are on-topic and not abusive.
For more information, please see our Comments FAQ