PUBLISHED January 29, 2023
ISLAMABAD:
This year's first nationwide anti-polio campaign to immunise children under the age of five against the crippling disease kicked off on January 16. While no new case has been reported in Pakistan so far this year, the move followed a surge in new infections last year that paralysed 20 children, compared to just one infection in 2021.
During the five-day campaign, according to the national eradication programme officials, more than 364,000 health workers were engaged to deliver polio drops and a vitamin A supplement to at least 43 million children in 156 districts across the country.
Viral hotbed
Last year, the 20 polio cases were reported in Khyber Pakhtunkhwa (K-P), mostly in its violence-hit North Waziristan district on the Afghan border. Pakistan and Afghanistan are the only countries where polio continues to cripple children. Last year, Afghan officials detected two cases, but no more cases were reported so far this year.
A mix of fragile health systems, conflicts, other complex cultural and religious challenges make these countries prone to repeated polio outbreaks. Pakistan has in the past, witnessed frequent attacks on polio teams including women, and policemen deployed to protect door-to-door vaccination campaigns, while militants pre-dominant in K-P's North Waziristan district and areas near the Afghan border, falsely claim that vaccination campaigns are either a Western conspiracy to sterilise children or a cover for espionage.
Women as the linchpin
In our culture, and moreso in a tribal setting, it is unlikely that a male health worker would be allowed into a home by a family, let alone by just women members of a family. But people in the rural areas are more receptive to other women entering their homes as a point of contact to verify the number of children in the household and their vaccination records
Pointing out that no polio campaign has been conducted in the Mehsud belt of South Waziristan for the last six months, because they did not allow the campaign to run, Dr Shehzad Baig, National Coordinator Emergency Operation Centre, emphasised that women as frontline workers are an asset to the polio eradication campaign and hence there is a dire need to improve the security situation for them.
"Ninety-nine percent of women in North and South Waziristan are not a part of polio teams as frontline workers," he says. "If women were included in our teams, polio virus would be eradicated from this country in no time."
Dr Baig mentioned that on his trip to Pakistan, Bill Gates had visited the Polio Emergency Centre, and had expressed his satisfaction in regard to our polio programme being technically strong. "But we are helpless when it comes to these people's reaction to getting the polio vaccine administered to their children," he laments, referring to the Mehsud belt on South Waziristan.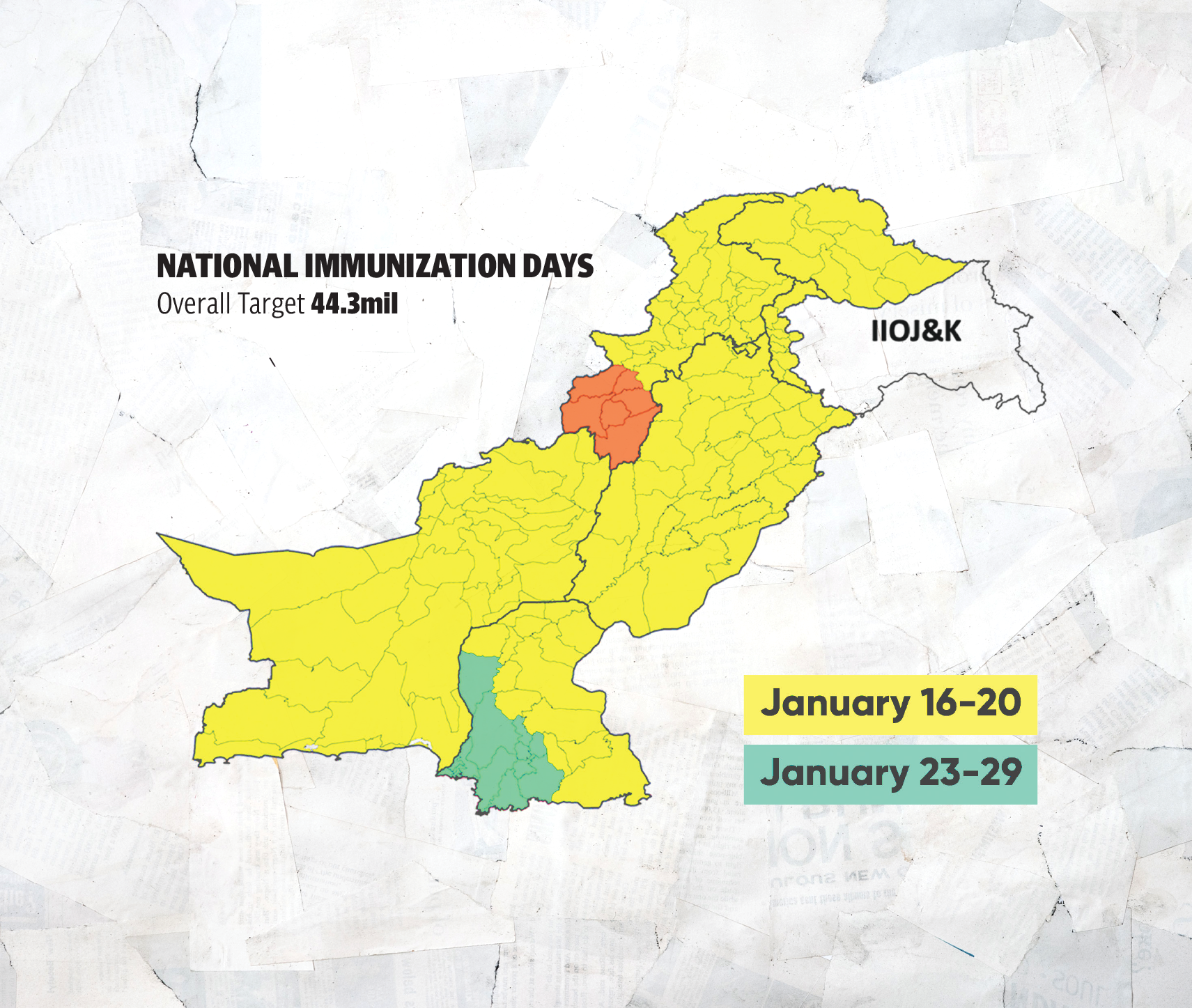 False claims
Apart from being considered an international conspiracy or an anti-Islamic plan, it is also believed that anti-polio drops can cause impotence among men. Sadly and ludicrously, the misconception does not end here, but it is stretched to the illogical fear that polio campaigns are only carried out in Muslim countries such as Pakistan and Afghanistan to control the Muslim population through polio drops, along with deliberate fake display of polio cases in these countries.
Highlighting the fact that Nigeria has been declared polio-free, Dr Baig says that Afghanistan and Pakistan are the only countries where the polio virus is still present.
"In Pakistan, the virus is present in southern K-P and Dera Ismail Khan, with Tank, Lakki Marwat and Bannu being the critical areas, where not only polio cases are being reported, but running the campaign here is also a huge challenge."
The polio virus is also rampant in areas connected to Afghanistan, where there is movement across the border. "This is why on the Pak-Afghan border, anti-polio drops are administered to a larger age bracket of children from 5 to10 years of age," says Dr Baig. "So that if any of them are virus carriers, they can be protected."
Twenty polio cases were reported up till September 2022, of which 17 were reported from an area of ​​North Waziristan covering only fifteen kilometers.
Compensations for courage
"According to an estimate, so far 62 polio workers and police officers who were responsible for security during the polio campaign have been martyred," says Dr Baig. "Their families were paid Rs1 million each as financial assistance, while those who were injured were given Rs100,000 to Rs500,000."
Considering the services of the courageous frontline workers being crucial as well as highly dangerous and risky, Dr Baig apprised that their salaries had been increased by 20%.
"Eighty percent workers of polio teams are government employees and 20% are private. Some 12,000 polio workers were affected by floods for which they have also been given financial assistance of Rs 25,000 each."
While the polio programme in Pakistan is funded by international donors, the cost of procuring the vaccine, maintaining its cold storage and delivery system is borne by the government.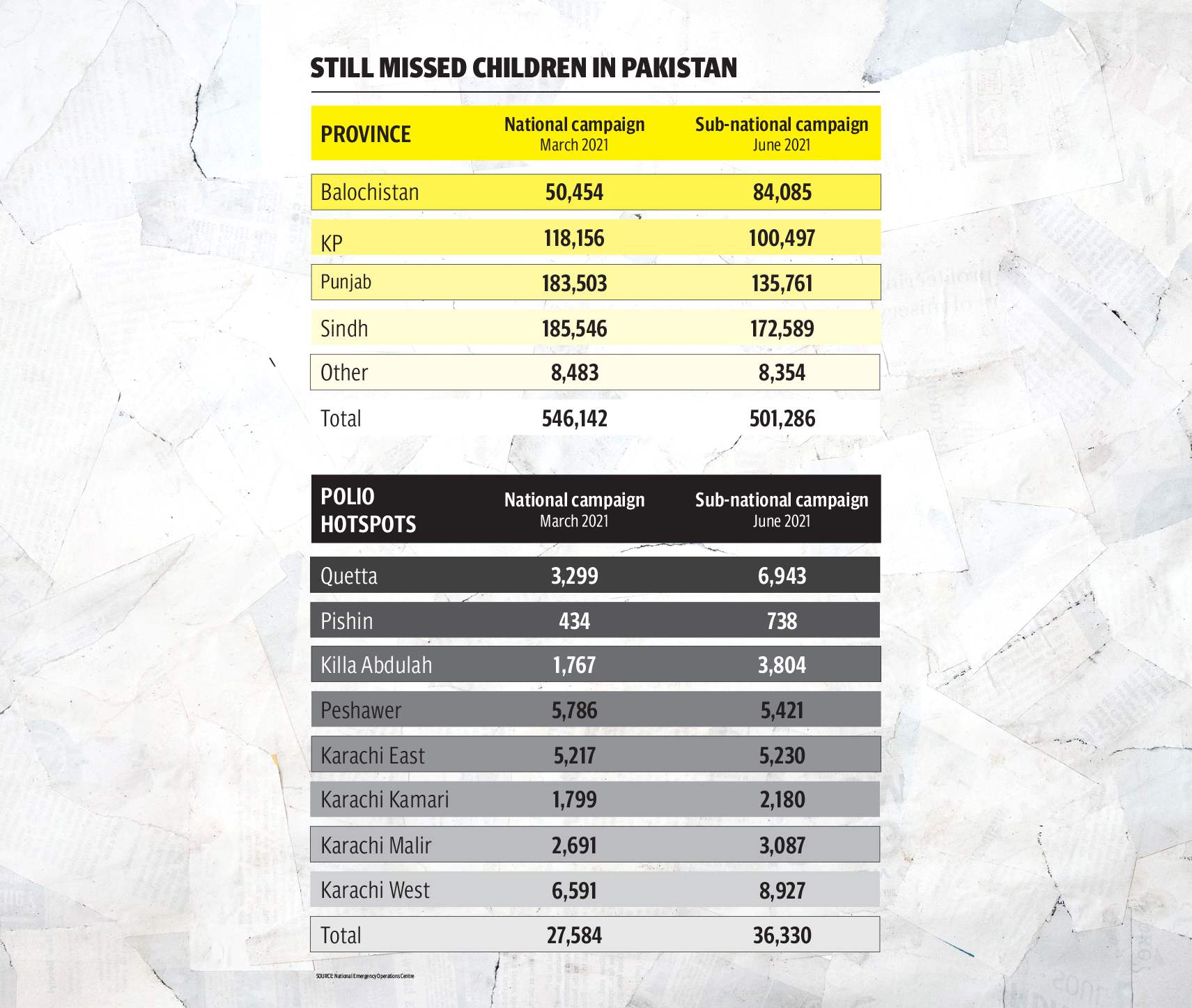 Polio certification
Since a polio certificate is mandatory for those travelling to Europe from Pakistan, an online system in collaboration with NADRA is in place for the provision of OPV (Oral Poliovirus Vaccine) and IPV (Inactivated Polio Vaccine). To facilitate people travelling abroad, just like the corona vaccination cards, polio vaccine cards are also available since June last year.
"Our biggest fear is that international donors might get tired of pushing their International Polio Programme in our country," confesses Dr Baig.
After completion of three days of the first anti-polio campaign this year, two-day catch-up days were also organised, which is a tradition with polio campaigns.
Mobile phones provided to polio teams help monitor their progress and track their movement. During the campaign, a live dashboard provides area-wise information of parents' refusals to give anti polio drops to their children and the absence of children from their homes.
Workers' woes
"This is a city of mostly educated people, but when we visit their homes during the polio campaign, their attitude and response is mostly unwelcoming," says Shabana, a health worker from Islamabad. "Since people living in posh areas believe that we know nothing about hygiene and our team is not properly sanitised, they don't let us touch their children. We have a lot of explaining to do before we are allowed to administer drops. Also people are curious about the vaccine being free and whether temperature maintenance and its delivery system in regard to the cold chain is done responsibly or not."
But Zubair Sheikh, another polio worker from Rawalpindi, feels that it is only in backward areas that people behave badly.
"In Rawalpindi, mostly people are warm and cooperative about their children being administered anti-polio drops," he says. "It is in backward areas that people believe in conspiracy theories about the virus being used to make children sick or to reduce the Muslim population. In such cases, women health workers explain everything to the women of the house. Sometimes police security comes in handy in certain areas, but in the presence of police, people are generally well-behaved and we can get on with our work easily."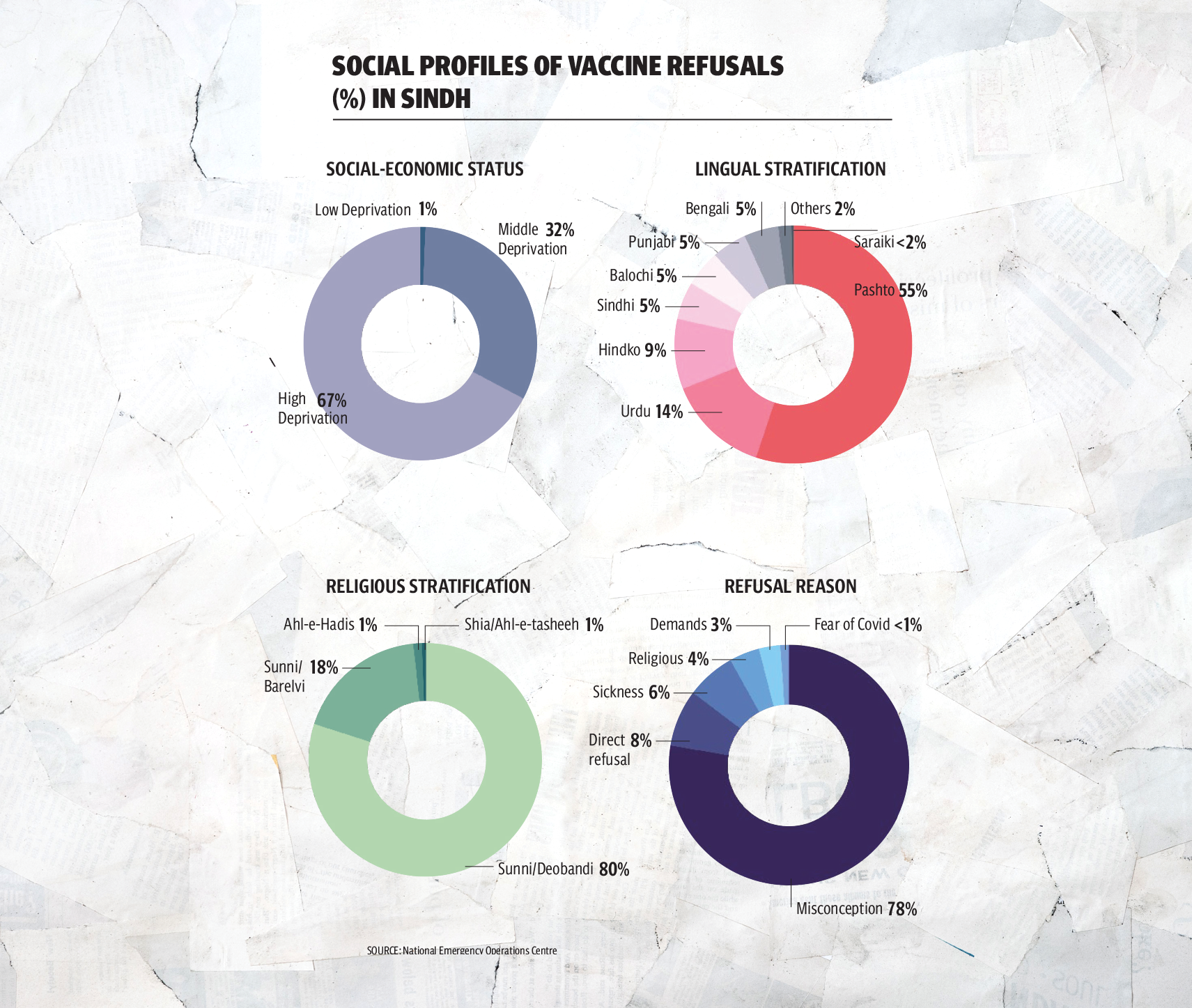 What the people say
Saeeda Bibi, a 45-year-old housewife from the rural area of Bahara Kahu in Islamabad has her cooked up her own set of ideas and misconceptions about the polio campaign. "Why is the government so concerned about our children's health that they are giving free vaccines several times a year?" she asks. "No other vaccines are given again and again and with so much concern. They charge so much for utilities such as water, electricity and gas plus there is so much inflation, yet the vaccine is free! The West can use anyone for their vested interest. Why should we be used for their benefit? We don't want our kids to take anti-polio drops."
Polio programme report
According to the polio eradication programme report, the high-risk areas include Peshawar, Karachi, and Qila Abdullah, Pashin and Quetta in Balochistan. The last confirmed case of polio was in November last year while the total number of confirmed cases so far is 20.
Clearing religious misconceptions
"Research has confirmed that the contents of the anti-polio drops are halal and in regard to this, a fatwa has been issued by Islamic scholars which is fully supported the Islamic Ideology Council." says Chairman Islamic Ideological Council," Dr Qibla Ayaz. "Therefore vaccinations must be administered to prevent multiple cases of polio in the country,"
Dr Ayaz believes that it is the religious responsibility of parents to protect their children.
"You can only present a solid argument if you can prove outdated traditions and ideas on a scientific basis," he says. "Otherwise, it is just paranoia, suspicion and misunderstanding that stands in the way of a free service being provided by the government."
Dr Ayaz reiterated that there is a huge need to create polio awareness and educate people. "Most certainly for us, religion is the absolute source of guidance in any matter, but linking a vaccine campaign to religion makes no sense," he says. "Science has progressed tremendously and the modern world is so advanced that the people of Pakistan need to play a positive role in the development of this country, instead of becoming a joke in the world by linking misconceptions about the polio vaccine with Islam. Scholars in Pakistan as well as all over the world have unanimously declared the polio vaccine to be free from haram [proscribed] ingredients and it is equally safe for both men and women."
Poliovirus in Lahore
A week after the execution of the first anti-polio campaign this year, the presence of polio virus was confirmed in an environmental sample from Gulshan-e-Ravi, Lahore, and its link found in the Nangarhar region, Afghanistan. Hence, additional polio campaigns are planned in February and March in Lahore. Interestingly, last year, polio virus was confirmed in four environmental samples of Lahore district, while the last case of polio in Lahore was reported in July 2020.
Abdul Qadir Patel, the federal health minister believes that the timely confirmation of the virus in the environment is a good thing. The Pakistan Polio Programme has worked closely with the Afghanistan Polio Programme and the only way to prevent the spread of the virus is vaccination.
Truck art for polio
As a unique initiative, Pakistani truck art which is popular across the world, will be used for the polio awareness campaign this year on trucks moving between K-P and Afghanistan.
Patel believes that truck art messages inscribed in all provincial languages ​​through truck art will make an effective and successful campaign.
Promise of a polio free future
"An integrated strategy is being worked out to eradicate polio using all necessary resources and measures," says Patel, promising that he would not rest until polio is eradicated from the country. "Let's pledge together to play our part in eradicating polio."