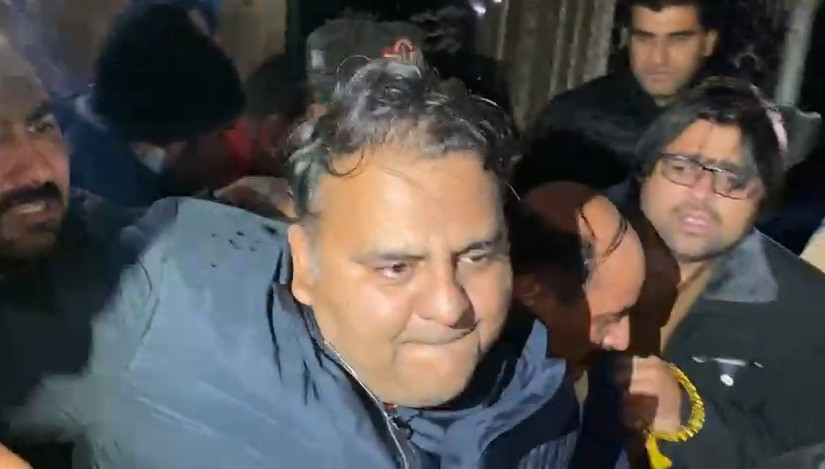 ---
ISLAMABAD:
PTI leader Fawad Chaudhry will be presented before a court in Islamabad after the completion of his two-day physical remand on Friday (today) while the Supreme Court Bar Association (SCBA) strongly condemned the "unlawful arrest" and demanded the former federal minister's "immediate release".
Chaudhry was arrested on sedition charges from his residence in Lahore in the wee hours of Wednesday. Later in the night, an Islamabad court handed over the PTI leader to police on a two-day physical remand.
Fawad will be presented before Judicial Magistrate Waqas Ahmed Raja at the District and Sessions Court today.
PTI leader Hammad Azhar censured the authorities for covering Chaudhry's face while presenting him before the court, saying it was a "cover on Pakistan's democratic system".
"[Former SSP] Rao Anwar and those involved in the regime change operation should be brought [to the court] the way Fawad Chadhry was brought," he said.
"Fawad Chaudhry has become a 'hero of the nation'. PTI will continue the struggle until the restoration of democracy and establishment of the rule of law [in the country]."
Meanwhile, the SCBA strongly condemned the "unlawful arrest" of Chaudhry and demanded his "immediate release".
In a statement, the SCBA noted that Chaudhry was a former federal minister and also an advocate of the Supreme Court and member of the SCBA.
"Hence, this association views his arrest with grave concern, particularly the way he was maltreated and handcuffed, is extremely humiliating for the legal fraternity and highly condemnable," the statement said.
The SCBA termed Chaudhry's arrest a "classic example of abuse of power and political victimisation".
It stressed that every individual was entitled to be dealt in accordance with law and deserved fair trial as well as dignified treatment.
It also highlighted the importance of Article 19 of the Constitution, which provides equal opportunity to every citizen for freedom of speech.
COMMENTS
Comments are moderated and generally will be posted if they are on-topic and not abusive.
For more information, please see our Comments FAQ