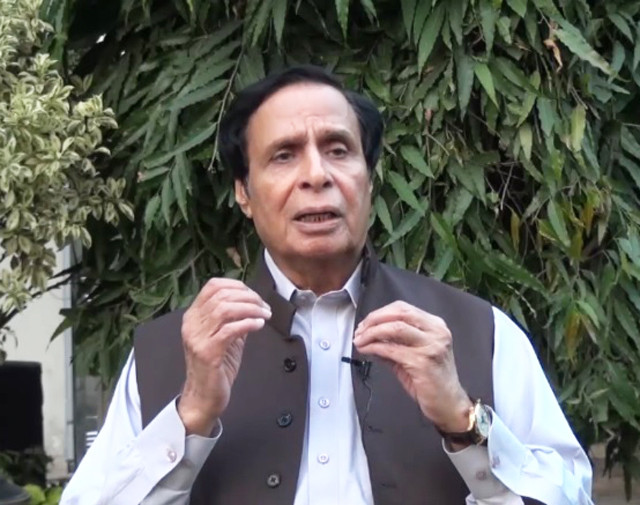 ---
Former Punjab chief minister and PML-Q leader Pervaiz Elahi on Thursday apologised to the family of PTI leader Fawad Chaudhry, who was booked on sedition charges earlier this week, for saying the latter should have been arrested earlier.
Addressing the media earlier today, Elahi had slammed PTI leaders for "misleading" party chief and former prime minister Imran Khan. Referring to the dissolution of the Punjab Assembly, the former Punjab CM said he had tried his best to convince the PTI chairman not to dissolve the provincial legislature.
"Those who were close to Khan sahab [are responsible] for damaging the roots of the party," he had said.
Without naming Fawad, Elahi had said, "If he was arrested earlier, things would have been better."
Later, Elahi expressed regret over his remarks, saying he has had a long-standing relationship with the family of Fawad Chaudhary.
"My statement caused pain to his family for which I apologise to them," he said.
آج تقریر کے دوران پی ٹی آئی رہنما فواد چودھری کے متعلق جو گفتگو ہوئی اس پر معذرت خواہ ہوں. فواد چودھری کی پوری فیملی سے ہمارے دیرینہ تعلقات ہیں. میرے بیان سے ان کی فیملی کو دکھ پہنچا جس پر میں ان سے معذرت خواہ ہوں

— Ch Parvez Elahi (@ChParvezElahi) January 26, 2023
Also read: Fawad runs afoul of sedition law
Fawad was taken into custody on Wednesday morning from Lahore after an FIR was registered against him at Islamabad's Kohsar police station by the Election Commission of Pakistan for "threatening" members of the commission, including the chief, and their families, and "inciting violence against a constitutional institution".
The arrest of the outspoken critic of the ruling PDM coalition during the predawn raid at his house potentially delivered a blow to the party in which he serves as vice president.
Later that night, an Islamabad court handed over the PTI leader to police in a two-day physical remand.
COMMENTS
Comments are moderated and generally will be posted if they are on-topic and not abusive.
For more information, please see our Comments FAQ