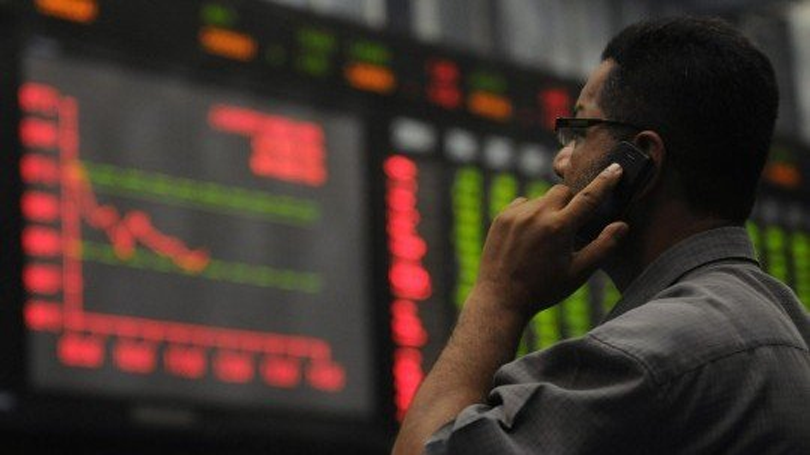 ---
KARACHI:
Pakistan Stock Exchange witnessed a lacklustre trading session on Monday as investors opted for a wait-and-watch approach over an expected hike in the key policy rate by 100 basis points (bps) to 17%, which was announced after the end of trading session.
The market commenced trading with a steep decline as jittery investors mainly stayed on the sidelines on concerns over the policy rate hike in the upcoming monetary policy announcement.
The KSE-100 index touched an intra-day low of 38,135.53 points in initial hours and remained under pressure for most of the day. Trading volumes stood very low at 81 million shares.
The market traded range bound, however, investors rushed to make some purchases after midday, which helped the index to close in the green with marginal gains. "Stocks closed higher, led by banking and oil stocks, as investors speculated on a possible hike in the SBP's key policy rate and early resolution of the Rs1.6 trillion gas-sector circular debt crisis," said Arif Habib Commodities Managing Director and CEO Ahsan Mehanti.
At close, the benchmark KSE-100 index recorded a slight increase of 35.61 points, or 0.09%, to settle at 38,443.59. Topline Securities, in its report, noted that Pakistan equities witnessed a lacklustre trading day. "The KSE-100 index opened in the red zone and hit an intra-day low at 38,134 (-272 points; or 0.71%)," it said.
Later, the index touched an intra-day high at 38,553 (+145 points; or 0.38%) before eventually settling at 38,444 (+36 points; or 0.09%).
The lacklustre behaviour was due to the wait-and-watch approach opted by investors ahead of the outcome of monetary policy meeting, which came after the close of market, where the State Bank of Pakistan (SBP) icreased its policy rate by 100 bps as per market expectations, Topline said.
During the day, exploration and production (E&P), tech, power and cement-sector stocks contributed positively to the index where Oil and Gas Development Company, Pakistan Petroleum, TRG Pakistan, Hub Power and Lucky Cement added 130 points cumulatively.
On the flip side, United Bank, Fauji Fertiliser and Dawood Hercules saw some profit-taking as they lost 61 points collectively, Topline added. Arif Habib Limited, in its report, said that a range-bound session was registered at the PSX at the start of business week. "The market opened in the green but the lack of investor participation drove the index into the red zone. However, the market swung in both directions for most of the trading session and managed to close in the green," it said. "Investors opted to remain on the sidelines on account of monetary policy announcement."
The index closed at 38,443.59, up by 35.61 points (+0.09% day-on-day). Sectors contributing to the performance included E&P (+84.6 points), cement (+40.2 points), technology and communication (+30.9 points), power generation and distribution (+20.9 points), and sugar and allied industries (+4.1 points), the AHL report added.
JS Research analyst Mohammed Waqar Iqbal said that the bourse remained under pressure throughout the day due to the rising economic uncertainty and macroeconomic worries. "Going forward, we recommend investors to adopt a cautious approach," the analyst added.
Overall trading volumes decreased to 81.3 million shares compared with Friday's tally of 93.5 million. The value of shares traded during the day was Rs2.8 billion.
Shares of 315 companies were traded. At close, 130 stocks closed higher, 159 declined and 26 remained unchanged.
Al Shaheer Corporation (R) was the volume leader with trading in 9.9 million shares, losing Rs0.1 to close at Rs0.07. It was followed by TRG Pakistan with 7.8 million shares, gaining Rs2.57 to close at Rs100.67 and WorldCall Telecom with 5.9 million shares, losing Rs0.01 to close at Rs1.10.
Foreign investors were net buyers of Rs118.8 million worth of shares during the trading session, according to data compiled by the National Clearing Company of Pakistan.
COMMENTS
Comments are moderated and generally will be posted if they are on-topic and not abusive.
For more information, please see our Comments FAQ