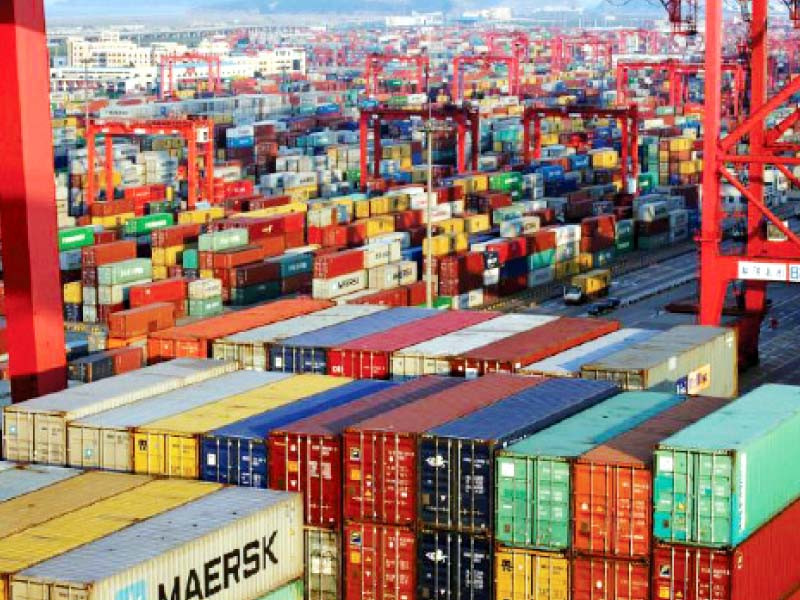 ---
KARACHI:
Supply chain disruptions in the country have caused major delays as containers remained stuck at the Karachi port because of local banks suspending the opening of letters of credit (LCs) – a situation that might lead to a further escalation of prices in the coming days.
Stakeholders are urging for immediate measures to resolve the issues and prevent any more economic impact.
"The State Bank of Pakistan (SBP) has kept one of the highest policy rate, 16%, to curtail the highest inflation ever," Karachi Chamber of Commerce and Industries (KCCI) President Mohammed Tariq Yousaf pointed out during a recent meeting with the central bank's governor, Jameel Ahmad.
"The entire practice to control inflation will go in vain if the containers remain stuck at ports incurring demurrage and detention fines," he added.
Obviously, the traders will pass on the increased cost to the customers, adding to the latter's already existing woes.
The KCCI asked its members to fill a Google form to inform the SBP about how containers were stuck at the port.
A total of 2,550 forms have been filled so far whereas 2,375 cases have been forwarded to the SBP for further action, the KCCI official said.
He added that work was under way on the value of the consignments.
Former Pakistan Ship's Agents Association (PSAA) chairman Muhammad Rajpar told The Express Tribune that there were around 5,500 containers stuck at the airport for different reasons.
In a statement issued after a meeting with the SBP governor, Federation of Pakistan Chamber of Commerce and Industry (FPCCI) President Irfan Iqbal Sheikh emphasised that delays in clearing import consignments were causing a multitude of issues including detention charges, shortage of raw materials for industrial production, closure of plants, loss of revenue, and layoffs.
He suggested that pending cases could be resolved immediately by clearing all import consignments not involving the dollar outflow, creating a clear plan for importers to order from international suppliers, and restoring the open account system.
Read SBP directs banks to facilitate release of imports stuck at Karachi port
Mian Anjum Nisar, a former president of the FPCCI, noted that there were three different markets for dollars operating in the country, and called for regulatory action against commercial banks for speculative trading.
Mian Nasser Hyatt Maggo, the immediate past president of the FPCCI, expressed his concern that the SBP was not listening to the genuine concerns of the business community and warned of potential social unrest due to the economic disarray.
The SBP governor said the individual or sectorial cases would be discussed in a joint committee with the FPCCI.
He also announced measures to alleviate the concerns, including clearing the backlog of cases, prioritising food products, industrial raw and agricultural materials, and energy producing imports, when opening LCs, and taking appropriate action against commercial banks if necessary.
Frustrated with the situation, the PSAA wrote a letter to the SBP governor as well as the Finance ,Commerce, and Maritime Affairs ministers that it was deeply perturbed because of the discontinuation of outward remittance of surplus freight amounts to respective foreign shipping lines that would adversely hamper Pakistan's seaborne trade.
It also pointed out that the country's trade was heavily dependent on foreign shipping lines.
The PSAA further noted that judging from the current state of affairs, where the shipping sector is badly hit by economic ups and downs, any further delays in remitting their legitimate dues would constrain Pakistan's foreign trade.
"Foreign shipping lines are already considering reducing their services in Pakistan due to reduced cargo volumes," the PSAA said in a statement to the media.
"Stopping their remittances will create havoc for Pakistan's international trade which will in turn worsen the current economic situation," it added.
However, former PSAA chief Rajpar told The Express Tribune that they could always come up with innovative ideas to come out of difficult times -- one of them waa hedging of dollars and setting installments for the payments to the shipping companies.
He added that Pakistan was not close to an economic meltdown as yet, therefore the government still had time to seek a way out of the current crisis.
On account of raw material shortage, Pakistan's manufacturing sector is facing challenges as indicated by the Large Scale Manufacturing Index (LSMI).
According to an analysis by Taurus Securities, the LSMI output decreased by 5.49% on a year-over-year (YoY) basis in November 2022, however, it increased by 3.55% on a month-over-month (MoM) basis.
Read more Production at 30% units halted
Wood products, machinery and equipment, and transport equipment industries were among the major sectors that experienced a decline in output levels, with decreases of 80.54%, 56.13%, and 41.01% respectively, on a YoY basis. However, other manufacturing, wearing apparel, and furniture sectors were major sectors that experienced an increase in output levels, with increases of 55.56%, 49.70%, and 36.36% respectively, during November of 2022.
The textile sector experienced a decline of 24.6% on a YoY basis.
Additionally, textile exports during December of 2022 witnessed a decline of around 17% on a YoY basis compared with the same period last year because of the slowdown in global demand and restrictions on import of raw materials. Several plants have closed down because of these hardships resulting in massive layoffs.
The automobile manufacturing industry also faced challenges, with a decrease of 19% on YoY basis in December 2022 mainly because of to a shortage of completely knocked down (CKD) kits that triggered production halts.
The fertiliser production industry also experienced a decrease of 7.70% on a YoY basis, mainly because of a decrease in urea sales.
This was caused by shutdowns of plants for maintenance and high prices of urea.
The food sector also witnessed a decline of 13.6% on MoM basis.
The production of sugar, bakery, and chocolate etc. segment decreased by 43.8% on YoY basis because of the shortage of raw materials and overall demand contraction because of the soaring inflation.
Wheat and rice milling recorded a fall of 13% due to the lower availability of stocks with the mills amid shortages caused by last year's catastrophic floods.
It is expected that the construction sector might face challenges in the fourth quarter of the fiscal year 2023 due to delays in the opening of LCs that might threaten cyclical industries, according to the AHL research.
The demand for cyclical industries, since the beginning of the fiscal year 2023, has shrunk noticeably due to the floods of 2022 and the overall economic slowdown.
The offtake has undergone a decrease of 17% on a YoY basis in the domestic cement market during the first half of the fiscal year 2023.
COMMENTS
Comments are moderated and generally will be posted if they are on-topic and not abusive.
For more information, please see our Comments FAQ