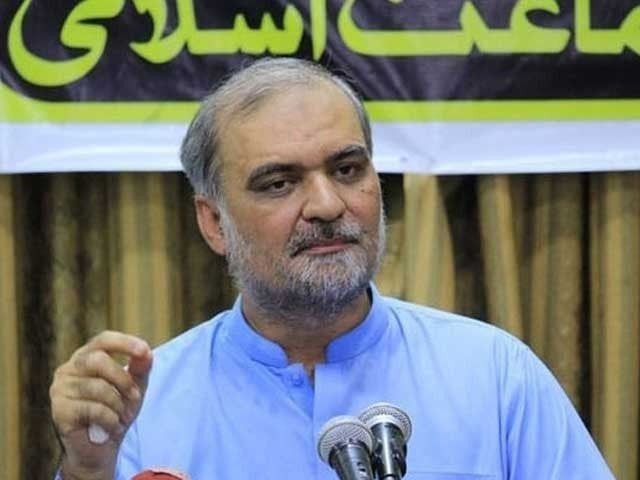 ---
KARACHI:
Jamaat-e-Islami (JI) Karachi chief Engr Hafiz Naeem-ur-Rehman visited the Pakistan Muslim League-N's (PML-N) provincial secretariat on Sunday to invite its leaders to work together for the development of the city.
On his visit, the JI leader asked the PML-N's leadership to contact all political forces in the city to launch a joint initiative to mitigate the burning issues being faced by Karachi and its citizens.
PML-N Sindh President Shah Muhammad Shah responded positively to the JI delegation and agreed to the idea of a joint struggle for the development of Karachi.
Following the meeting, the two parties held a joint press conference on the matter. Speaking on the occasion, Naeemur Rehman said that the local government elections in Karachi were held after a prolonged struggle and all political parties in the city have reservations and concerns over how the polls were held.
He said that the need of the hour is to work together for the progress and development of the city.
He said that the disagreement surfaced in the elections and the announcement of results will bring the city nowhere but will further create hindrances against solid measures to resolve the miseries of Karachi.
He said that the JI and the Pakistan People's Party (PPP) did not hold talks over the election of the mayor in the city council as it was impossible in the given scenario.
The JI leader maintained that the party has already applied to the Election Commission of Pakistan (ECP) to hold a recounting in the presence of the ECP representatives as no one trusts the biassed returning officers, particularly after their controversial conduct.
He said that the JI will be open for talks for the election of mayor in the city after the ECP decides on the matter of six union councils. Naeem expressed his high hope that the JI will secure the mayorship in Karachi and said that the mandate of each party, after the rectification of the results, will be respected.
While addressing the presser, Shah Ahmed Shah congratulated the JI on its victory in the local government elections. He said that the PML-N wants to work together with the JI and other parties for the sake of Karachi's future.
He said that the PML-N respects the mandate of the JI in the city and wants a close working relationship. He also responded positively to the JI's request to play its role in bringing all political parties on the same page to serve the port city.
Published in The Express Tribune, January 23rd, 2023.
COMMENTS
Comments are moderated and generally will be posted if they are on-topic and not abusive.
For more information, please see our Comments FAQ