 ---
On Wednesday, Sarwat Gillani took to social media to highlight the harmful impact of making one's private details public. The actor was talking about Feroze Khan publicly documenting hers and the personal information of other artists he sent legal notices.
Feroze, a day prior, had sent defamation notices to several artists for [levelling] false and baseless allegations against the actor.
Feroze first shared the legal document on his official Twitter handle that included addresses and personal contact numbers. However, he later deleted the said notice from social media and instead wrote, "Defamation legal notice has been served by my legal team to those for [sharing] false and baseless allegations." The notice, unfortunately, went viral by the time he removed it from his official Twitter account with an impressive following of almost 442,000 followers.
- Defamation Legal Notice Has Been Served By My Legal Team To Those For False and Baseless Allegations.

Sincerely yours; FK

— Feroze Khan (@ferozekhaan) January 17, 2023
Taking to Instagram, the Joyland actor posted a picture full of countless spam calls from different unknown numbers. "It is bizarre and despicable that private information, including phone numbers of various famous individuals, has been publicly shared on the absurd pretext of issuing a legal notice to them by Feroze Khan. Not only are such actions clearly illegal but also demonstrate the total lack of maturity to handle matters in a civilised way," expressed the Churails star.
Sarwat then concluded her post with a witty remark. She said, "Two days ago, Feroze had one ex-wife and her lawyer, now he will have to face ten celebrities and their lawyers. Good luck!"
Fellow star, Mira Sethi concurred with Sarwat and shared on her Instagram Story, "Echoing what Sarwat said about leaked numbers. Unbelievable. My lawyer will respond to the notice and I will continue standing with Aliza Sultan."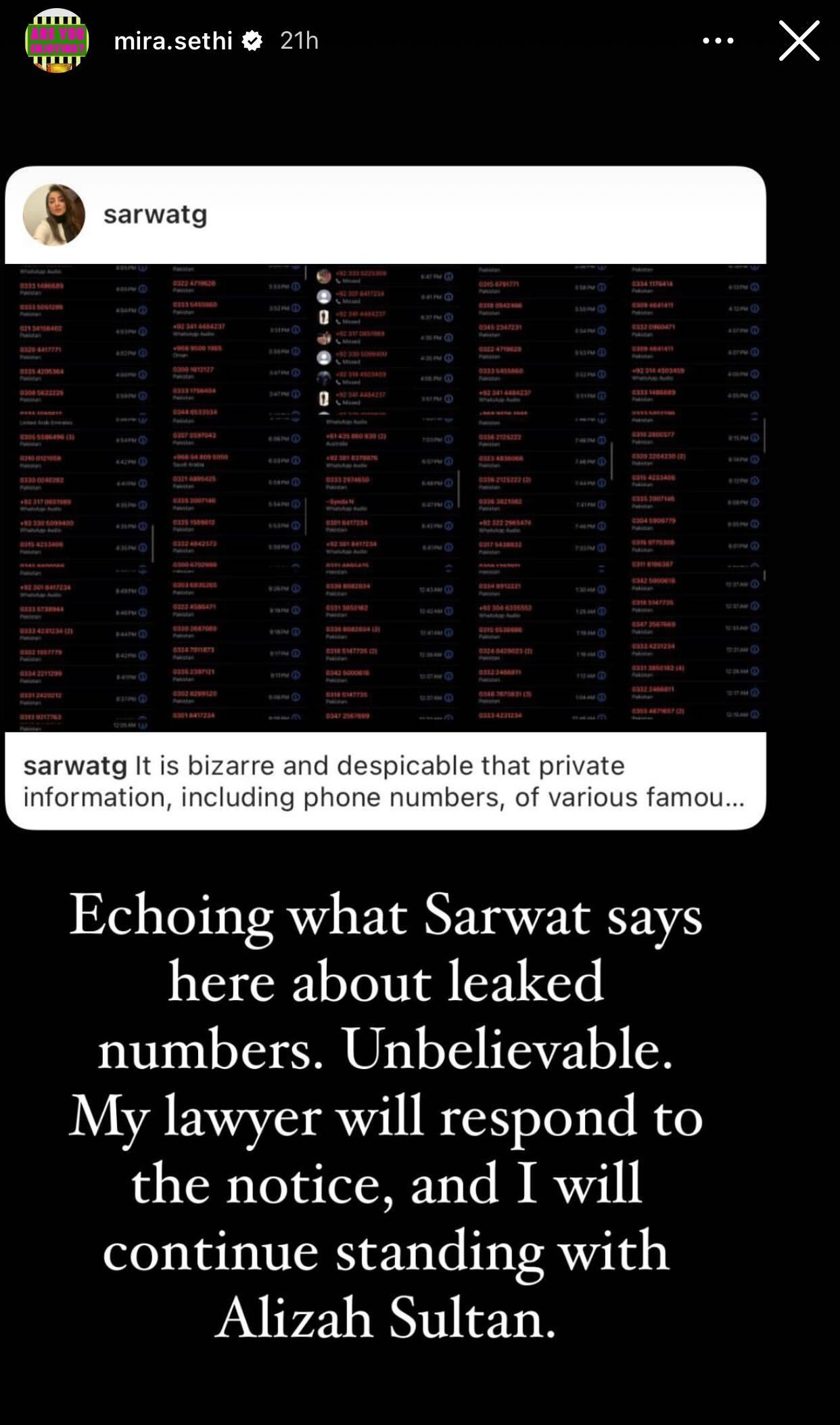 Oscar-winning Sharmeen Obaid Chinoy, too, expressed solidarity with Sarwat and commented on her post, "Wait till you see mine." In a separate Instagram Story, the Emmy-winning filmmaker shared, "Leaking personal information including phone numbers and addresses is a criminal offense, just FYI. 20 years of dealing with men perpetrators of domestic violence. I know every plan in their book, just saying."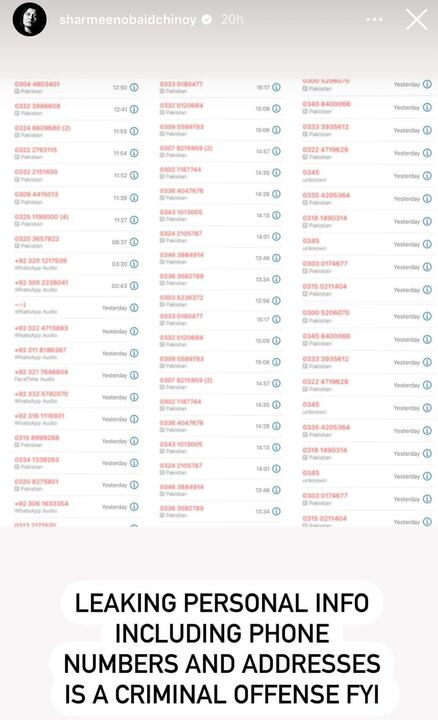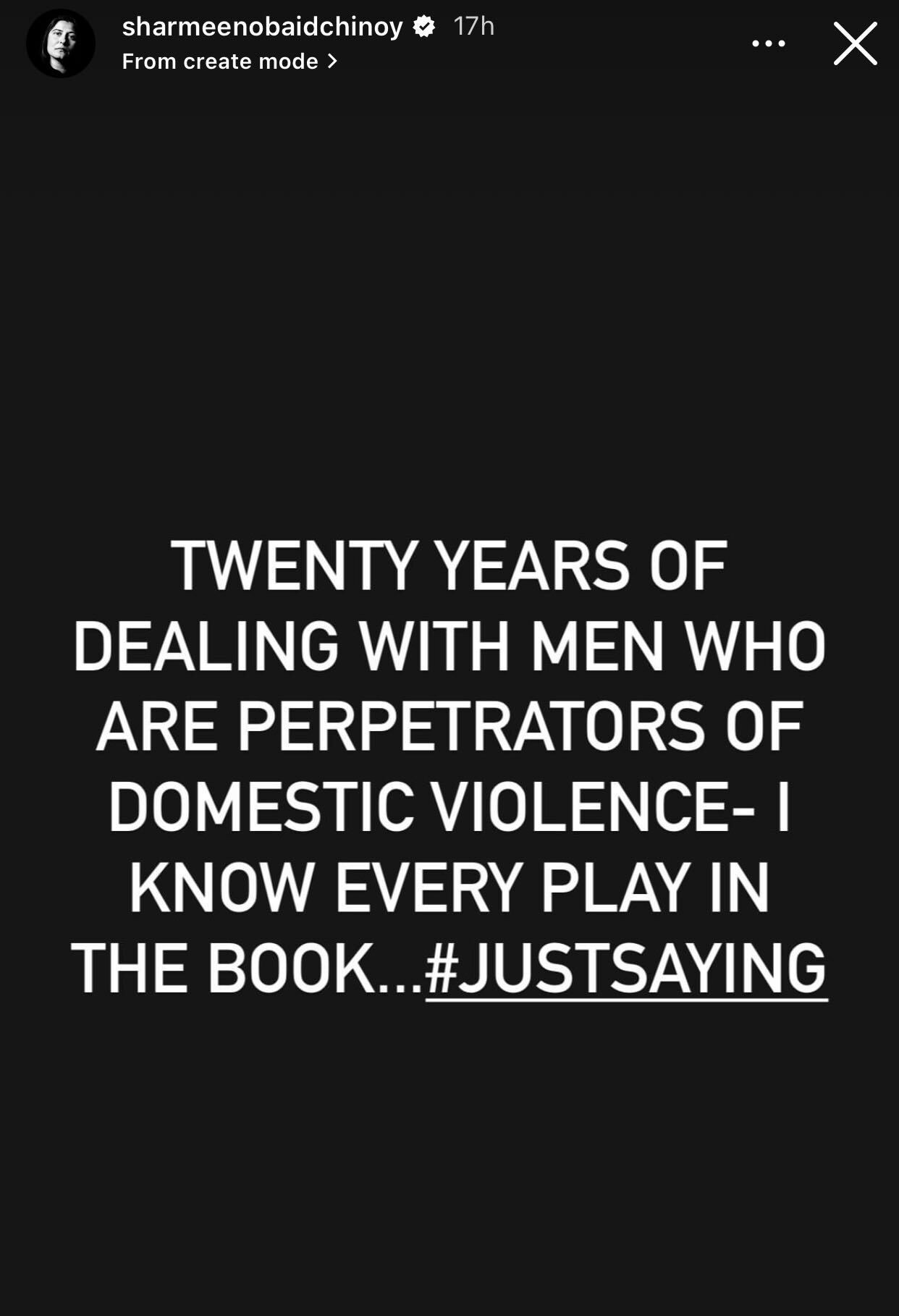 Osman Khalid Butt lauded Sarwat and penned, "Here's to fighting the good fight, no matter the repercussions."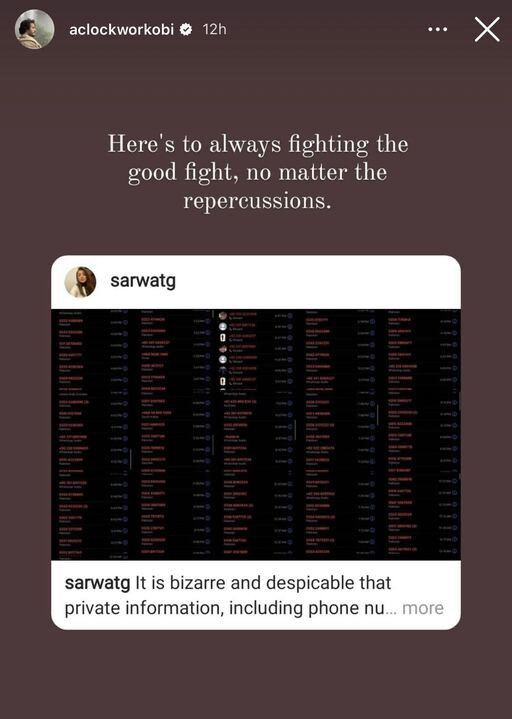 The Balu Mahi star then shared Minal Khan's post about the same. Osman expressed support and wrote, "Don't even have the words. These past two days have been a nightmare even imagine what you and all the female artists targetted must be going through."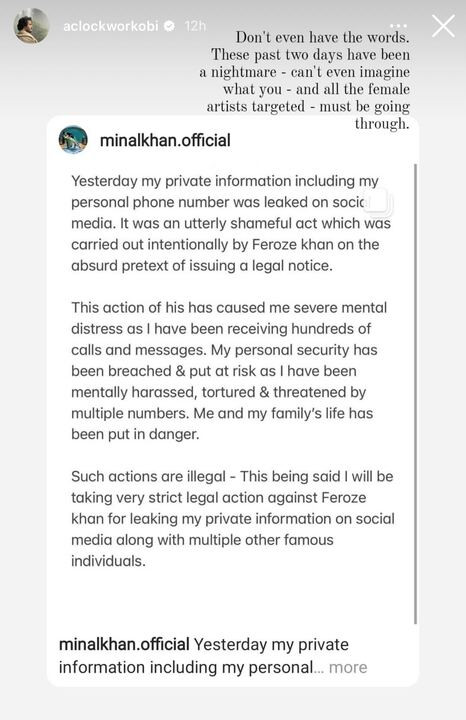 Aiman Khan and Minal shared a statement on their Instagram profiles without mincing words. "Yesterday my private information including my personal phone number was leaked on social media." The statement added, "It was an utterly shameful act that was carried out intentionally by Feroze khan on the absurd pretext of issuing a legal notice."
The actors further spoke about how distressing the ordeal has been and penned, "This action of his has caused me severe mental distress as I have been receiving hundreds of calls and messages. My personal security has been breached and put at risk as I have been mentally harassed, tortured and threatened by multiple numbers. My and my family's life have been put in danger."
The statement concluded, "Such actions are illegal - This being said I will be taking very strict legal action against Feroze khan for leaking my private information on social media along with multiple other famous individuals."
Farhan sends legal notice to Feroze
Farhan Saeed, on the other hand, has already sent a legal notice to his Tich Button co-star. As per the court notice, acquired from his publicist, Farhan has informed that he is yet to receive Feroze's defamation notice in person. He has only seen the said defamation notice on "WhatsApp, social media, digital platforms and virtual public spaces."
Adding on, Farhan's court notice to Feroze discusses a breach of privacy after the latter made the personal information of the actor public by sharing the defamation notice on social media. Clarifying that Farhan's address mentioned on the defamation notice isn't of his residence but of the organisation he works for. "This has been deliberately done to malign our client at his professional space," the notice shared. "Our client is contemplating launching a criminal complaint against your client for doing such an inappropriate act. It may not be misplaced to inform that as there are other parties (including women) to your notice as well, they have palpably suffered the same nuisance."
The notice further highlights that Farhan has never defamed Feroze, nor addressed his abuse allegations in any manner or on any platform. "We wish to state that our client possesses no interest in the personal affairs of your client. The personal affairs of your client are not worthy of the professional time of our client."
Adding on, Farhan's legal team ensured to pursue a separate case against Feroze and how he failed to fulfill his "contractual responsibility" towards Farhan's production house. "Our client [Farhan] earlier enjoyed a good rapport with your client [Feroze] and helped build the public profile of your client as well," the notice read. "However, your client has decimated the sanity of the relationship by demonstrating such unfortunate conduct."
Farhan's legal team has directed the Khaani actor's lawyers to withdraw the defamation notice against the former and offer a written public apology within three days. Failing to do so, Farhan's legal representatives plan on launching civil and criminal offences against Feroze.
For the unversed, Feroze's lawyer, Faique Ali Jagirani, shared that the legal notices have been served to the actor's ex-wife, Syeda Aliza Sultan, directors Musaddiq Malek and Sharmeen Obaid Chinoy, actors Osman Khalid Butt, Mira Sethi, Minal Khan, Aiman Khan, Sarwat Gilani, Yasir Hussain and Farhan Saeed alongside singer Asim Azhar.
Have something to add to the story? Share it in the comments below.
COMMENTS
Comments are moderated and generally will be posted if they are on-topic and not abusive.
For more information, please see our Comments FAQ