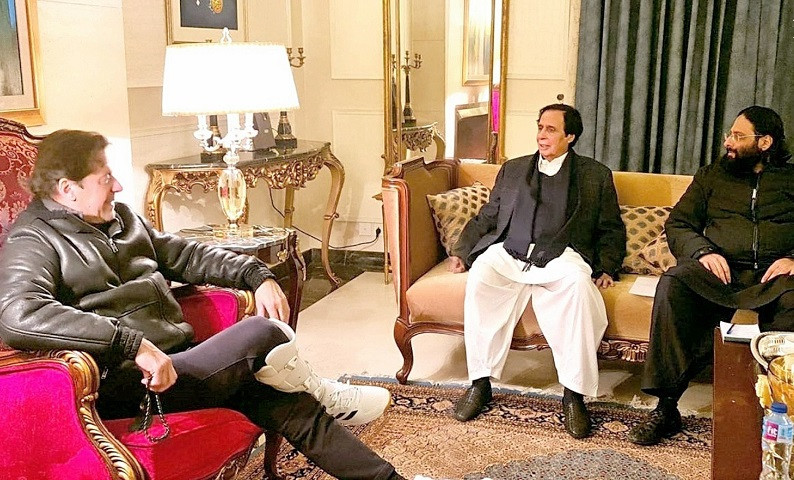 ---
Pakistan Muslim League-Quaid (PML-Q) leader Chaudhry Pervaiz Elahi on Monday officially proposed three potential candidates for the post of Punjab caretaker chief minister to Governor Balighur Rehman.
The chief minister's son Moonis Elahi shared the letter on his official Twitter handle.
In pursuance of Article 224(1A) of the Constitution, the names of Sardar Ahmad Nawaz Sukhera, Nasir Mahmood Khosa and Muhammad Naseer Khan were proposed for appointment as caretaker chief minister of Punjab.
Elahi unveiled the names of these candidates a day earlier, saying that "Imran Khan has suggested three names for interim chief minister".
The PML-Q and Pakistan Tehreek-e-Insaf (PTI) agreed on these potential candidates.
Elahi said one of the names suggested by the PTI was likely to be finalised for caretaker CM, adding that the names would be sent to the governor.
Following the dissolution of the Punjab Assembly, Governor Rehman sent letters to CM Elahi and Leader of the Opposition Hamza Shehbaz for the appointment of a unanimous caretaker chief minister.
Read Process for interim Punjab set-up set in motion
In the letter, the chief minister and the opposition leader were asked to suggest names for the interim chief minister within three days by January 17 (Tuesday).
Responding to a question regarding talk of his party's merger with the PTI, the PML-Q leader said a final decision in this regard is to be taken.
"They [PTI] have asked us to merge into PTI as it will be beneficial for both the parties and strengthen the Pakistan Tehreek-e-Insaaf as well," he said.
The process to install a caretaker set-up in Punjab was set in motion on Saturday after the provincial assembly was allowed to dissolve automatically as Governor Balighur Rehman refrained from giving his assent to Elahi's dissolution advice.
According to Article 112(1), the assembly stands automatically "dissolved at the expiration of 48 hours after the chief minister has so advised" if the governor did not do it.
With the dissolution of the assembly, Elahi's nearly six-month-long tumultuous stint at the top post ended along with his cabinet.
COMMENTS
Comments are moderated and generally will be posted if they are on-topic and not abusive.
For more information, please see our Comments FAQ