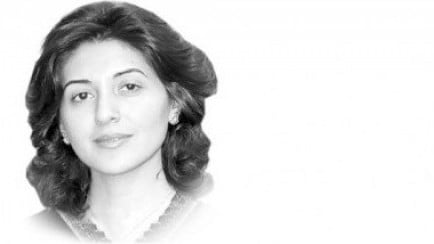 ---
Why is Pakistan such an unfair place? It is not that other countries are models of egalitarianism, for inequalities exist in the richest and most advanced of societies, but the question is one of degrees. How much inequality can our collective conscience tolerate?

On the one hand, we hear of entire families resorting to suicide because they do not have enough to eat and on the other we hear of lunches for parliamentarians where nothing less than 15 dishes, from mulligatawny soup and dumpukhti biryani to mango mousse, is served on taxpayer expense. I heard of this lavishness on "Capital Talk" where Babar Ghauri, who was confronted by Hamid Mir for having partaken in a grand meal, had the decency to acknowledge that it was wrongful expenditure. Fauzia Wahab ,on the other hand, could not see the difference between spending state funds on such extravagance and paying for them by private means. Parliamentarians on the show laughed off the allegation and instead spoke of the prime minister's concern for austerity.

Austerity may be too far removed from the psyche of our rulers. But is common sense and just a little bit of concern for the teeming masses who try to sleep on hungry stomachs without the electricity to fan away their sweat too much to ask for? Surely none of the people who attended the government banquet are those who cannot sample these exotic foods on their own. Why the greed then? Surely every penny saved by the government is money that can be used for the uplift of an extremely downtrodden population. Why this obsession with government handouts and freebies then?

Speaking of freebies, it is not just the parliamentarians who try to wheedle out what they can from the taxpayer. We suffer from a system which nurtures patronage to the point that relying on favours and extracting privilege extends to all manner of government service. It is thus with great disappointment that I read a newspaper report on June 23 which stated that the Sindh chief minister had sanctioned the Sindh chief justice's overseas medical treatment at public expense. It is not that the amount sanctioned (Rs1.8 million) is exorbitant or that the esteemed justice does not have a medical problem, but if such discretionary powers are used to sanction out-of-policy expenditure, the approval does become subject to expecting a quid pro quo from the government functionary for whom this allowance is made. Moreover, although Justice Osmany's high office should entitle him to good medical care within Pakistan, to cover treatment abroad would be exceptionally unfair to those who cannot avail of any medical treatment on public expense. Not only would such cases open the floodgates for cronyism, but they would also further reinforce the idea that for some citizens the state is willing to dish out money for luxuries while others must make do with absolutely nothing.

A window cleaner in Islamabad who falls from the 18th floor due to the rope giving way on a faulty machine is not contractually entitled to medical treatment from his employer, nor can he rely on the state to cover his medical expenses. Watching his story on "Live With Talat", I learn that the Saudi-Pak Investment Company, whose windows were being cleaned, does pay for his medical treatment. But this is mentioned as a goodwill gesture by his benefactors, not as something that he has earned the right for, or as his entitlement. In another system, the window cleaner would have been approached by a personal injury lawyer who would have taken his case to a court that would have awarded large sums of punitive damages in a precedent-setting tort case. This would have been his due and he would have retired without having to worry about money, but in Pakistan our ways are different. After two years of recuperation, he is up cleaning windows on the 18th floor once more. Hard work gives our people bare subsistence, while cronyism or occupation of high office puts one in a position to extract maximum favours.
COMMENTS (6)
Comments are moderated and generally will be posted if they are on-topic and not abusive.
For more information, please see our Comments FAQ