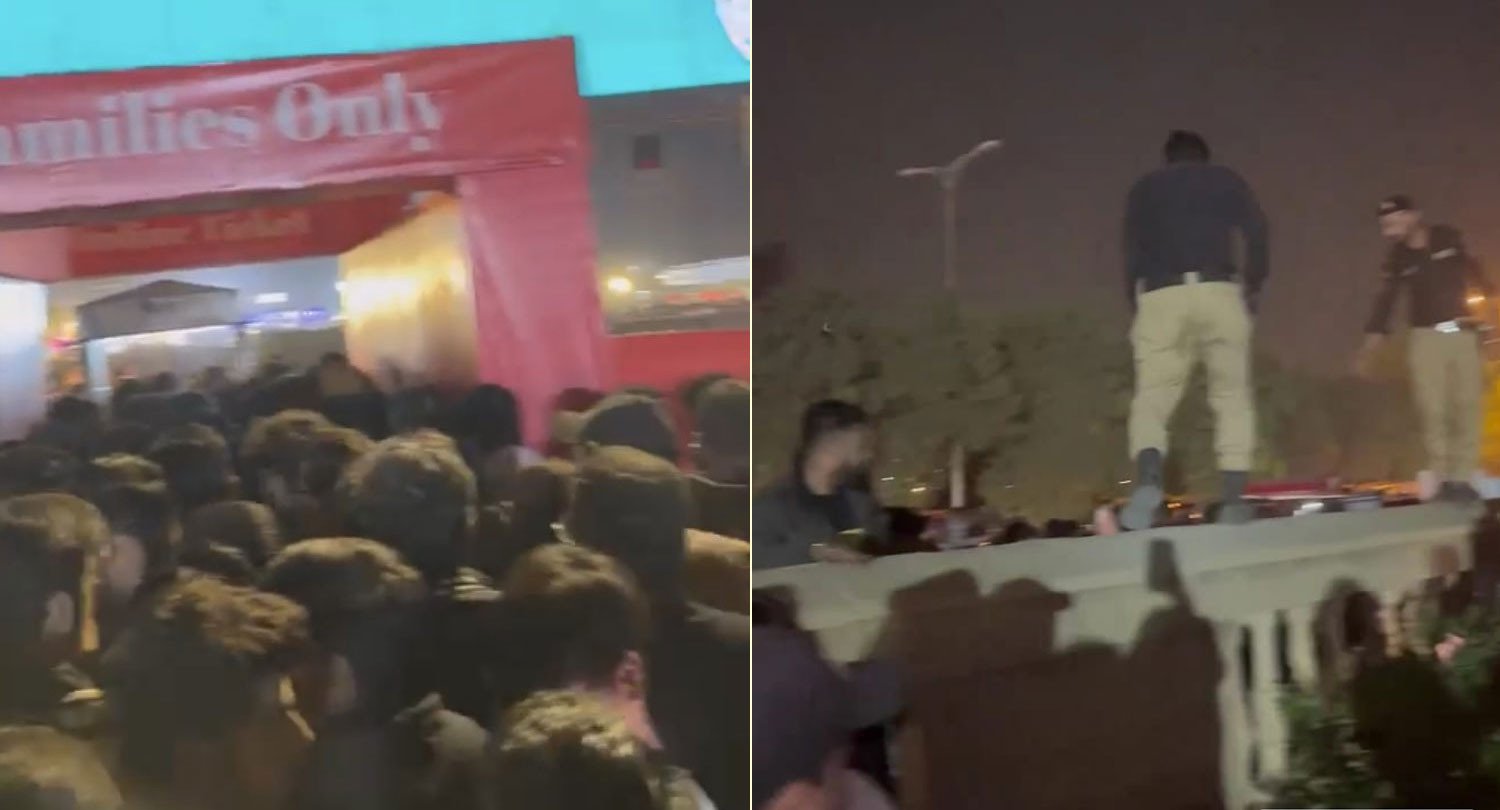 ---
What exactly went wrong at Karachi Eat 2023?
On the last day of Karachi Eat's 10th installment, the attendees shared harrowing accounts of harassment and groping
---
KARACHI:
For someone who hasn't missed Karachi Eat for the last five years, the 2023 run of the city's biggest food festival concluding in shambles wasn't much of a shock. On the last day of Karachi Eat's 10th installment, the attendees shared harrowing accounts of harassment and groping.
Eyewitnesses at Beach View Park recalled one of the entrances being breached by stags as several miscreants entered the premises without tickets. Videos of the unruly crowd went viral right after, where many called out the organisers for a mismanaged event. "Gates crashed. Families were harassed," Salman Muhammad, whose near and dear were present when the mishap happened, shared with The Express Tribune.
"Young Stunners refused to perform and everything was called off. The management just wrapped everything up. The security was equal to none." He concluded, "It's unfortunate, we have become uncivilised ghosts."
Eyewitnesses share ordeal
Similar accounts of the night surfaced on Twitter as well. A user shared, "Made it out thank god." The female attendee went on to add, "There were men outside the venue trying to get in to harass women. The police were trying to control them, and suddenly the lights went out and they were all hooting like crazy. Had to climb out of a broken wall to get safely to my car."
One more attendee shared, "Stags broke the gates and forcefully entered Karachi Eat today. People are saying that they literally had to leave through spaces between walls and jump off them to get out of the chaos. Please ban such events in the city if security can't be managed."
The user further elaborated, "Women in the family section were harassed. Tents were dismantled and to deal with it the management switched off all the lights which made the situation worse."
One tweep shared how the barricades were breached and many men entered the women and family enclosures. "There was almost a major stampede yesterday night at Karachi Eat. Barricades were broken. Women were harassed. Stuff was thrown at the performing artists. A 'family only' event turned into an 'All Men' event. Women were told to leave using the emergency exits for their safety."
Artists speak out
A verified account on Twitter shared a video from the event and penned, "Kaifi Khalil got hit by a bottle from the crowd, he was bleeding. Girls were getting harassed because of which young stunners didn't perform and Karachi Eat was ended immediately. People broke the boundaries to get inside without tickets."
He further added, "The management ended the concert immediately. Whoever you were, I hope this comes back at you whatever the way."
Khalil, however, clarified in a statement he shared on social media, that he wasn't injured. "I would just like to clarify the fake news that's circulating about me getting injured during my performance at the Karachi Eat event yesterday, which isn't true."
Appreciating everyone being concerned about his health, the Kana Yaari crooner added, "I will say that I am a little disappointed and upset because of what happened yesterday. Ladies that came to enjoy the evening with their family and friends were harassed and treated inappropriately by a group of individuals who lacked decency and common sense."
Khalil went on to add, "The event was cancelled mid-performance because I couldn't continue with what was going on and it became a concern for people in the audiences as well. I request the organisers to please take the safety of everyone attending into consideration."
The Kahani Suno crooner added that this wasn't the first time he had experienced hooliganism at an event he was performing at. "It's disgusting and unacceptable. I am not sure why this keeps occurring but it needs to stop. How can I perform when this happens? I request everyone to be mindful of each other and treat everyone with respect."
After Khalil's performance was cancelled midway, other artists refused to perform as well. Dil Ke Ishaaray hitmaker Taha G took to Instagram and issued a statement.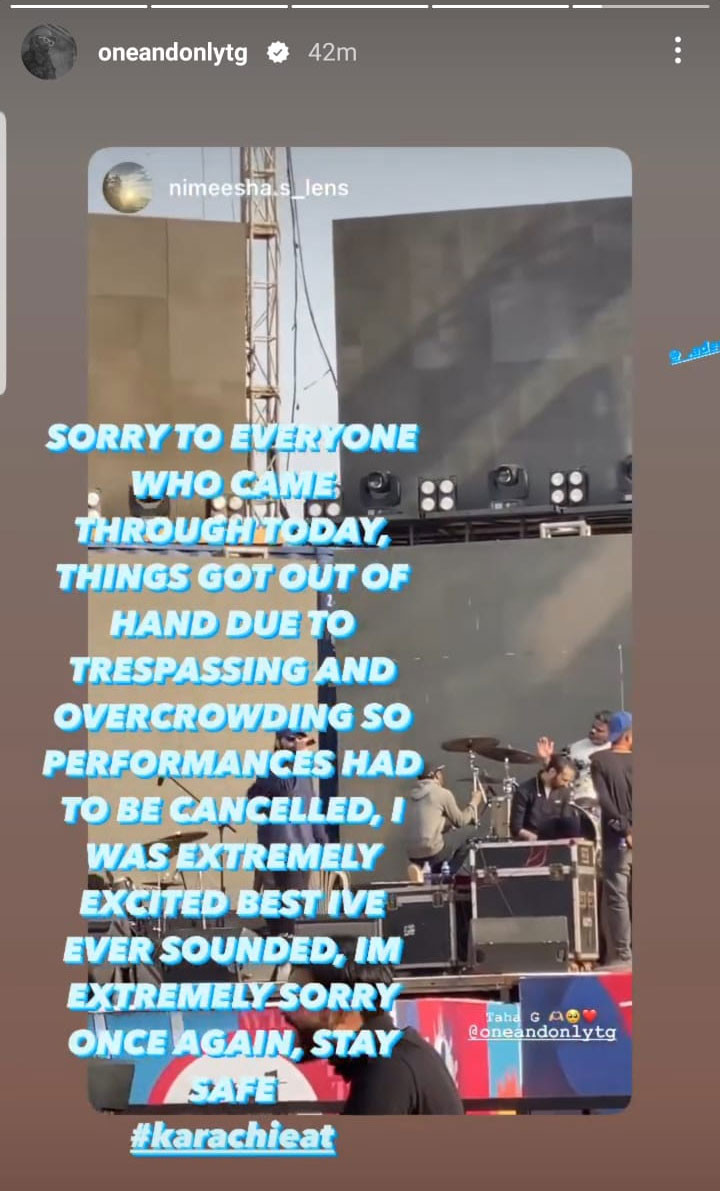 "Sorry to everyone who came through today, things got out of hand due to trespassing and overcrowding so performances had to be cancelled," he shared on Instagram Story. "I was extremely excited, the best I have ever sounded. I am extremely sorry once again. Stay safe."
Ali Tariq, too, shared his two cents.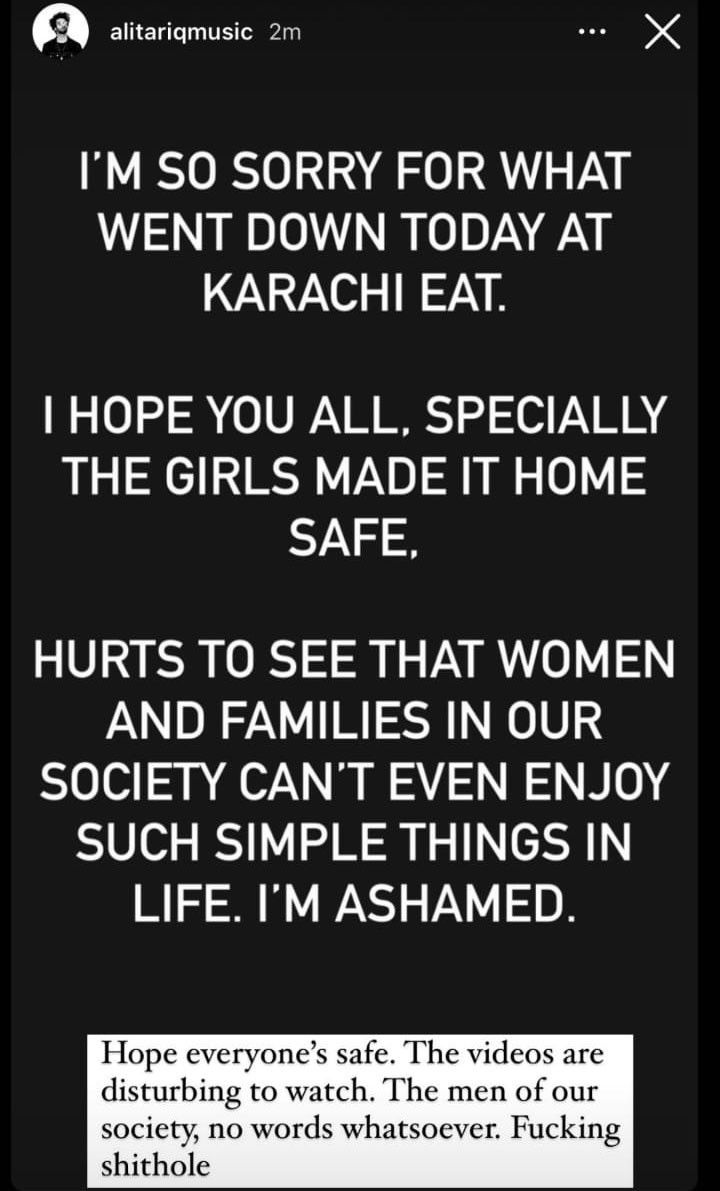 While apologising to his fans, he penned, "I am so sorry for what went down today at Karachi Eat. I hope you all, especially the girls made it home safe. Hurts to see that women and families in our society can't even enjoy such simple things in life. I am ashamed."
Setting record straight
In a statement shared by their publicist to The Express Tribune, the organisers said, "A large crowd tore down the walls, fought with the security present, scaled the barricades to enter the premises and spread fear to those present at the event." The statement further added, "Despite security measures, the crowd was extremely unruly and stormed through the event causing harm to our security as well."
The organiser went on to add, "We keep the ticket prices as low as we can to make the event accessible to all. Hiking the price will only make it possible for the elite to attend which defeats the purpose of the Eat festival. It will not remain inclusive anymore. Day one saw even more numbers of crowds than day three and yet day one went on smoothly as did day two but the mob on day three that violated the security measures ruined the festival for the people present."
The statement further read, "We encouraged carpooling and even partnered with Careem to help reduce traffic and even posted it on our socials to carpool in order to avoid the traffic but despite that, every attendee brought a car to the event which created a bottleneck on the roads."
Talking about holding events on large scale, the organisers continued, "This event is for the people. We started this event to give back public spaces to people so they could own their city. What happened makes us question whether we need to conduct these events with extreme security protocols present and limit our audiences if our mob can't behave. What's the point of creating a platform for our city if the mob can't contain themselves?"
Shedding light on the ongoing argument about traffic woes faced by the attendees at the venue, the organisers commented, "Of course, there are traffic issues. Would hold this event on the outskirts of the city limits help? Will we be safe sending our kids to other venues?"
The statement concluded, "The idea of reclaiming our public spaces is what this event was about. This is why we started this. If we are now forced to do events in barren lands because we do not have the self-discipline or the responsibility to conduct ourselves in a manner that allows everyone to enjoy without feeling harassed then that is a sad statement on what we are as a society."
Have something to add to the story? Share it in the comments below.