 ---
Karachi Eat 2023: Everything we tried at city's biggest food festival!
For entertainment-starved Karachiites, KE saw some new eateries all the while bringing back several crowd favourites
---
KARACHI:
The biggest food festival in the city is back in full flow! After a turbulent couple of years thanks to the pandemic, Karachi Eat finally returned to its full capacity, with ritual mishaps and an overzealous crowd. The festival is well into its 10th year and it faces similar, if not the same, issues it had in its birthing years.
For the entertainment-starved Karachiites, the 10th edition of Karachi Eat held at its usual venue The Beach Park, saw some new eateries serving scrumptious food, all the while bringing back several crowd favourites. However, the first day of the event saw its fair share of mess.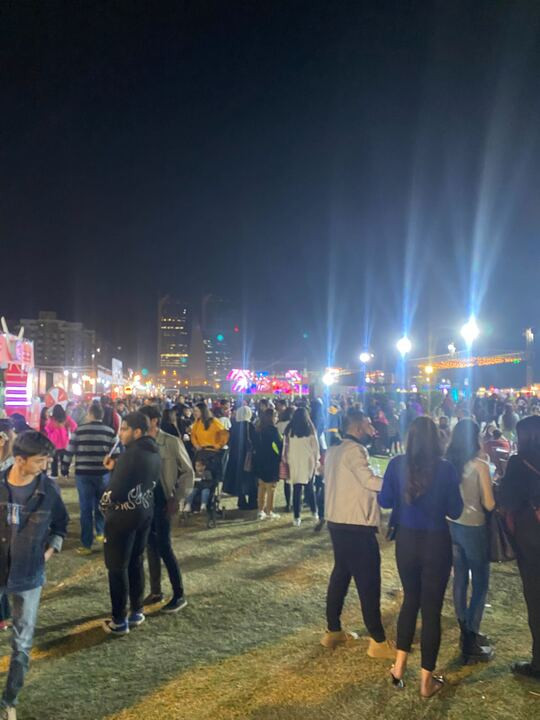 The attendees were caught in a ruckus from the moment they tried getting to the location. The traffic situation around the park was nothing less than a trainwreck as many were rather clueless about the parking plan. Coupling the confusion with Karachi's crippling traffic, it's safe to say many, including myself, were stuck outside Beach Park for a good hour.
I was exhausted before I had even entered the scene. After another half and hour, I was finally in Beach Park. Once inside, the attendees had to pass two checkpoints to enter the stall area. And then, a daunting realisation caught on with me real quick: there were no cellphone signals.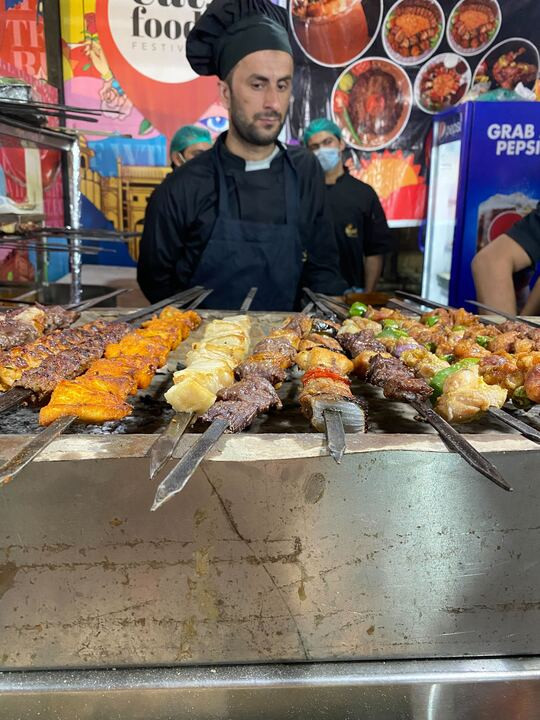 The weak signals made the experience a lot more exhausting as many tried spotting their friends and family in an overtly crowded space, often to no avail. On the flip side, there was a mobile clinic on the ground as well as an ambulance to tackle emergencies. There was an ATM machine as well for the attendees' convenience.
For the love of food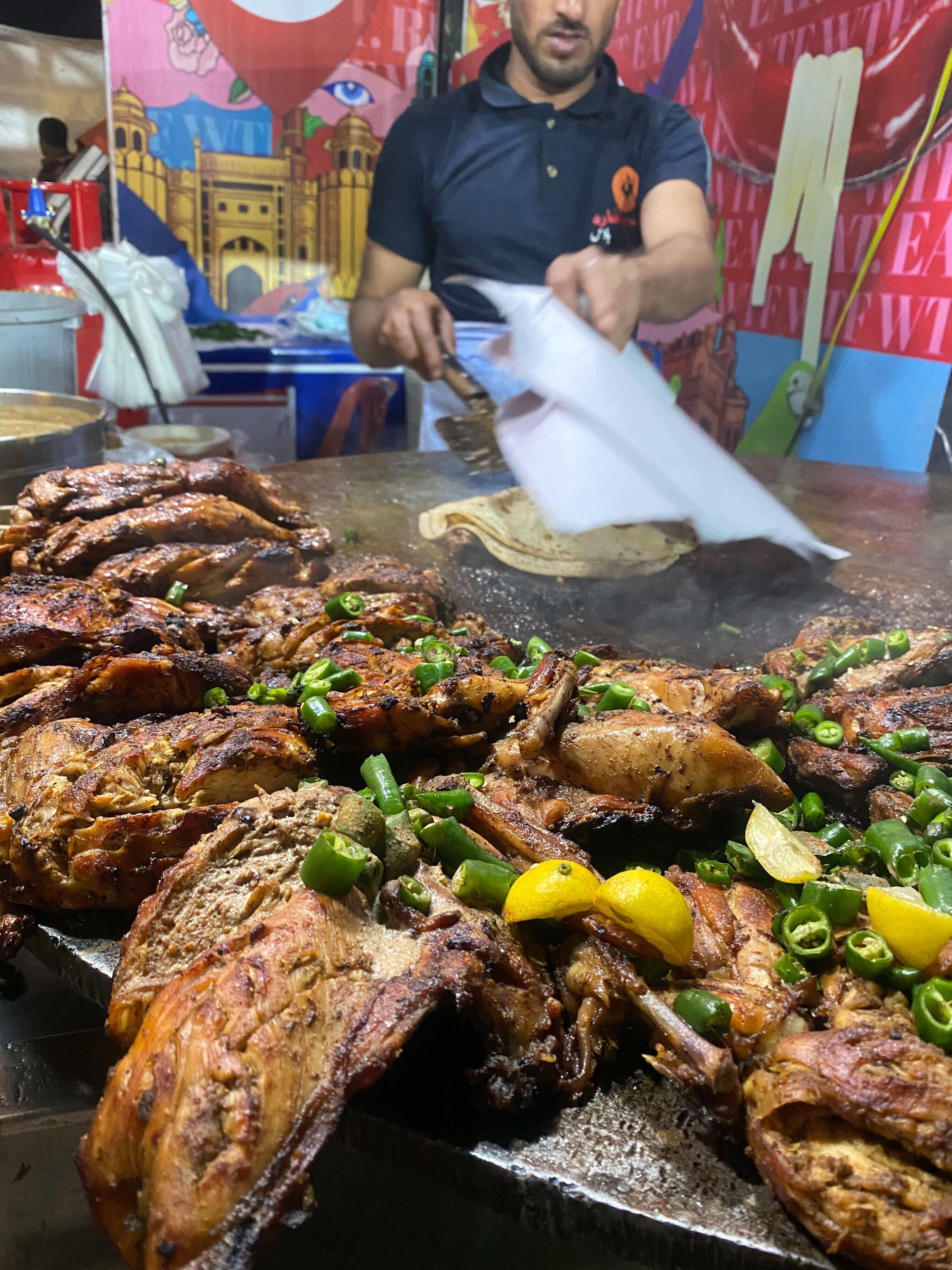 From the corner of my eye, the first stall I saw was a Karachi Eat's constant feature: 2 Guys 1 Grll. Since I had already had my share of doughnut burgers, I decided to give other eateries a chance. From sliders to tacos, to finger-licking desi kababs, here's everything I tried at this year's Karachi Eat.
1. Katsu Slider and Korean Chicken Slider from Jacob's Kitchen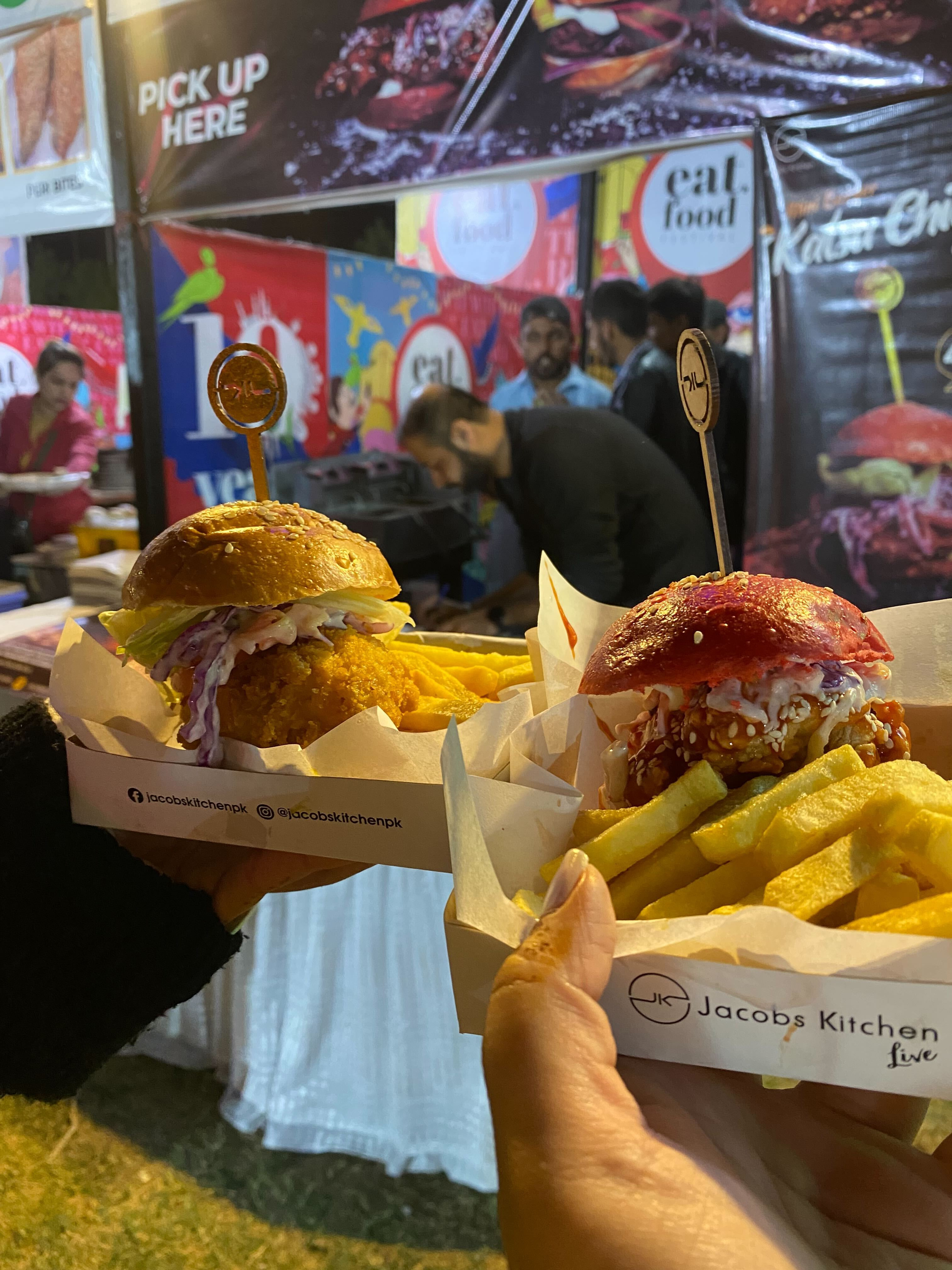 At Rs400 and Rs350 respectively, Jacob's Kitchen's favourite items were reasonably priced, considering they were serving it with a hefty serving of fries. While the sliders were delicious, my only criticism was they were served cold.
2. Basque Cheesecake cookie and an Apple Pie from Ma's Bakehouse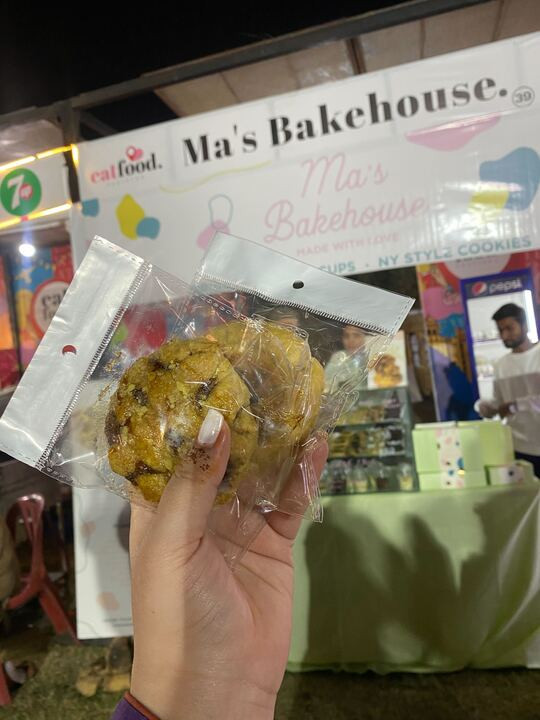 Very early on I had labelled Ma's Bakehouse as my favourite of the night. The eatery served some delectable desserts out of the lot. The basque cheesecake cookie and the warm apple pie emerged as my top three tastings on day one. A bit on the steeper side, Ma's cookies were priced at Rs350 for a single cookie while you could get three for Rs1000. The bakery also served Brazilian cakes in different flavours as well as New York-style chunky cookies. Adding to the previous choices, Ma's delicious desserts had me coming back for a second run. But more on that, later.
3. Original and Double Chocolate Brownie from 322 Baker Street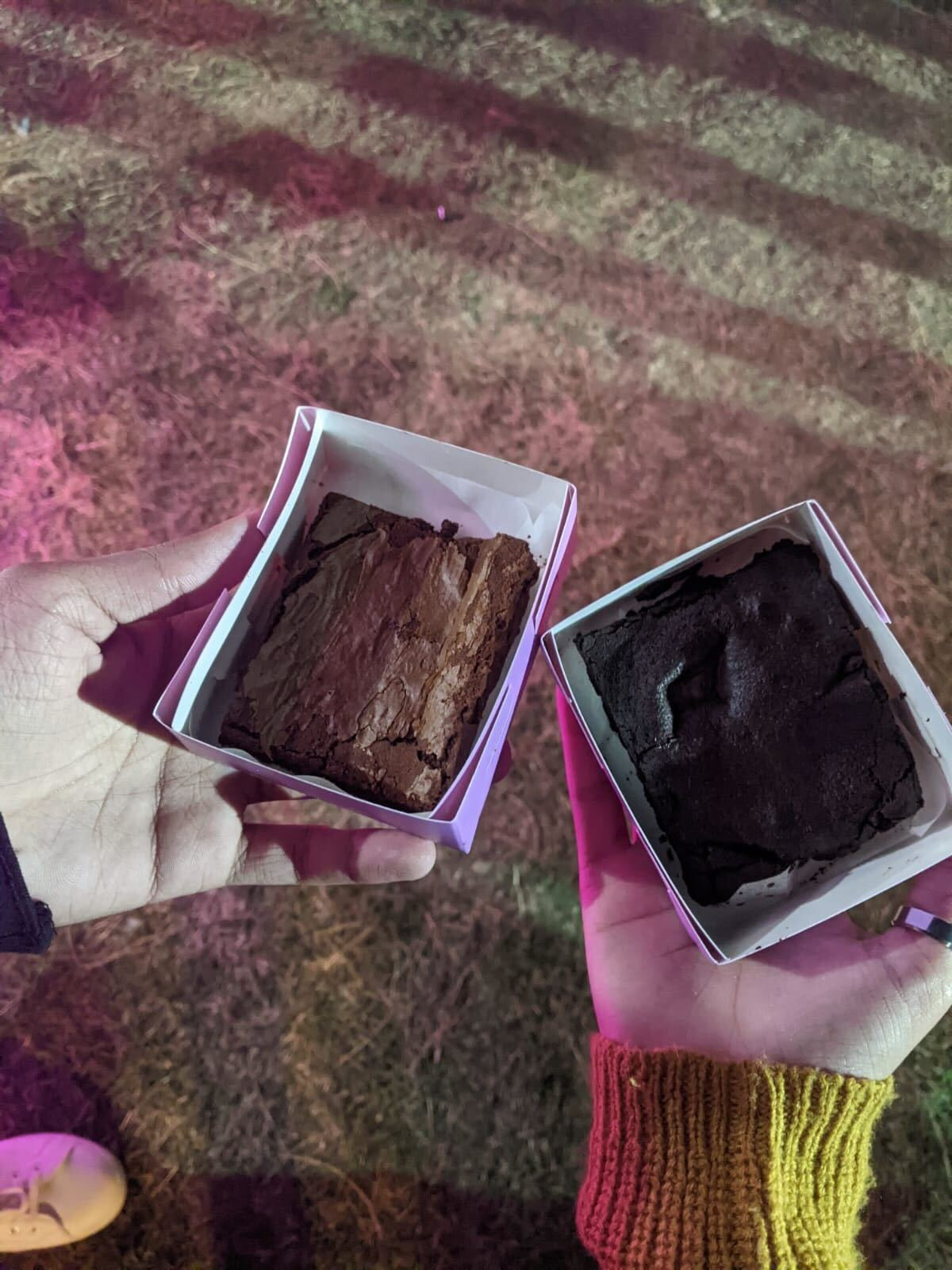 What's a Karachi Eat without a brownie or two? 322 Baker Street's decadent brownies came pretty close to Ma's flavours on the list. The gooey brownies, Double Chocolate and Original were priced at Rs350.
4. Chicken Shawarma from Arabi's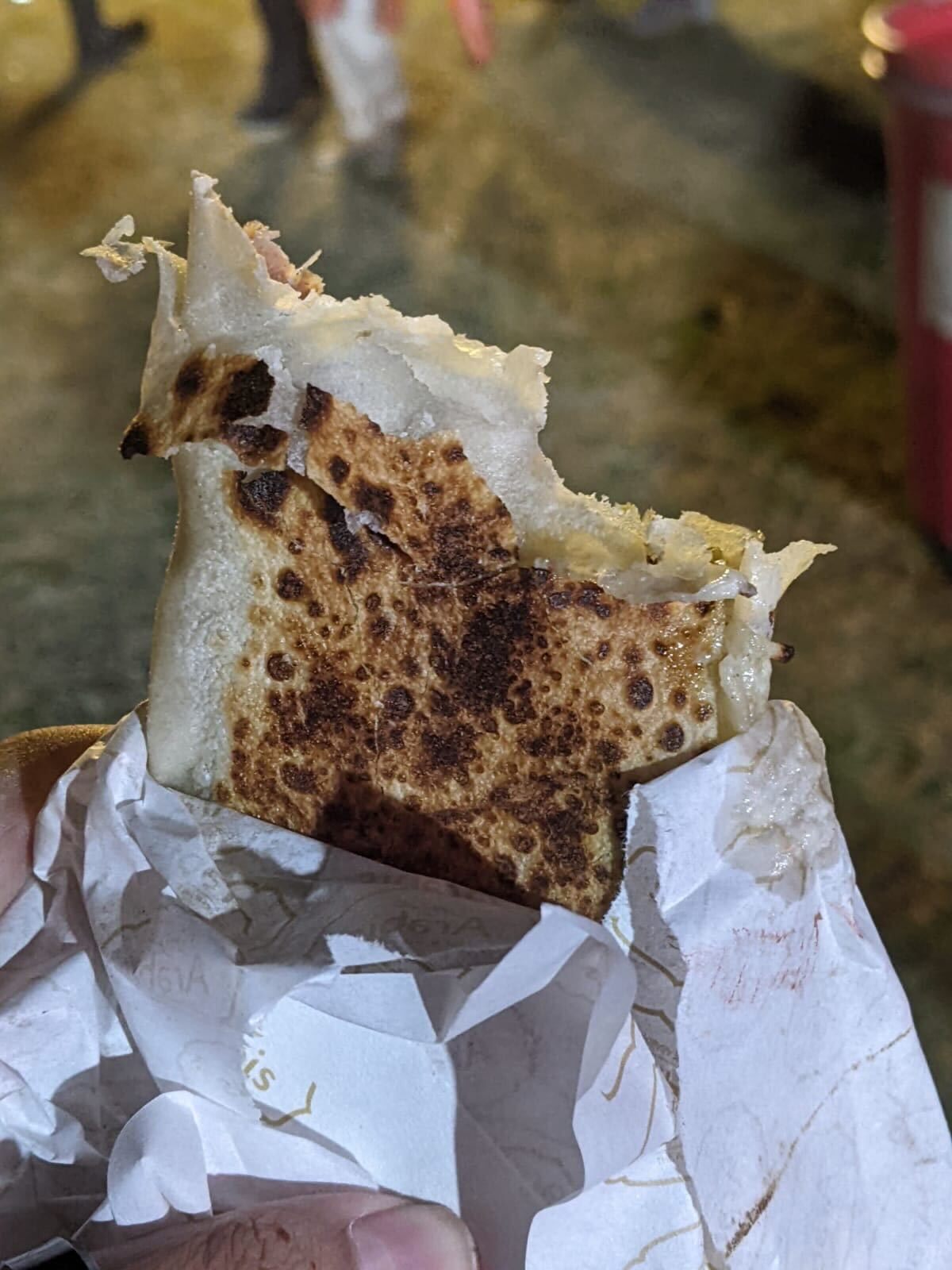 Arabi's Chicken Shawarma for Rs400 fell short of a recommendation as the item was rather bland. The appetising grilled chicken could be deceiving, you know. The Shawarma lacked salt and flavour, and the pita was missing the crunch. Overall, I would not go back to Arabi's for their Shawarma. However, I would want to try their Afghani Pulao with bar-be-qued kebabs.
5. Mantu from Mantu House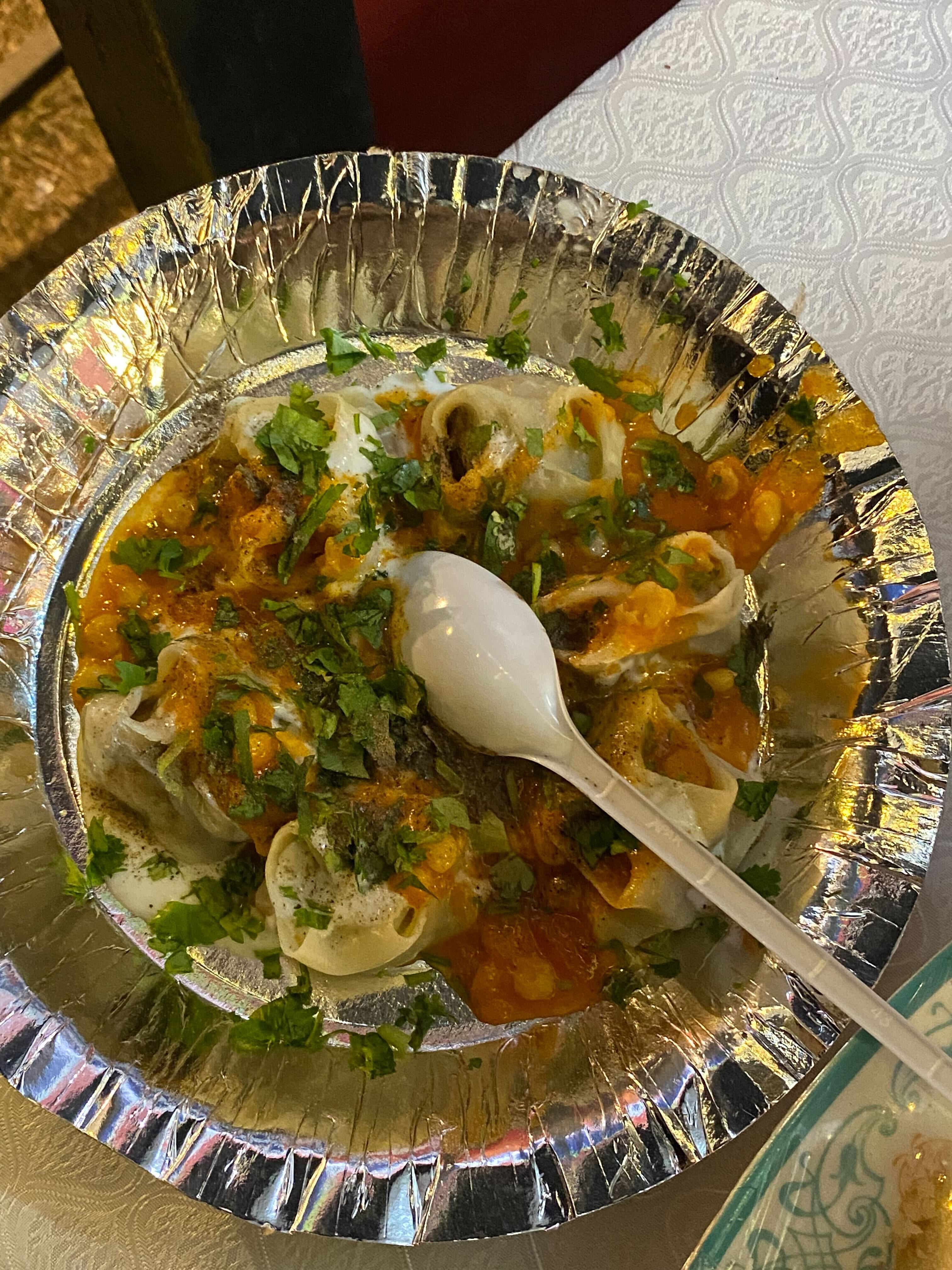 This was a straight-up disappointment. For someone who loves dumplings in any shape or form, Mantu House had been on my list for a good week now. After specifically searching for the stall, I finally spotted it after Ma's Bakehouse. Priced moderately for Rs400 per serving, Mantu House's speciality was just flavourless. The condiments on top added nothing to the well-cooked dumpling as the filling lacked any taste as well.
6. Elote from The Boys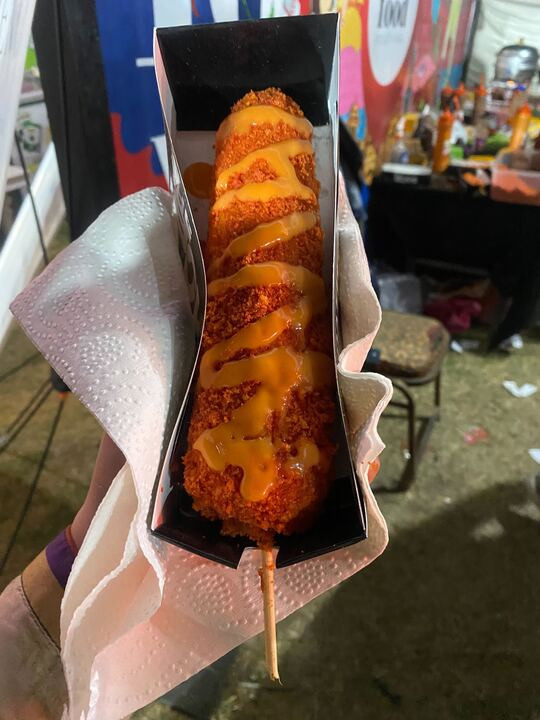 You best believe I will try anything and everything with corn in it. Couple it with creamy mayo with Cheetos dust as its topping, you have me sold! The Boys Elote, priced at Rs400, was just a treat! The well-cooked corn is complemented by rich mayo and spicy Cheetos with a tangy Sriracha sauce.
7. Chicken Khaosuey from Khawsa House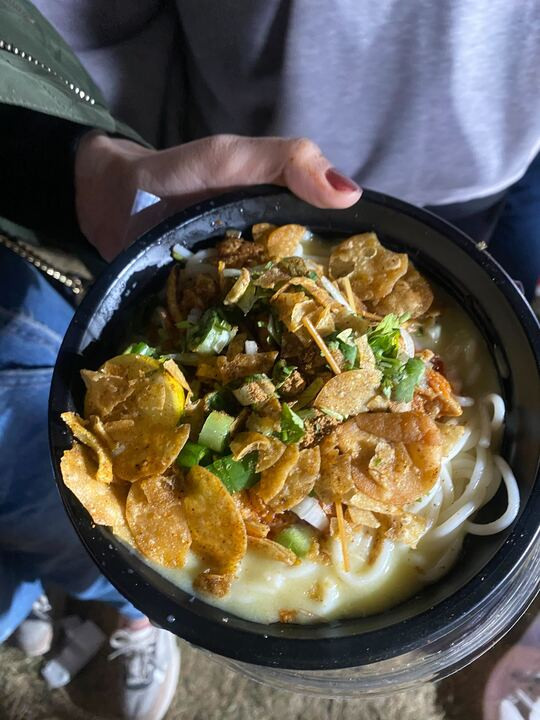 I'll confess; there are very few things I love more than a piping hot bowl of Khausuey on a chilly night. Khawsa House's speciality ticked all the right boxes when it came to nailing the dish. The rich and smooth curry with tomato-based chicken and al Dante noodles made for a well-balanced dish. The eatery stuck true to its roots as well with the toppings as well! The dish was priced at Rs400.
8. Achari Fried Chicken and Crispy Nachos from Snack Hack Bar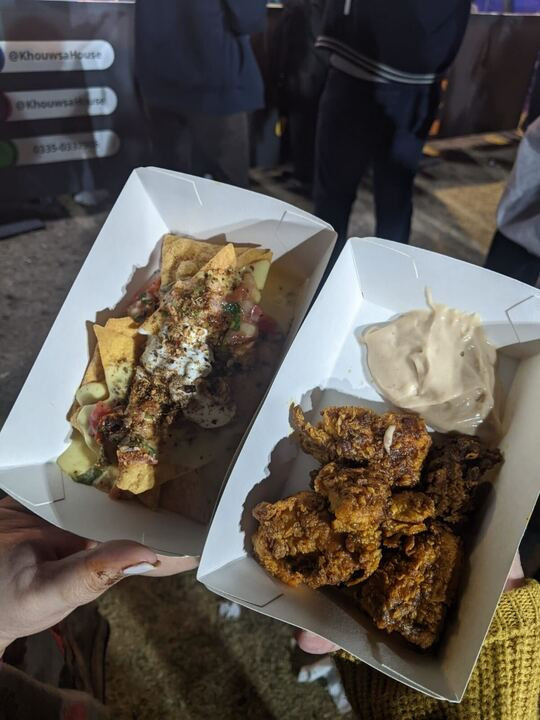 Oh, this was a very pleasant surprise. Snack Hack Bar's nachos were on my list of items I planned on trying at Karachi Eat this year. However, the real winner of this eatery was their Achari Fried Chicken! The spicy chicken coated with traditional achaari flavours packed a punch! Topped with freshly squeezed lime, the dish was served with creamy mayo - the perfect condiment. For Rs250, this was an absolute steal!
9. Merry Mushroom Fettucine from Strings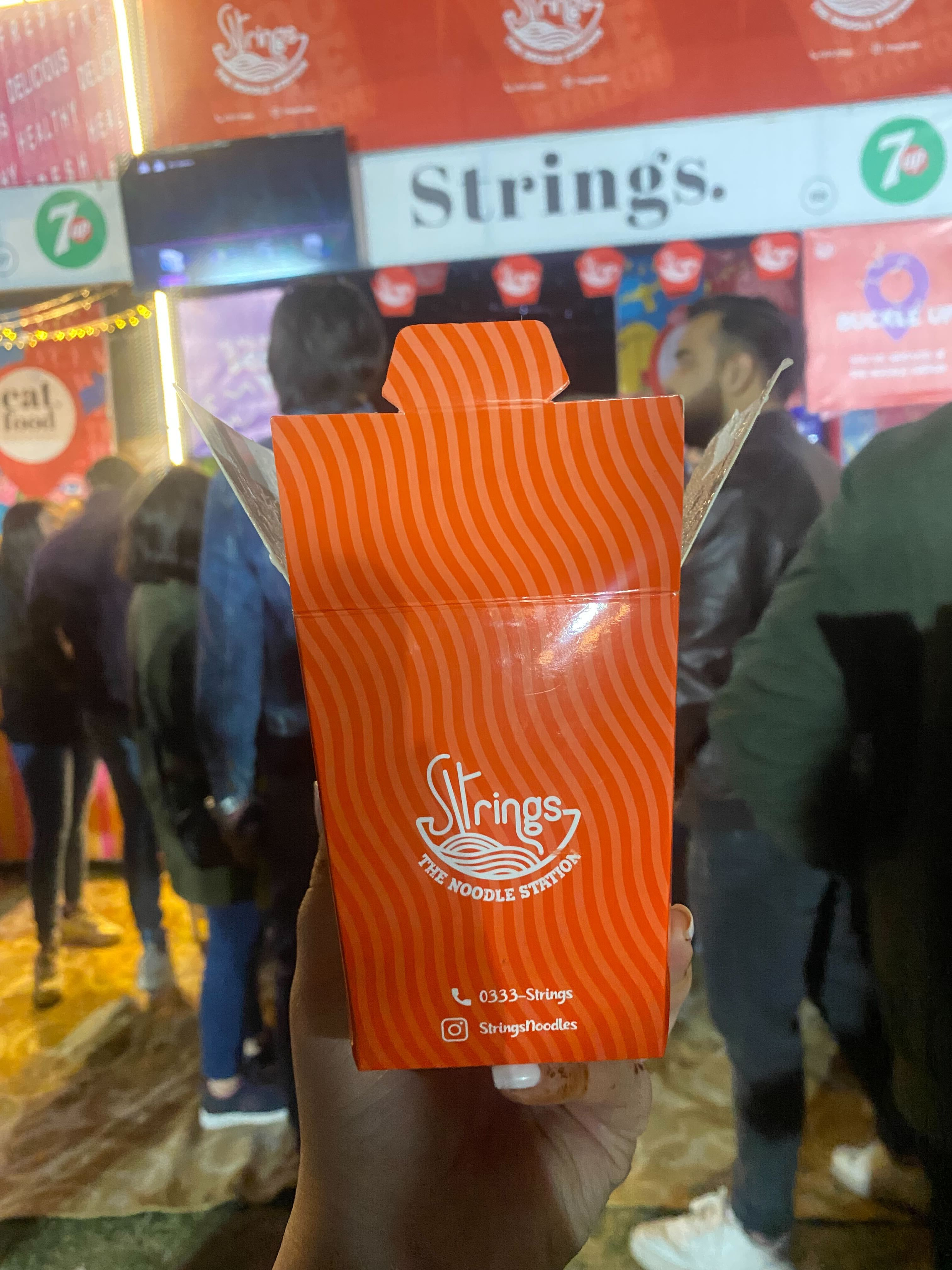 While strolling around the stalls, I knew I had to try one pasta dish. And Strings was a perfect choice! With the well-seasoned sauce, a hefty amount of chicken and mushrooms added per serving, Merry Mushrooms seemed the 'it' choice for a chilly night. My only criticism would be the pasta was terribly overcooked.
10. Volcano Chicken with Fries from Satisfry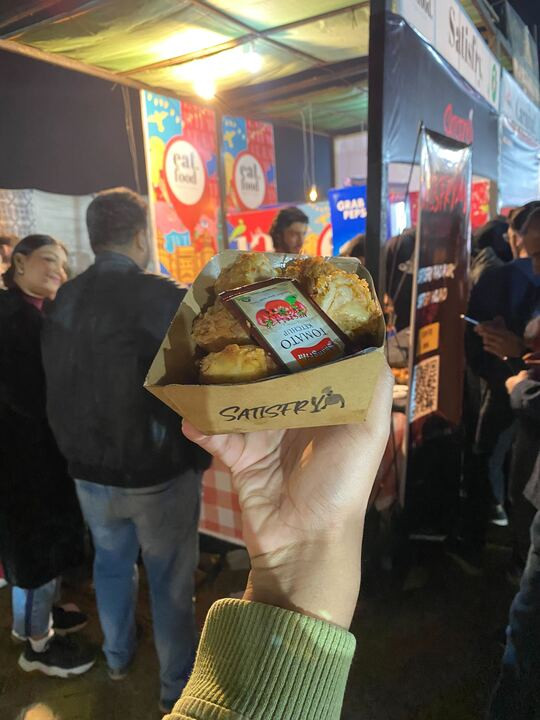 Satisfry was already a winner for me with their impeccable service! While I spotted and stood in long queues, the eatery, even with its overwhelming response, managed to serve the orders with ease. That's what you call nailing your Mise en place, people. The food served at Satisfry was piping hot and delicious. Their single serving of cheesy Volcano Chicken was priced at Rs450 ala carte and Rs650 for a combo with fries and a soft drink.
11. Ma's Bakehouse round 2!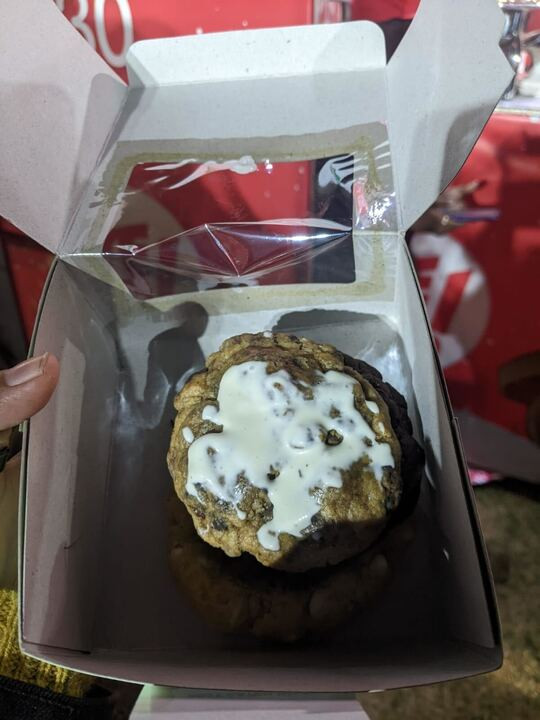 The night concluded with a rerun of Ma's Bakehouse. This time around, I added a Tiramisu cookie, a double fudge NY-style chunky cookie and another basque cheesecake. And I knew I had to try their Brazilian Cake! The toasted coconut with rich, sweet custard and decadent cake made for just the apt ending to the night!
Have something to add to the story? Share it in the comments below.