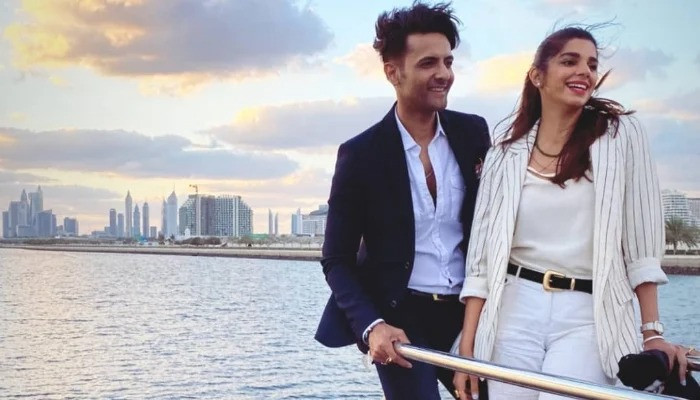 ---
Actor Mohib Mirza is finally ready to talk about the struggles he faced in his professional and personal life to get to where he is right now. This new year is all about embracing the love and not shying away from it for the Ishrat: Made in China actor and while confirming his romance with Sanam Saeed, he also detailed what went wrong in his relationship with his ex-wife, actor Aamina Sheikh.
Mohib made an appearance on his childhood friend and actor Munib Nawaz's podcast for a candid conversation about life and love. About what fears manifested between Aamina and him, the 43-year-old actor revealed that it was all a gradual falling out but until that, they were truly in love.
"When I met Aamina, at that time, my focus was that she is the one. I was in love with her and so, we got married. We had a great partnership, we had a daughter, everything was how it's supposed to be and then situations changed," he said. Aamina and Mohib were married from 2005 till 2019.
"It was never even in my mind that we'd get separated later. There was never any fear. We became different people while learning and growing with our work. For example, if I'm working in Skardu for over 90 days, and I live a life differently and grow towards a different emotional and spiritual path and then I come home and realise that we're now two different people," he added stating that it was that realisation that the bond isn't the same anymore that made them leave each other.
Mohib went on to add that usually in such situations, people have two choices; either to stay in a love-less relationship like most families do in Pakistan or leave it for their own peace and the ones around them. He chose the latter. "It was upsetting for our fans, some may even call it unfortunate but from my perspective, it was the best thing to do. I'm grateful for it," he exclaimed.

About his relationship with his daughter, the actor stated that he hasn't seen Meissa in 5 years. "It's Aamina's decision so it's fine, I guess. It was the hardest, most difficult thing in my life but what I've learnt is that she's a growing kid and I wouldn't want her to go through what other couples are on social media right now," he said.

Although, while counting his blessings, Meissa tops the list and will always do, according to Mohib. "There's some deep level of unmatched emotional, spiritual, physical joy in knowing that a human being is yours. My daughter's birth was the happiest moment of my life," he said.

Mohib then went on to talk about the "love of his life" now and how important it is for people to give love a chance again. "There's nothing such as a mid-life crisis, its mid-life realisations. After all these years, I have only realised one thing and that's happiness. Nothing else matters, only relationships and love," he said adding that it takes time to find a partner again who not only appreciates your ideologies and work but also celebrates it alongside you.
Without saying much about Sanam Saeed, his partner in life now, all Mohib said was, "Sanam means beloved and Mohib means a lover and rest is self-explanatory." Upon some probing, he added that it was hard for both of them to trust each other again after all that they went through but they found each other and realised that being happy is still an option.

Mohib, who ventured into performing arts with theatre and then did sitcoms, became a host and eventually, a filmmaker, upon being asked about why he didn't continue with theatre, said, "I was the sole breadwinner of my family and after rehearsing for 2-3 months for a 7-day show, I'd get peanuts in return."

He added, "Now I know I can host a few live shows, do corporate shows, manage finances that way. I've always been lucky in terms of roles, always gotten something that had the potential to make a mark. But you know how the whole world sends bills at the start of the month, my salary never came at the start of the month. So, freelancing and managing finances was the real struggle. Acting and finding a place in showbiz was never one."

Upon his film Ishrat: Made in China's box office failure, Mohib said that while his transition from an actor to director was amazing, he now knows "5000 ways on how to not make a film in Pakistan."

However, the actor does not believe in giving up and thinks the film's failure has opened limitless possibilities for him. Sharing how Sarmad Khoosat once inspired him for life, he said, "Sarmad made Humsafar and he was working on Shehr-e-Zaat when I met him and he was very nervous about meeting the bar he set with Humsafar. I don't have to do that. I have a lot of choices. I can be a producer, DOP, actor, director anything."

To wrap things up, the actor said that he is already working on his next script and will start shooting as soon as the "paperwork" is done.
COMMENTS
Comments are moderated and generally will be posted if they are on-topic and not abusive.
For more information, please see our Comments FAQ