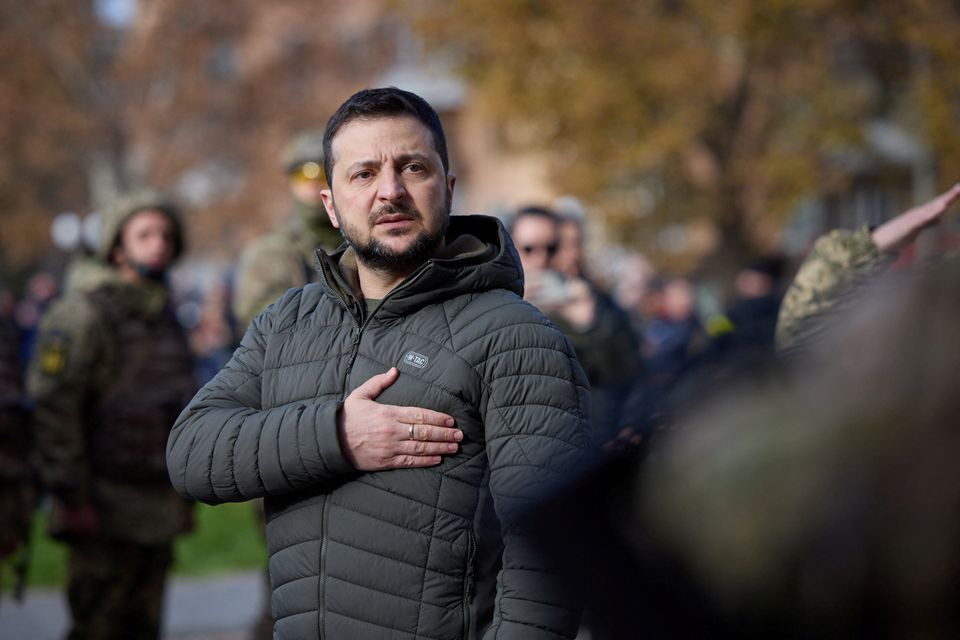 ---
KYIV:
Ukraine spurned an announcement by Russian President Vladimir Putin on Thursday of a 36-hour ceasefire to mark Orthodox Christmas, saying there would be no truce until Russia withdraws its invading forces from occupied land.
The Kremlin said Putin had ordered a ceasefire from midday on Friday after a call for a Christmas truce from Patriarch Kirill of Moscow, the head of the Russian Orthodox Church.
"Taking into account the appeal of His Holiness Patriarch Kirill, I instruct the Minister of Defence of the Russian Federation to introduce a ceasefire regime along the entire line of contact of the parties in Ukraine from 12:00 on January 6, 2023 to 24:00 on January 7, 2023," Putin said in the order.
"Proceeding from the fact that a large number of citizens professing Orthodoxy live in the areas of hostilities, we call on the Ukrainian side to declare a ceasefire and allow them to attend services on Christmas Eve, as well as on Christmas Day," Putin said.
But Ukrainian presidential adviser Mikhailo Podolyak tweeted back that Russia "must leave the occupied territories - only then will it have a 'temporary truce'. Keep hypocrisy to yourself."
He said that unlike Russia, Ukraine was not attacking foreign territory or killing civilians, only destroying "members of the occupation army on its territory".
Podolyak had earlier rejected Kirill's call for a truce as "a cynical trap and an element of propaganda". He described the Russian Orthodox Church, which has endorsed Russia's invasion, as a "war propagandist".
Ukraine has previously said any Russian call for a ceasefire would be an attempt by Moscow to secure some respite for its troops, which Ukraine is trying to force from territory Russia seized after its invasion last February.
Russia's Orthodox Church observes Christmas on Jan 7. Ukraine's main Orthodox Church has rejected the authority of the Moscow patriarch, and many Ukrainian believers have shifted their calendar to celebrate Christmas on Dec 25 as in the West.
Mediation spurned
Earlier on Thursday, Russia and Ukraine made clear there would be no peace talks between them any time soon, effectively spurning an offer of mediation by Turkey's President Tayyip Erdogan, who spoke separately to both Putin and Ukraine's President Volodymyr Zelenskiy.
The Kremlin said Putin had told Erdogan Moscow was ready for talks - but only under the condition that Ukraine "take into account the new territorial realities", a reference to Kyiv acknowledging Moscow's annexation of Ukrainian territory.
Ukraine's Podolyak called that demand "fully unacceptable".
Ten months after Putin ordered an invasion of his neighbour and seized swathes of Ukrainian land, Russia and Ukraine have both entered the new year with hardened diplomatic positions.
After major battlefield victories in the second half of 2022, Kyiv is increasingly confident it can drive Russian invaders from more of its land.
Putin, for his part, has shown no willingness to discuss relinquishing his territorial conquests, despite mounting losses among his troops, after he ordered the first call-up of reservists since World War Two.
COMMENTS
Comments are moderated and generally will be posted if they are on-topic and not abusive.
For more information, please see our Comments FAQ