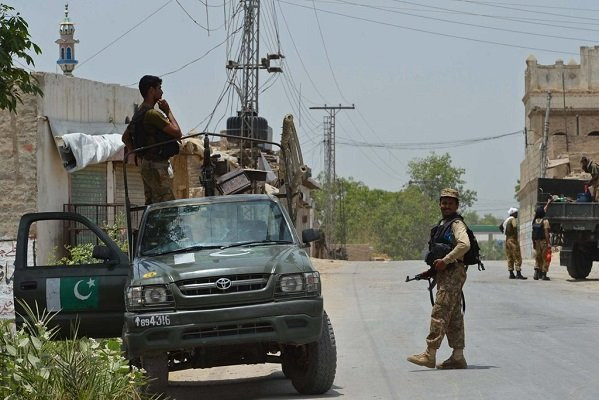 ---
RAWALPINDI:
At least 11 terrorists, including a militant commander and two suicide bombers, were killed in an intelligence-based operation (IBO) in South Waziristan's Wana, the military's media affairs wing said on Thursday.
According to a statement issued by the Inter-Services Public Relations (ISPR), security forces "successfully foiled a high-profile terrorist activity" during the operation.
"During intense exchange of fire, 11 terrorists, including terrorist commander Hafizullah alias Tor Hafiz and two suicide bombers, were killed," the ISPR said.
The statement added that a large quantity of weapons and ammunition was also recovered from the killed terrorists.
"The killed terrorists remained actively involved in terrorist activities against security forces and target killing of police in South Waziristan district," the ISPR said.
The action came after a country's top security body in its meeting held earlier this week had reiterated its resolve to have "zero tolerance" for terrorism in the country.
Separately on Thursday, Interior Minister Rana Sanaullah on Thursday said the recent huddle of the National Security Committee (NSC) had resolved that the government would not negotiate with "terrorists or any militant group".
"The NSC had decided that negotiations, if needed, should be carried out with the Afghan government so that the significance of the Doha agreement, wherein it [Afghanistan] had vowed to not allow its soil to be used against others, could be emphasised," he added, while addressing a news conference in Islamabad.
He was accompanied by Religious Affairs and Interfaith Harmony Minister Mufti Abdul Shakoor and PML-N leader Hanif Abbasi.
"If that is implemented, then the issue of terrorism in Pakistan and other countries will be solved… Pakistan will be safe if Afghanistan honours its promise," Sanaullah continued.
On Wednesday, State Department Spokesperson Ned Price said the US and Pakistan have a shared interest in ensuring that the Taliban act against terrorist groups, including the TTP, and not allow them to use the Afghan soil for their actions,
"Terrorism remains a scourge that has taken so many Pakistani, Afghans, and other innocent lives. The United States and Pakistan do indeed have a shared interest in ensuring that the Taliban live up to the commitments and that terrorist groups like ISIS-K, like the TTP, like al-Qaeda, are no longer able to threaten regional security."
As regards the threats by TTP against the top Pakistani political leadership, Price said the US condemns any threat of violence from any group and certainly a threat of violence like this from a terrorist group like the TTP
"We know that the Pakistani people have suffered tremendously from terrorist attacks. We know that the Taliban has made commitments to curtailing the ability of international terrorists to be able to operate on Afghan soil. We continue to call on the Taliban to uphold those counter-terrorism commitments," he said.
The US, he said, was committed to working with partners, " but President (Joe) Biden also has a commitment to act unilaterally if and when necessary as we did just a few months ago with Ayman al-Zawahiri to take out threats that emerge in Afghanistan that potentially present a threat to the United States, to our allies, and to our interests."
During the news conference, the interior minister was asked about the threat issued by the terrorist outfit to the PPP and PML-N for "openly declaring war against the TTP to appease America".
The TTP statement mentioned the names of PPP Chairman Bilawal Bhutto-Zardari and Prime Minister Shehbaz Sharif as well as their respective parties.
It also warned religious parties against "activities against us".
The minister was asked about the Afghan government's claim that a network of Islamic State militants involved in the attack on Pakistan's embassy in Kabul had been killed in an operation.
Sanaullah replied that Pakistan had received information about this development.
However, he added that until the report was verified by his ministry, it would be treated as "mere information".
COMMENTS
Comments are moderated and generally will be posted if they are on-topic and not abusive.
For more information, please see our Comments FAQ