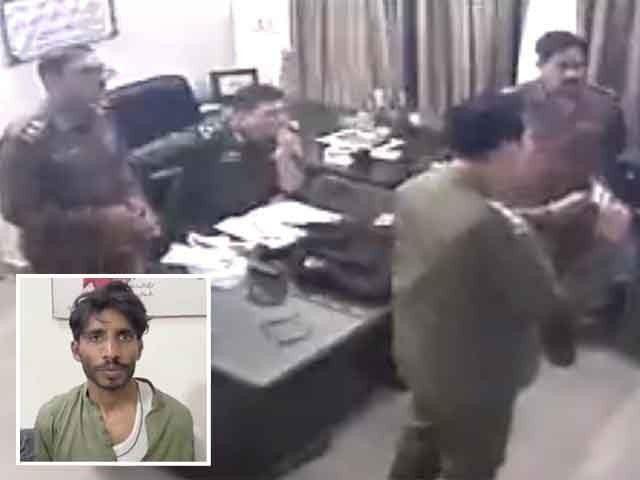 ---
ISLAMABAD:
A purported CCTV footage surfaced on Thursday allegedly showing police officers recording a video confession of the alleged gunman who shot at PTI chairman Imran Khan during a protest rally last year.
The former prime minister was wounded by gunfire on November 3 as he led a convoy through thick crowds on his open-top container truck in Wazirabad. One person died while several members of the PTI chairman's close circle were injured in the incident.
The alleged shooter, Naveed Bashir, was detained shortly after. He had claimed in his confessional video statement that he shot the PTI chief as he was "misleading" the nation, which he could not tolerate.
The video was leaked to the media shortly after the incident, which critics claimed was an attempt to lead people to a premeditated conclusion regarding the attacker's motive.
The Pakistan Tehreek-e-Insaf says a well-thought-out narrative was chalked out to give the assassination attempt the cover of religiously-motivated crime.
The purported CCTV footage, which surfaced on social media on Thursday, appeared to show the District Police Officer Gujrat handing the Station House Officer his mobile phone, apparently directing him how to record video of the attacker during his 'confession'.
The alleged CCTV footage shows the date November 3, 2022 and timestamp of 5:28 PM.
Also read: Salman Taseer type plan was hatched for my assassination, says Imran
The video clip was being widely shared on Twitter, including by PTI activists and members of its social media wing.
The PTI chairman has accused the PML-N-led government of hatching the failed assassination plot which, he claimed today, was similar to the murder plot of slain former Punjab governor Salman Taseer. He said that a conspiracy was hatched to put blame of his murder on religious fanatics.
The former premier claimed that two plans were made to assassinate him.
"After failure of the first plan, plan B was made under which Salman Taseer type murder plot was hatched so that they could put a blame of my murder on religious fanatics," he said.
COMMENTS
Comments are moderated and generally will be posted if they are on-topic and not abusive.
For more information, please see our Comments FAQ