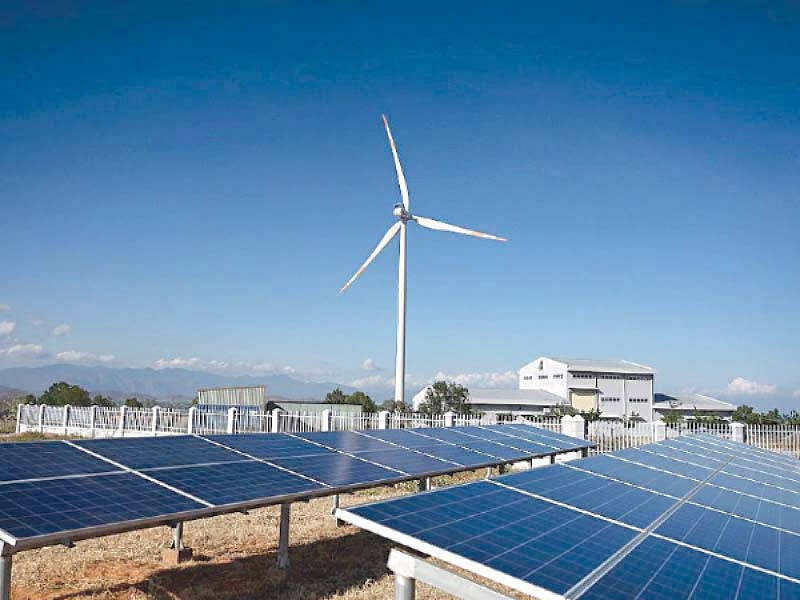 ---
Climate-induced calamities are one of the biggest driving forces behind the move towards alternative sources of energy. For a developing country like Pakistan, costs associated with climate change can be unbearable.
The recent floods that swept through the country inflicted more destruction than was ever imagined. They also contributed significantly to the economic downfall with the estimated cost of damages going up to nearly $40 billion; a frightening number for a country already struggling to survive economically.
Moving towards green energy, however, isn't just a healthier option – it is also a cost-effective one. Hydel, wind and solar-powered projects, considered renewable, clean and green sources of energy, carry no fuel costs in power tariffs with significantly lower cost of power production than that of dirty fuel-based power plants.
Independent Energy Expert, Ammar Khan believes that these solutions can also help Pakistan carve a path leading out of circular debt. "Since renewable energy projects don't use any fuel, an increase in the number of green projects will help the country gradually take control of the burgeoning circular debt and capacity payments as well," he said.
"Our circular debt (standing at Rs2.47 trillion in March 2022) is mostly recorded on part of fuel payments. This can be minimised. However, capacity payment (fixed maintenance cost and guaranteed rate of return) issues will remain in place until older projects reach retirement age or demand for power goes up in the country," said Khan.
According to the National Electric Power Regulatory Authority (Nepra), "During FY 2021, net foreign direct investment (FDI) in the power sector rose to $911.7 million from $765.6 million in the previous year. However, more than half of these investments (56%) were in the coal sector (SBP FDI, 2022).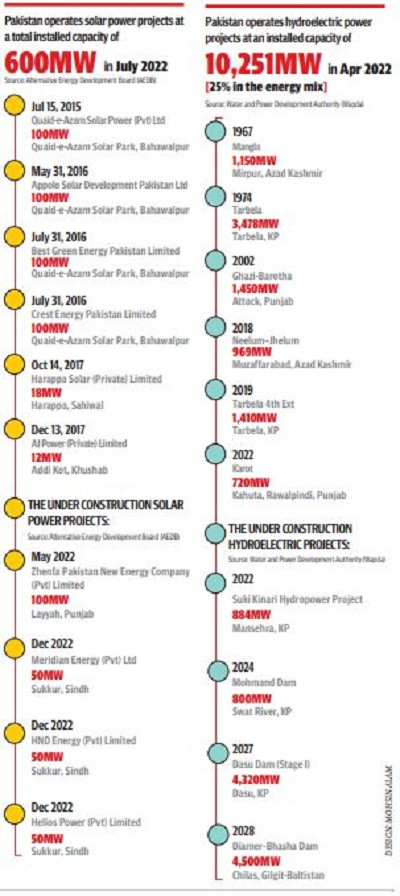 As of June 2021, the total cumulative investment in renewables (including foreign and domestic) amount to $4,796 million, of which $786 million was in solar, $3,752 million in wind, and $258 million in bagasse. The expected investments for upcoming renewable energy power plants (solar, wind, and bagasse) over the next two years stand at $866 million.
The estimated investment to expedite the hydropower potential for the next 10 years stands at $12.98 billion." While the shift to renewables has been gradual and ongoing for many years now – the impact of these shifts can be seen now, exhibiting incentives like long-term monetary gains and climate impact prevention.
Data released by Nepra shows power produced via fuel-based plants in October 2022 carried a fuel cost in the range of minimum Rs1.07 per unit to Rs33.70 per unit – depending on the kind of fuel being used – coal, gas or furnace oil.
The fuel cost in power production hovered around Rs5 per unit before the global fuel crisis emerged in the wake of the Russia-Ukraine conflict. Luckily, between the 1960s-70s, Pakistan set up giant hydroelectric power plants, Tarbela and Mangla, that helped shield the country from paying an even higher cost for energy.
Another hydroelectric power plant from which the country is now reaping benefits is the Neelum-Jhelum plant set up in 2018.
HYDROELECTRIC
Pakistan's history of a boom and subsequent bust in the energy sector, however, is almost cyclical – and has prevailed even when the installed capacity is in surplus. Most of these projects came into being when their investors were offered friendly energy policies and incentives.
So, even though they provided surplus capacity – their incentives added to the financial crisis. The government of former prime minister Imran Khan, however, seemingly broke this curse by raising the required capital from the international market. In 2021, to construct the $14 billion Diamer-Bhasha Dam, for example, Khan raised $500 million.
The construction of the dam was first proposed in 1998 – by then prime minister Nawaz Sharif – but continued to face delays due to the non-availability of the required funding. President Pervez Musharraf also attempted to raise funds for the project during his eight-year regime. At present, the dam is in its preliminary construction phase and is expected to be complete by 2028.
The dam will add 4,500MW of hydroelectric power to the system. Similarly, the construction of the Mohmand Dam started in 2019, during the first year of the PTI government being in power. This project aims to add 800MW of hydroelectric power to the grid and is scheduled for completion in 2024.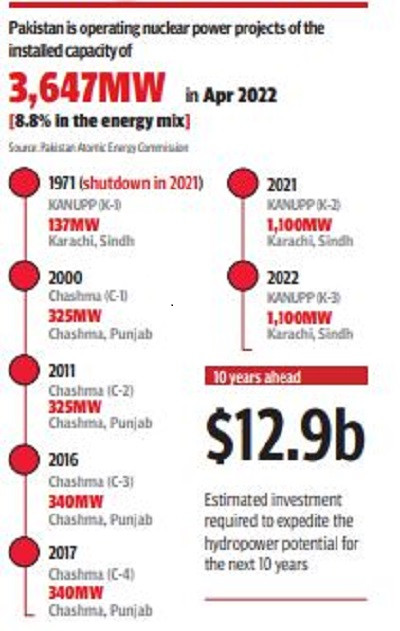 In 2018, under then prime minister Shahid Khaqan Abbasi, the Tarbela hydroelectric power project's installed capacity was increased by 1,410MW to 4,888MW; the fourth extension of the hydropower project. The fifth extension is currently ongoing and will increase its installed capacity to 6,298MW. Data from the Sustainable Development Policy Institute (SDPI) suggests that the share of renewable energy in Pakistan currently stands at 5%. The share of hydroelectric power generation in the energy mix stood at almost 25% (10,251MW) in April 2022.
In October 2022, the cost of fuel dropped to Rs9.02 per unit, a reduction that was led by an increase in generation from cheaper sources like hydel-based generation that rose by 20%, compared to the same month last year.
SOLAR
One of the most recent steps being taken in the 'green' direction is the Indicative Generation Capacity Expansion Plan (IGCEP) 2022- 31, launched by the National Transmission and Despatch Company (NTDC) under the Ministry of Energy.
The initiative aims to add over 8,000MW from solar to the national grid over the next 10 years. More recently, Prime Minister Shehbaz Sharif invited Turkiye (formerly known as Turkey) to invest in solar projects of 10,000MW across Pakistan.
In October 2022, the CEO of the Alternative Energy Development Board (AEDB), Shah Jahan Mirza said that the government was to announce a special scheme to establish solar parks and promote renewable energy, aiming to install solar plants of 6,000MW.
SDPI data shows that, in July 2022, the total installed capacity of solar and wind projects in Pakistan stood at 600MW and 1,985MW respectively. Clean energy, however, has its own share of problems. While solar and wind projects may be more affordable, they operate depending on the strength of the sunlight and winds.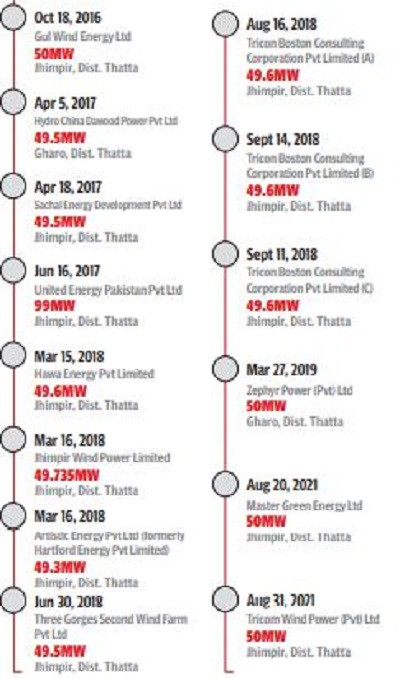 For example, in 2015, the 100MW Quaid-eAzam solar project was established in Punjab at a cost of $131 million ($1.31 million per MW). Due to the dust and smog, however, the project is only able to produce 18.5% power against the 100MW installed capacity.
According to Nepra, seven years later the cost of setting up Zorlu Solar Pakistan, a 100 MW solar project in Punjab, was 42% lower – at $75.58 million (almost 76 cents per unit). Similarly, the cost of constructing wind power plants, is even cheaper than that of solar power plants.
According to Nepra, the tariffs determined for wind power plants in the last decade have reduced from Rs12.77/kWh to Rs6.39/kWh.
NUCLEAR
While nuclear electricity is not counted as a renewable source of energy yet, the cost of fuel in the production of power from nuclear power plants stands to be the lowest among all fuel-run power plants. In October 2022, the cost of fuel in nuclear power output came in at Rs1.07 per unit. At present, there are six nuclear power projects operating in Pakistan.
The share of nuclear energy stands at 8.8% (3,647MW) in April 2022. While experts concede that the government has planned the energy shift initiatives well, problems occur when the implementation phase begins. Programme Manager of think tank Renewable First, Mustafa Amjad says, "While the government has taken a step in the right direction by announcing the IGCEP 2022-31 and the Alternate and Renewable Energy Policy that targets increasing the share of renewable energy (excluding hydel) to 20% by 2025 and 30% by 2030, their progress is slow."
One of the reasons for the slow-paced progress is that the government has not opened the projects up to investment from the private sector and is instead based on a government-to-government (G2G) level – pegging progress to political indicators. Either way, Energy Expert, Ammar Khan believes, "We are far, far away from meeting the set goals of 20% renewables in the energy mix by 2025 and 30% by 2030," indicating that over the next 10-20 years, the country will continue to depend heavily on fossil fuel-based power projects.
COMMENTS
Comments are moderated and generally will be posted if they are on-topic and not abusive.
For more information, please see our Comments FAQ