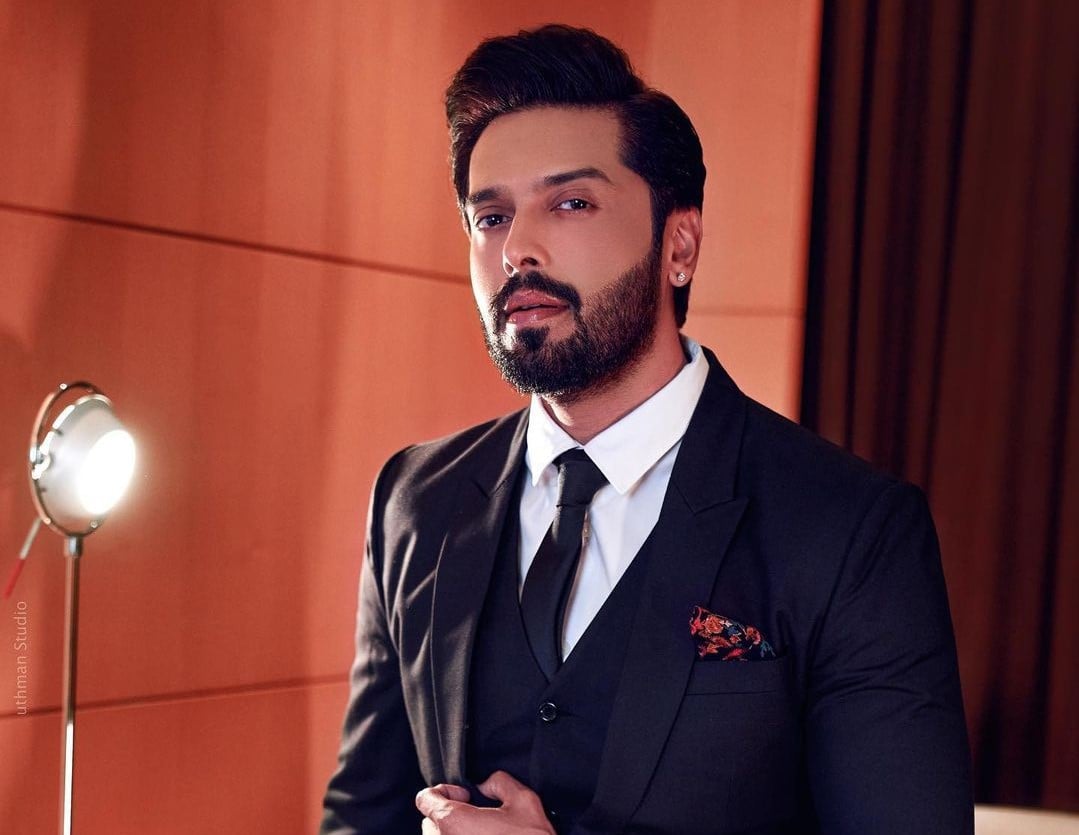 ---
Amid divorce rumours, the much-anticipated talk show hosted by the celebrity couple, Sania Mirza and Shoaib Malik, premiered on Sunday with actor-host Fahad Mustafa as the first guest.
From being known for his impeccable hosting to what goes around in the film industry, the Actor in Law star spilled the beans in a candid conversation.
Mustafa, who has delivered several hit films, revealed that a majority of people know him in Pakistan as the Jeeto Pakistan host and not as an actor. Speaking about how he made the switch from acting to hosting, he confessed that it was all about money.
The Na Maloom Afraad actor said, "Pakistan is a very tricky country when it's come to the showbiz industry. People fear taking chances because there is always a first in everything. There was a time when people used to stop actors from hosting because they believed hosting ruins acting careers, so I was hesitant but it worked for me."
He added that his heart lies in films only, but Fahad then revealed that even after he had done a good number of projects and garnered fame, he still didn't have enough money. "I switched to hosting because I wanted to make money. I had been acting for quite some time, people knew who I was. I had a name but I wasn't making enough. Hosting changed many things for me."
Shoaib argued that he never would've figured that hosting wasn't a passion for Fahad. "That is the art, my love. I'm an actor," he replied slyly. "My energy on set never goes down because the money never comes down." Fahad further added that regardless of why he started hosting, he can't deny that it was the talk shows that puts him on the map, and even overshadows his blockbuster films.
About what annoys him while hosting, he named smartphones. "Lately, phones have been annoying me. As an actor, a public celebrity, phones are too annoying, I wanted to be famous, there was a time I'd wish for a certain kind of fame but now this fame has become a little ridiculous," he said and the host agreed. "We have become too approachable now. The stardom feels tangible. As kids, we could only dream about the regular lives of the stars. Now we don't have to wait for an interview, it's all on the feeds," retorted Sania.
While TV productions and hosting are all money-making games for Fahad, films still take priority in his glittering career. "When you see yourself on the big screen, in the cinema, you don't want to see yourself on TV or even on phones. There's no match for the cinematic experience. I don't even like working for online portals and streaming sites. It is straight up the big screen that I truly enjoy," stated Fahad.
The renowned star has been in all of Nabeel Qureshi's films except for Khel Khel Mein and he had an amusing story to tell about that. "I was working on a production for myself. I got the script ready and one day, Nabeel walked into my office and said he has this idea. You won't believe how in sync we are, it was almost the same script. To save money, I gave him the script," he recalled. "He went ahead with it, made a film, took someone else and it didn't work. Just that one film of his."
Jokes apart, the Main Abdul Qadir Hoon actor shared that while he truly does enjoy films, he feels that the local industry needs filmmakers that understand what audiences need. "Humayun and my films do great here. If there are one or two good filmmakers in the country, then films take time. There can only be two films a year that are good."
About time and work in this fast-paced world, Fahad revealed that a lot of people have refused to star in his productions before and he blames the social media world for it. "There's so much choice now. People can make money on Instagram, and TikTok too. They say no to films because they only care about quick money. I think people have stopped enjoying the craft and the time it requires to bring quality. They're doing it for different reasons, not for the love of stardom and your work," he said.
Without taking any names, the actor went on to add how he wants his colleagues to work in Hollywood and Bollywood but only when they actually enjoy doing what they're asked to, and not for the sake of it.
Upon why he doesn't cast himself in his productions, he quipped, "When I do films, someone else is investing so I don't want to risk that, to be honest." He continued, "About dramas, it's been 10 years that I haven't done them and that's not changing anytime soon. I've realised my love for films."
Concluding the show with some music and rapid-fire questions, Fahad had to choose between Mehwish Hayat, Saba Qamar and Yumna Zaidi for best actor. He chose his Quaid-e-Azam Zindabad co-star Mahira Khan above all three and Mehwish came second for the success she brings with her films.
COMMENTS
Comments are moderated and generally will be posted if they are on-topic and not abusive.
For more information, please see our Comments FAQ