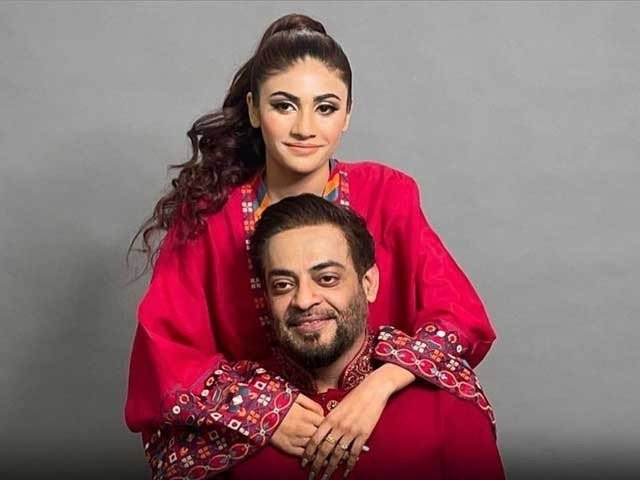 ---
KARACHI:
The Federal Investigation Agency (FIA) officials on Friday missed the judge by few minutes as they brought Dania Shah, the third wife of the late televangelist, politician and TV anchor, Dr Aamir Liaquat Hussain, to court for seeking her physical remand.
The court officials told the FIA team that the judge has left and they will have to bring the suspect on Saturday.
She was arrested by the Federal Investigation Agency (FIA) from her home in Lodhran district of Punjab.
Dania has been arrested on the complaint of Dua Aamir, daughter of Dr. Hussain, for releasing an "obscene" video clip of the late televangelist to cause him mental distress.
In the video clip Dr. Hussain purportedly featured nude after consuming some drugs. The video was leaked a couple of days after news broke of the dissolution of Dr. Hussain's third marriage to Dania.
According to the FIA, Dua's complaint was verified and an enquiry was initiated for further investigation. During the enquiry it came to light that Dania had shot "obscene" videos of Dr. Hussain "with the intention to humiliate him" and during several YouTube interviews, she displayed the same clip.
The case was registered under Sections 20, 21 and 24 of the PECA, 2016 on October 10, 2022.
The interim charge sheet was submitted before a court on November 1.
Dania was arrested by a team of FIA's Cyber Crime Wing from Karachi. She was presented in court in Karachi to obtain her remand.
However, the court staff informed the FIA officials that the judge had left after the court time was over, and she would be produced for remand on Saturday.
Dr. Aamir Liaquat Hussain, a former MNA, passed away in Karachi on June 9, 2022.
Published in The Express Tribune, December 17th, 2022.
COMMENTS
Comments are moderated and generally will be posted if they are on-topic and not abusive.
For more information, please see our Comments FAQ