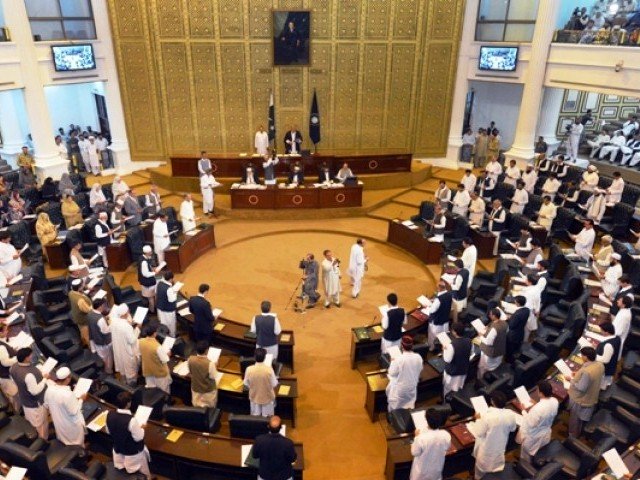 ---
PESHAWAR:
Opposition and treasury benches in Khyber-Pakhtunkhwa (K-P) Assembly hit out at the bureaucracy for not filing detailed answers to the house.
They said that it is the duty of the departments to answer all questions raised by lawmakers and representatives of all the departments should be present in the assembly session.
Lawmakers alleged that the bureaucracy attends the chief minister's meeting but doesn't pay heed to inquiries made in the assembly.
The speaker on this occasion ordered a proper inquiry within a week, adding that the report should be submitted to the house. The K-P Assembly resumed its session on Tuesday with Speaker Mushtaq Ghani in the chair.
The house passed Bank of Khyber (Amended) Bill 2022.
Shagufta Malik of Awami National Party (ANP) on this occasion pointed out that the home and tribal affairs department had been asked to submit details of the transgender persons killed in the province since 2013 but the department didn't submit a detailed reply.
She added that the standard operating procedures (SOPs) introduced for transgender persons have not been finalised and the transgender bill is yet to be tabled. Besides, the registration of trans-persons has also not been done.
Special Assistant to CM on Home and Tribal Affairs Babar Saleem Swati replied that the department has been asked to submit replies.
Finance Minister Saleem Taimur Jhagra said that submitting detailed replies to the queries is the responsibility of the administration, adding that the officials should make sure their presence at the house like the CM meetings.
"There should be a senior representative of every department in the house and it is their responsibility to submit replies to the questions," he noted.
The speaker on this occasion showed his dissatisfaction and anger on the issue and directed Babar Saleem Swati to seek explanation from the home department.
He said that an inquiry should be conducted within one week and its findings should be submitted to the house.
He ordered sending the queries to the standing committee.
Pakistan Peoples Party (PPP) lawmaker Nighat Orakzai walked out from the session as a protest against delay in ration allowance for K-P police announced by Chief Minister Mahmood Khan on martyrs' day.
She raised the issue during the question hour and said that even after a lapse of months since the announcement the issue was pending and then walked out of the house. Later she returned and joined the session.
COMMENTS
Comments are moderated and generally will be posted if they are on-topic and not abusive.
For more information, please see our Comments FAQ