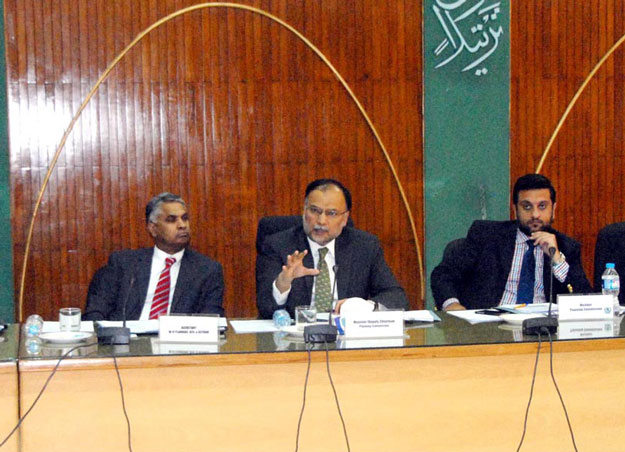 ---
ISLAMABAD:
The Central Development Working Party (CWDP) on Monday approved six projects worth Rs47 billion for the youth of the country.
The meeting of the CDWP was under the chairmanship of Federal Minister for Planning Development and Special Initiatives Ahsan Iqbal.
"Our approach is grounded in the provision of mentorship and upskilling opportunities to youth which we believe are critical for their employment prospects," planning minister said.
The forum approved a project of Overseas Scholarships for MS/MPhil leading to PhD in selected fields (Phase-III) at the cost of Rs22.214 billion in order to provide opportunities to the students.
Under the programme, 75 scholarships (40 PhD and 35 MS) under the 75th National Independence Scholarships will be awarded to the students and HEC will be the sponsoring agency of this project.
The Higher Education Commission (HEC) has granted NOC to undertake Undergraduate Degree Programmes in the leading engineering technologies like civil, electrical, electronics, mechanical, chemical and IT.
"The goal of the youth internship programme is to increase the marketability, employability and work-readiness of educated youth; break down their barriers for entry into the labour market and accelerate their school-to-work transition," Syed Zafar Ali Shah, the secretary of the planning ministry, said.
The forum also approved the 'Provision of Higher Education Opportunities' for students of Balochistan and erstwhile Fata at the cost of Rs8.66 billion. The concept of the project is based on the provision of higher education opportunities to students from Balochistan and erstwhile Fata through enrolling them in HEC recognised Higher Education Institutions (HEIs) and supporting them by paying their tuition fee and other living expenses.
"The revival of undergraduate scholarships for the students of Balochistan and former Fata will strengthen national harmony and integration," Social Planning Commission Sector and Devolution member RafiUllah Kakar said while highlighting the project.
The scholarships will be awarded in every field of study subject to selection as per population. The project will provide access to 5,000 students (5,000 undergraduate four–five-year BS programme) from Balochistan and erstwhile Fata to the quality education system.
The CDWP also approved Prime Minister 'Ba-Salahiyat Naujawan' Internship Programme, initiated by the Ministry of Planning at the cost Rs4.73 billion. Under this programme, the planning ministry will award paid internships for a duration of six months to all eligible applicants who qualify for the programme through a competitive selection criterion. Following their selection, the ministry will facilitate the placement of interns on positions relevant to their skills and industry in host organisations spanning across the public, private and development sectors.
The interns will receive a stipend of Rs25,000 per month. A total of 30,000 internships will be awarded through the one-year programme. Upon the successful completion of their internship, interns will be awarded an internship certificate by their host organisation and the ministry.
COMMENTS
Comments are moderated and generally will be posted if they are on-topic and not abusive.
For more information, please see our Comments FAQ