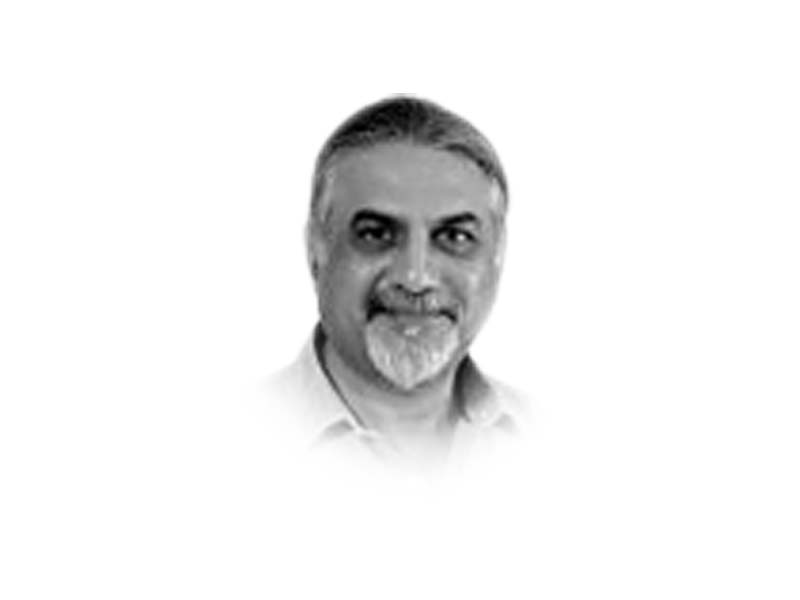 ---
The current political situation in Pakistan represents both risks as well as opportunities. Superfluous, unnecessary and untidy politics has consumed us as a society; and politics, instead of being the art of the possible, has become a playing field in which mediocrity is ruling supreme. Direct pressures, bribery and blackmailing are the proffered tools being used to turn around and shape political preferences. Ironically, it is Pakistan's younger generation which is also witnessing how politicians can be coerced and induced to make political choices that may not necessarily be their own. What does this mean for the future of this country and the generation which has to participate in that future and take this country forward?
We need powerful leadership and only under such a leadership can the country progress. Whosoever considers himself to be that leader must clearly take position on some of the factors that we have been zigzagging about? Our close ally and friend China is a superpower but its Chinese Communist Party under the leadership of President Xi Jinping has taken clear position on some of the factors that ultimately define their core national interests and basing on which China formulates its foreign policy. China is very clear about what it fears. Its greatest fear is subversion — it does not want the power and authority of its political system to be subverted. President Xi considers that Western countries are constantly conspiring to infiltrate, subvert and overthrow the CCP. To protect it, China goes to any length, and what to the outside world looks like coercive measures are actually its way of dealing with what it considers is the outside world's propaganda and interference in its internal matters and how the outside world wants the Chinese political system to fail. What is our fear? Our greatest fear comes from extremism and radicalisation that has gradually crept into our society. Like China we also are threatened more internally than externally. We must as a state take a clear position against extremism and radicalisation for if we continue to suffer from this fear, we should forget about making any progress in becoming a modern welfare state.
China is clearly sympathetic about Russia. The reason of its sympathies is historical and much to do with the question of why Soviet Union disintegrated and why the Soviet Communist party collapsed. China sees in past Soviet Union a future that it wants to avoid at all costs. President Xi considers Mikhail Gorbachev as the person who was responsible for setting the stage for the dissolution of Soviet Union. Had it not been for Gorbachev's perestroika (reconstruction) and glasnost (opening), the Soviet Union might still have survived.
When I think about my own country and whom we should sympathise with, the only thing that comes to my mind is our people. The people of Pakistan have long been mistreated by the state and unless the state doesn't realise this soon and throws up a powerful leadership to address the woes with which the people suffer, we may have bigger problems on our hands than the ones that we are currently dealing with.
Then there is this core desire that China has the desire to unify Taiwan with mainland China. Our core desire is also the unification of the Indian-occupied Kashmir with the state of Pakistan or an independent Kashmir depending upon the wishes of the people of Kashmir. The only difference in attainment of this desire is that China is biding time and hasn't so far aggressed against Taiwan but we have fought three wars with India on the question of Kashmir. Every time we did that we were thrown backwards in time and only struggled to run our subsequent economy and the country.
There is also this Chinese hostility against the US. China questions all American trends and considers most of them as false. Chinese values, it considers, are at tangent with the western values including its constitutional democracy and the concept of civil society, independent media and economic neoliberalism. Pakistan's hostility against India is also not built on false notions. Indian attempts to isolate us and consistently accuse us of executing terrorism are acts of propagandising something that India itself very cleverly employs as a statecraft. India's use of the Afghan land for fanning separatist movement in Balochistan and pushing proxies into Pakistan is no more a secret. What Pakistan can learn from China and its continued hostility towards the US is that China has not brought this hostility to a point where it starts negatively affecting its economy and growth. In case of Pakistan, we have Kargilled ourselves into global isolation and have lost our credibility at the global stage.
China also demonstrates complete confidence in the ultimate victory of communism over the capitalist west. All policies framed by CCP are aimed at achieving this end. Speaking to the members of the CCP's Central Committee, President Xi said, "Facts have repeatedly told us that Marx and Engels' analysis of the basic contradiction of capitalist society is not outdated, nor is the historical materialist view that capitalism will inevitably perish and socialism will inevitably triumph outdated. This is the irreversible overall trend of social and historical development, but the road is winding. The ultimate demise of capitalism, and ultimate triumph of socialism, will inevitably be a long historical process."
China is working on the Marxist political philosophy of step-by-step accumulation of quantitative increases which will eventually lead to a qualitative leap. Its strict adherence to the policy of non-interference in other countries' matters and also its step-by-step reach-out to the outside world including the Latin American and African countries through its BRI initiative are indicative of its adherence to this Marxist political philosophy. In case of Pakistan — considering that we are neither an economic giant like China nor do we have an economic and military power like China — scope of our conclusion unlike China should be limited. For the sake of our politicians and our leaders, I can define this conclusion for Pakistan as seeking to become a modern welfare state. This conclusion is not global like China but is clearly something that we can reach out to and which is within our grasp.
Published in The Express Tribune, December 4th, 2022.
Like Opinion & Editorial on Facebook, follow @ETOpEd on Twitter to receive all updates on all our daily pieces.
COMMENTS
Comments are moderated and generally will be posted if they are on-topic and not abusive.
For more information, please see our Comments FAQ