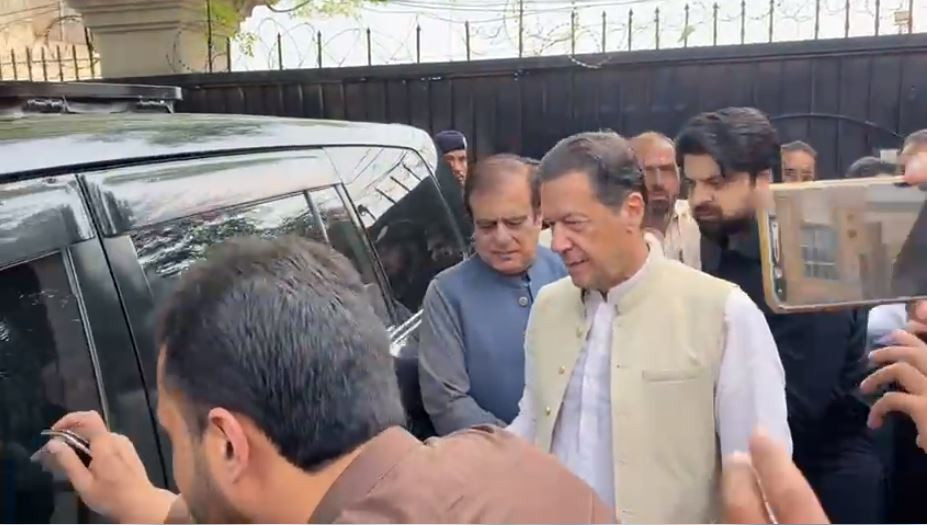 ---
ISLAMABAD:
The Islamabad High Court on Thursday issued its detailed verdict in the contempt case against PTI chairman and deposed premier Imran Khan for threatening Additional District and Sessions Judge Zeba Chaudhry, observing that it was satisfied with the former prime minister's apology and thus dropping the charges against him.
A five-judge larger bench, comprising [then] IHC Chief Justice Athar Minallah, Justice Mohsin Akhtar Kayani, Justice Miangul Hassan Aurangzeb, Justice Tariq Mehmood Jahangiri, and Justice Babar Sattar, observed that such a speech was not expected from a political leader.
However, it added that Imran had appeared in court and expressed regret over his words.
It further noted that the PTI chief had also visited the court of Judge Zeba to apologise.
"Therefore, there was no reason not to give the benefit of doubt to Imran Khan's conduct," the detailed verdict read.
"Imran Khan's attitude, explanation, apology and especially his appearance in the court of the district court judge showed his good intentions," it added.
Earlier on October 3, the IHC withdrew the show-cause notice issued to the PTI chairman in the case pertaining to "threatening" Judge Zeba in a speech on August 20.
"Satisfied with Imran Khan's apology, there is no reason to pursue the contempt of court proceedings further," the verdict read, adding that the show-cause notice issued against the PTI chief was being withdrawn and he had been discharged from the case.
However, in the detailed judgment, Justice Kayani disagreed with the paragraph about the "benefit of the doubt" and wrote a note of dissent.
Justice Kayani noted that Imran was not indicted. Therefore, he added that it would be fair to say that he had been "pardoned".
Justice Sattar wrote an additional note on the same paragraph.
In his opinion, Imran's speech contained details of judicial and criminal contempt and he had acknowledged the act of delivering a provocative speech.
Justice Sattar observed that the country was in the throes of polarisation with rival political parties finding it hard to employ a discussion and debate within the executive and legislative branches of the State to resolve their disputes in a year leading up to general elections.
"If the judiciary were also denuded of its ability to resolve disputes between the State and citizens or between rival political parties, there would remain no institution capable of issuing declarations of legality within the four corners of the Constitution," the judge noted.
"In this context, any attempt by a political actor to pressurise and intimidate the judiciary into producing favourable decisions, and bringing the administration of law into disrepute and the judiciary into hatred or ridicule could not be shrugged aside as being of no consequence," he added.
Justice Sattar wrote that it was under these circumstances that he was discharging the case against the PTI chief under Section 18 instead of "benefit of doubt".
COMMENTS
Comments are moderated and generally will be posted if they are on-topic and not abusive.
For more information, please see our Comments FAQ