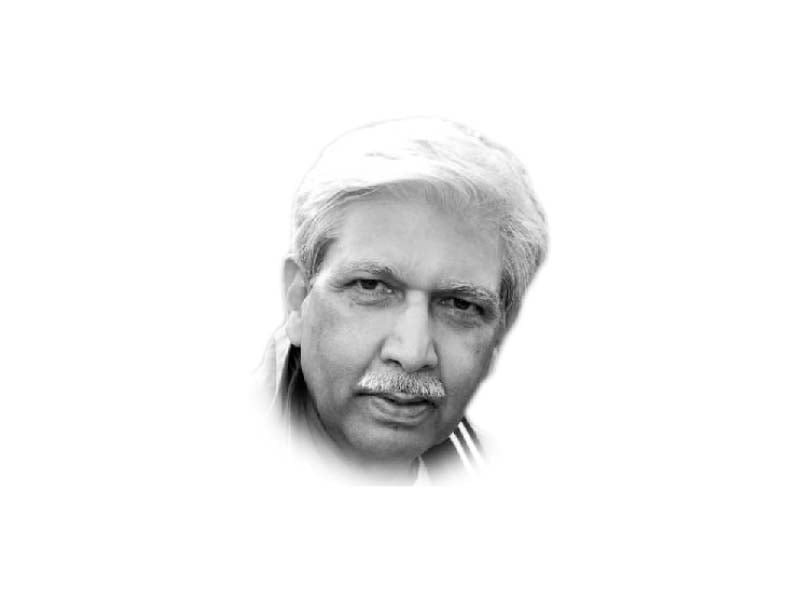 ---
The deed is done. The one we were apprehensive would manipulate another extension did not do so as conspiracy theorists weaved yarn after yarn on how it was in the works. And lo and behold another one was appointed, again without much fuss. The President did not throw the summary back at the PM and the military did not take over to ensure that only their man made it. Incidentally, how did the detractors know who was whose man and choice? And why even bother? An administrative step of appointing the army chief went through its paces and one was appointed fulfilling all necessary requirements and processes.
The summary, yes 'the Summary', was a bit of an enigma. Had it arrived or had it not? When would it arrive? Why hadn't it arrived? And then one evening after all this hullabaloo, "What is a Summary?" incidentally. There was some confusion about the dossiers too till someone thought it wise to check what was it and if it had legs too. All in all, the army, its retiring chief, its incoming chief, its core leadership and sadly their families in the end, all became a fair-play for the news-cycle for long enough for the institution to ponder if it is indeed worth it.
Having been a 'part of the system' helps to know the triggers to such obsessive compulsion beyond constitutional responsibility. But such proclivity hardly ever gives thought to the debilitative damage it will cause the institution to bear. Hundreds of thousands who serve the armed forces take pride in this association and their mission. The army leadership will need to shed this propensity the soonest to keep that faith alive. Running an army on discipline alone is becoming impossible. Faith in the mission and its puritan and altruistic purpose along with discipline gives an armed service the commitment and professionalism it attaches to its conduct. The distortion which has crept into the system needs to be rectified forthwith.
The morning after though was still the morning after. We were knocking at the door of a Credit Default Swap rating of over 100 — which means rating agencies consider Pakistan incapable of returning the investment on its Bonds. This in technical terms is default — real and nigh. The banks have already refused to underwrite any Letter of Credit. The State Bank could not pool 400 million USD as assurance money to import much needed diesel for the winter month of December. State Bank reserves effectually belong to bilateral donors who can call on them at an instant which really means you can park it but not use it. IMF isn't loaning because our machoistic bluster and ill-informed, populist rhetoric means others will simply step away when they see us delirious.
A change of the army chief did not alter any of this. If anything, he walked into a situation where the immediate past was frightful and the 'ground reality' precarious. His list of tasks in his professional role is already exhaustive and becoming increasingly more complex and complicated. Another Radd ul Fassad looms. A fragmented national landscape weakened to its limit by an even worse economy means those wanting to do harm may just find the moment opportune. He must ensure that Pakistan remains a secure and safe land for its people against such heinous and opportunistic designs and its territorial integrity and sovereignty are safeguarded against all kinds of threats, internal and external. Internally though the call is for the sitting government to make for assistance per constitutional provisions lest it be considered 'overzealous'. This is the raison d'etre of the armed forces and their mission outlined in the constitution.
All kinds of pressures will begin to fill the chief's days ahead as he simultaneously struggles to restore some institutional credibility. There are those on both sides of the political divide spoiling for a fight by coaxing the army back into the fray in the garb of either containing an alleged protégé — there is sufficient cause to suggest it was the case — and malign it further by keeping in the melee. The new leadership must be judicious and prudent on these counts. And then there is that wider expectation that the country be somehow held together against all centrifugal pulls and healed, the politicos made to agree to work together to find a way out of the political impasse, the economy nurtured to recovery; and the state kept on an even keel while still appearing democratic.
When the army assumes these as organic undertakings it violates many a covenant weakening democracy and its institutions. The inherent presumptiveness in the conduct is not only devoid of substance it is also offensive to many since the military remains patently ill-equipped for complex processes in governance. The hybrid system that was experimented with in the last few years has run its course and left only demons behind. Any invitation to help clean stables must be skillfully avoided — despite the allure embedded in corporate memory. PTI's support base among the retirees will need to be told, 'neutral' is good and not animalistic. The good old tradition of keeping politics out must be reinstituted. Corp Commanders, over the years, have turned into parallel Chief Ministers in the provinces; it is time to let the CMs be the real owners of the provinces. It shall also help keep the vice out.
Review the list of what the armed forces helped government achieve in the hybrid set-up: Reqo Diq was favourably resolved; Karkey came to a helpful conclusion; FATF was fully legislated and Pakistan was pulled out of the woods; Covid and Floods were most effectively dealt with and managed; Saudi Arabia and China were engaged to offer helpful financial support; the UAE offered to invest; the US chose to facilitate Pakistan in its difficult parleys with the IMF and won us some reprieve; legislation on GB became possible; Afghanistan got resolved on more or less Pakistan's terms. A fence was put in place to better control our western borders. Radd ul Fassad was successfully completed to win some peace and space for focusing on internal issues. That we remain mired is more because of incomplete and incompetent follow-up. Somewhere along the way politics overrode strategic sense and distracted us. Turmoil and chaos ensued. If terror returns, we know where lies the blame; sadly.
There is so much to learn from this experience and mend. This country belongs to all and isn't the exclusive precinct of the military. It is time for everyone to pull their weight. When we do other people's work as a helping hand, or around national fervour and commitment, or ill-founded obsession, very few consider it Samaritan goodness. Instead, when civil-military imbalance is the staple of most discourse targeting institutional overreach, such excursions make ridicule rife for military. Verbal abuse is now common. The military has a task which must remain its only task. The morning after resonates the same call and same set of challenges. It is time to rise up to them.
Published in The Express Tribune, December 2nd, 2022.
Like Opinion & Editorial on Facebook, follow @ETOpEd on Twitter to receive all updates on all our daily pieces.
COMMENTS
Comments are moderated and generally will be posted if they are on-topic and not abusive.
For more information, please see our Comments FAQ