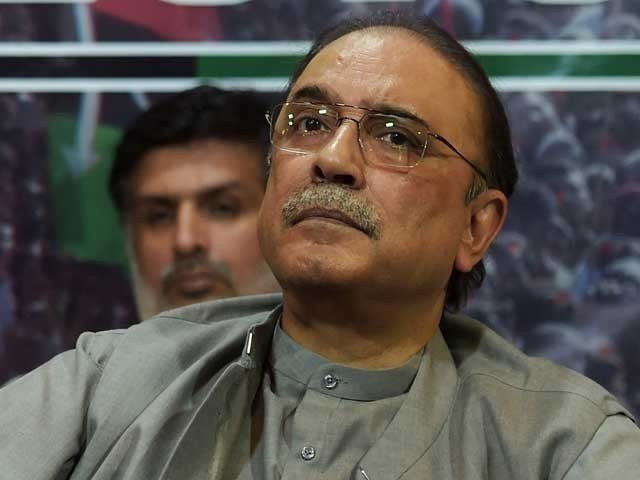 ---
Former president and Pakistan Peoples Party (PPP) Co-Chairman Asif Ali Zardari has said that early elections were not in the interest of democracy, therefore, the government would bring no-confidence motions against the chief ministers of Punjab and Khyber-Pakhtunkhwa (K-P) to prevent dissolution of their assemblies.
Since the announcement of Pakistan Tehreek-e-Insaf (PTI) Chairman Imran Khan on November 26 that he would ask the chief ministers of Punjab and K-P to dissolve the respective assemblies, Zardari has become active to prevent such an eventuality.
In an interview with a private news channel, Zardari claimed that he had more than enough numbers in both the houses to save those legislatures. Besides, the former president said in a lighter vein he could work some magic in the K-P Assembly.
"I have the numbers in hand and I can increase the numbers further," Zardari told the interviewer. However, when it was pointed out that the Pakistan Democratic Movement (PDM) had no significant strength in the K-P Assembly, the former president replied that there were some "disgruntled friends" who would have to be brought back.
When asked about retaining Punjab Chief Minister Chaudhry Pervaiz Elahi, Zardari said that there were many better choices in the province than the Pakistan Muslim League-Quaid (PML-Q) leader. He recalled that "I made him the deputy prime minister" during the last PPP government but now Elahi was at a distance.
Zardari said that early elections were not good for democracy, nor "for us". However, he emphasised that even if the assemblies were dissolved, there would be elections and then "I will see how many MPAs" Imran Khan would be able to get elected.
"If the assemblies are dissolved, we will contest the elections, if these are not dissolved we will continue to play the role of the opposition," he said, adding that it was his endeavour that there were no resignations by the lawmakers and the legislatures continued to function.
Commenting on the PTI government, the former president remarked that Imran-led government was actually collapsing under its own weight. "His [Imran Khan's] thinking is small and not political. If he had taken a wrong decision, it would have been difficult for the nation, for you, for me to live," he said.
"What he [Imran Khan] was going to do, we stopped him. Now, there is a new chapter, a new thinking and we will fight him," Zardari said, stressing that winning or losing were part and parcel of politics and "we have sat in the opposition before, we have been to jail before, we have no problem with it".
When asked specifically, what Imran was going to do that the coalition had to stop him, Zardari said that he could say in parts but not everything because it might break some hearts. "We are the people who win hearts, we cannot break someone's heart."
He discarded the former prime minister's narrative of the US conspiracy and diplomatic cypher. "These are all amateurish things. By waving a leaflet that this is happening in America, why do you want to be in the bad books of the Americans. And why do you want to take Pakistan along with you," he said.
On the question of arrest, Zardari said that Imran Khan might be arrested and disqualified before the coming election. About talks with the PTI chief, Zardari stressed that first the former prime minister must change the kind of language he was using. "If they [PTI] want to talk, let them talk to the government."
Zardari was also dismissive of the notion of Imran's popularity. "What sort of popularity is this, gathering 25,000 people after spending two months and shooting himself." He revealed that the PPP had chosen the Nawab of Kalabagh to contest election against Imran in Mianwali.
About allegations of selling wristwatch from Toshakhana gifts, the former president said that it was Imran's fault if the watch was sold. But when pointed out that he got vehicles from the Toshakhana, Zardari said: "We got the vehicles by paying their prices. We bought the vehicles because those were bomb-proof."
The PPP co-chairman also dilated on the appointment of the new army chief, General Asim Munir. "I do not know the man, who has now become the chief. I only knew General Aamir, who was my military secretary [when I was the president] and he was at number six [in the seniority list]," he said.
"This is the decision of the institution and … the army chief has been appointed on merit," he said. "He [Prime Minister Shehbaz Sharif] called us and asked. I said to the prime minister, 'we [the coalition parties] give you the authority to exercise your constitutional right'," he added.
Zardari admitted that inflation had risen beyond imagination. "I buy a sack of DAP [diammonium phosphate fertiiser] for Rs12,000 which was once priced at Rs1,800," he said but stressed that improving economy took time. "This requires out-of-the-box thinking," he added.
"I have been asking the government for six months to allow sugar export. In Thar, we have coal and China makes gas from coal. China can be given coal to make gas and urea from it and in that way the prices will automatically come down here," he added.
On ties with India, the former president criticised India's ruling Bharatiya Janata Party government, led by Prime Minister Narendra Modi. "They are small-minded people," Zardari said. "They usurped Kashmir as if there was nothing," he added, referring to Modi's illegal actions of August 5, 2019.
However, the former president acknowledged that the way Pakistan spoke on trade ties with India at present, did not "suit us", adding that if the country's exports increased, Islamabad would speak to New Delhi on trade in a different tone.
The former president termed the outlawed Tehreek-e-Pakistan (TTP) a threat to the country. He also discarded any talk of impeachment of President Arif Alvi. "The president is powerless. Any talk of his impeachment is premature," Zardari said.
COMMENTS
Comments are moderated and generally will be posted if they are on-topic and not abusive.
For more information, please see our Comments FAQ