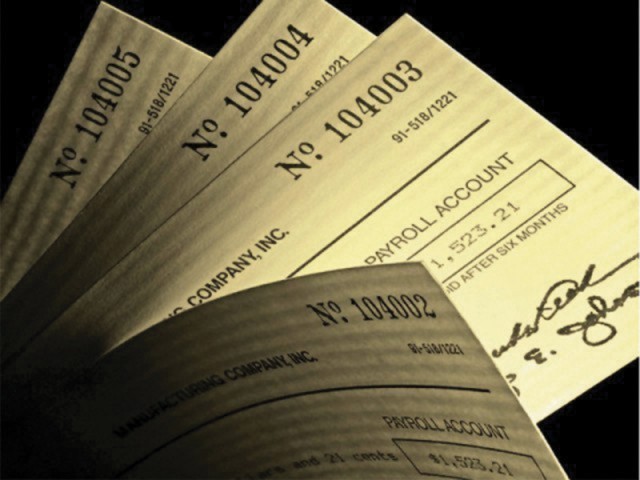 ---
LAHORE:
The Lahore High Court (LHC) is expected to clarify what the law prescribes to place the liability on a company for bounced cheques in any given business matter.
"Neither any law nor any judgment is available which could help in deciding such a matter," observed Justice Tariq Saleem Sheikh on Wednesday, adding that "a company is a legal party, not a person".
As the proceedings commenced, the judge placed a few questions before the counsels seeking their legal assistance on the matter.
"If a company issues a cheque that later bounces, then against whom should the FIR be registered?" the LHC Judge inquired. "How would a director or any authorized person held accountable for issuing the cheques that are issued on behalf of the company, [especially in the case that the cheque is issued by the person] despite being not fully aware of the company's business deals?".
Read Environmental impact of corporate investments reviewed
"How would the liability of bounced cheques be placed on the company that issues them merely as part of a business deal?" Justice Tariq Sheikh added.
The court was hearing a petition for pre-arrest bail by Kabeer Akbar whose company NORD had issued a cheque valuing Rs30,00,000 to DOST Steel Limited wherefrom the former had purchased iron. Later, the cheque had bounced and the affected company registered an FIR under Section 489-F at Sarwar Road Police Station at Cantt.
It may be noted here that Section 489-F of the Pakistan Penal Code (PPC) protects "innocent persons from fraudulent persons who are issuing cheques to defraud their creditors without making arrangements of sufficient funds in their bank accounts".
During proceedings, Akbar's counsel implored the court that his client's company had been facing a huge loss owing to the incomplete delivery of iron by DOST Steel. He argued that NORD had written behind the cheque that this could not be cashed until the delivery was complete.
The judge questioned what the legal value of such a cheque was if a condition was imposed for it to be cashed.
Read more Railways reduces its fares for business community
"Legislation or amendment is required on this matter," the judge remarked, adding that "we have meticulously searched everywhere but found nothing that could provide assistance on this case".
Akbar's lawyer argued that the accused was innocent and he be granted bail while the complainant side's counsel, Moeen Ahmed Siddiqui, argued that the accused deceived them by giving a cheque that later bounced.
"Since that day," said Siddiqui, "the accused has been on the run", requesting the court that the bail of the accused be dismissed.
"If we assume for argument's sake that a company owner authorises his wife to issue cheques, then would she be punished despite knowing nothing about the company's dealings?" the judge pondered before adjourning the hearing.
COMMENTS
Comments are moderated and generally will be posted if they are on-topic and not abusive.
For more information, please see our Comments FAQ