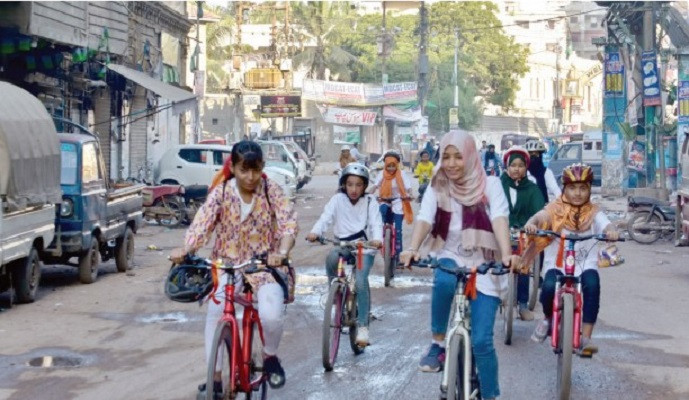 ---
KARACHI:
Lyari Girl's Cafe (LGC) organised a Safe City Girls Cycling Rally titled "A Safe City for All" in collaboration with Water Aid Pakistan.
The rally, aimed at empowering women and create awareness about gender-based violence. The 16- day campaign was themed "Unit! An Activity to End Gender-Based Violence".
The cycling event started from Lyari, passed through the Old City area, and ended at Karachi Port Grand.
In addition, LGC also organised a panel discussion on World Toilet Day 2022 at Port Grand, Karachi, in collaboration with the Water Aid Pakistan.
On this occasion, activities were organised to create awareness regarding inclusive sanitation, environmental issues, climate change, and gender-based violence.
Among the speakers were Rahima Panhoor, Provincial Coordinator of Water Aid Pakistan, and Amar Gharor, Senior Journalist, Professor KS Nagpal, writer and speaker, also spoke on various topics.
On the occasion, Rahima Panhour highlighted the need and importance of inclusive toilets for women and transgenders.
She said that authorities must be serious about how women and young girls face challenges in public restrooms.
Amar Garru said rising water prices due to environmental issues and climate change could lead to unequal access.
During the event, Professor KS Nagpal said women's strengths had been underestimated. Need stressed on equality, respect and equality with women. Hundreds of young girls, women, community members, and cyclists participated in the event.
COMMENTS
Comments are moderated and generally will be posted if they are on-topic and not abusive.
For more information, please see our Comments FAQ