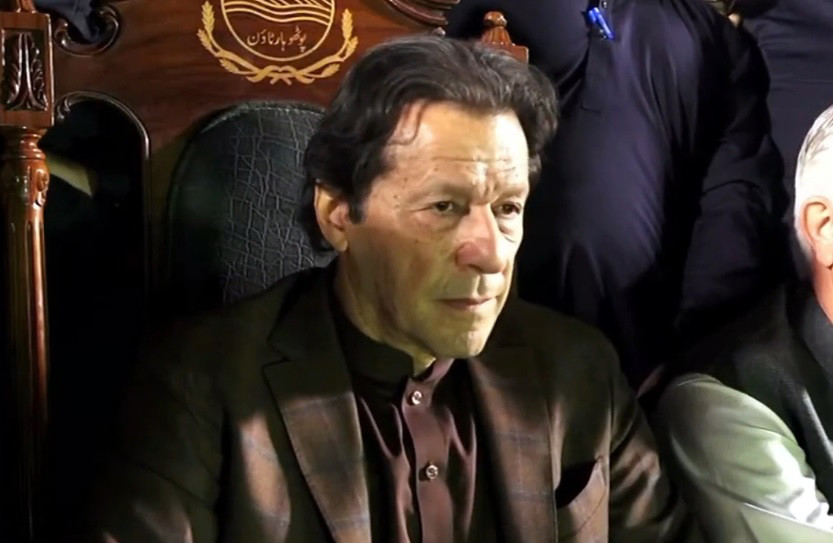 ---
ISLAMABAD:
If the past precedents offer any clue to the future developments, it could safely be said that Imran Khan would avoid the first available opportunity to sit with his long-time rivals – against whom he has drawn clear battle lines over accusations of decades of corruption and treason.
The Pakistan Tehreek-e-Insaf (PTI) chairman's track record shows that he won't shake hands with his political foes any time soon. For years, Imran refused to sit with the Sharifs, Asif Zardari, Maulana Fazlur Rehman and others and even refused to shake hands with them lest it "normalises corruption".
However, it is not the first time and may not be the last time that his opponents have asked him to return to parliament and start meeting his political rivals, including Prime Minister Shehbaz Sharif, his elder brother Nawaz Sharif, former president Zardari, Pakistan Democratic Movement (PDM) chief Fazl and others.
The renewed offer for talks and return to parliament came just a day before the PTI's planned rally in Rawalpindi on November 26, when Interior Minister Rana Sanaullah urged Imran to act responsibly, "stop being stubborn" and review his decision of abandoning parliament.
The interior minister said he was even ready to facilitate his meetings with the Sharifs – Prime Minister Shehbaz Sharif and Pakistan Muslim League-Nawaz (PML-N) supremo Nawaz Sharif – if the PTI chief toned down his confrontational politics and took a step in the direction of reconciliation.
Surprising as it may seem, the interior minister's statement came days after Nawaz categorically instructed Prime Minister Shehbaz not to engage in talks or offer any face-saving to Imran even if he brought 2,000 or 20,000 people to the federal capital.
It's not yet clear if the offer for talks to the PTI chief is backed by the PML-N leadership or if the elder Sharif's instructions have fallen on deaf ears and if Imran would even take the offer seriously.
"Do you think Imran will take Rana's statement seriously," eminent scholar Prof Dr Hassan Askari questioned. He reckoned that the former prime minister probably won't take the olive branch seriously.
"Imran wants election and the government doesn't; what is left to talk between them if they don't budge from their stances," Askari said, adding that the interior minister's statement was a political move or bluff just ahead of PTI's November 26 rally.
Askari added that politicians keep giving statements and pointed out that the same interior minister used to say that he would arrest Imran and other PTI leaders. "If he repeats his offer for talks only then it could be taken seriously, otherwise, politicians keep giving such statements to defuse the other side's narrative."
On the option of returning to parliament, Professor Askari said that the government had kept the option open for Imran and his party leaders by not accepting their resignations since they resigned en masse back in April this year.
Renowned political analyst Zaigham Khan, however, felt that it was Imran who had kept the option of going back to parliament open as he did not fulfil the requirements that could enable the speaker of the National Assembly to approve their resignations.
"PTI lawmakers could have completed the process; it wasn't such a big deal," Khan said. "But they considered it better to keep the option open."
Imran, however, announced on Saturday that he was mulling over resigning from Punjab and Khyber-Pakhtunkhwa (K-P) assemblies, believing that he could force elections this way.
Pakistan Institute of Legislative Development and Transparency (PILDAT) President Ahmed Bilal Mehboob, however, said that if Imran really wanted to dissociate from the 'system', he would also have to make President Arif Alvi, PTI senators and members of AJK & GB assemblies to resign.
"This will be an act of political suicide & doesn't guarantee the capitulation of the federal government to go for early election."
Zaigham contended that Imran could go back to parliament only when he could declare any victory before the public and convince them that he was returning to gain more. Currently, he added, Imran wanted snap elections or a date for it, which didn't seem possible right now, and added that this was the only condition that could bring the PTI back in the ring.
Following the change of command, Zaighan said, there were fewer chances that the military would interfere in political matters, predicting that Imran would continue his rallies. He, however, added that there were more chances that he would lose his momentum.
"At some stage, Imran will have to go back to parliament because the interim government is formed through a consensus of the government and opposition before the elections," Zaigham said. He added that if Imran decided against going back to parliament, he could face severe loss as the incumbent leader of the opposition in the National Assembly, Raja Riaz, happens to be a disgruntled PTI member and might contest the next elections on a PML-N ticket.
It is pertinent to note here that Prime Minister Shehbaz has repeatedly extended an olive branch to his predecessor and even offered talks just a few days before Imran started his long march, seeking a date for fresh elections.
However, despite offers, the PTI chief has ensured that "no sitting or handshake" could take place during his tenure and after his ouster.
It would be interesting to see if he adopts a reconciliatory tone in the coming days or leaves everything to the government. Several PTI leaders were approached for their comments but they didn't share.
COMMENTS
Comments are moderated and generally will be posted if they are on-topic and not abusive.
For more information, please see our Comments FAQ