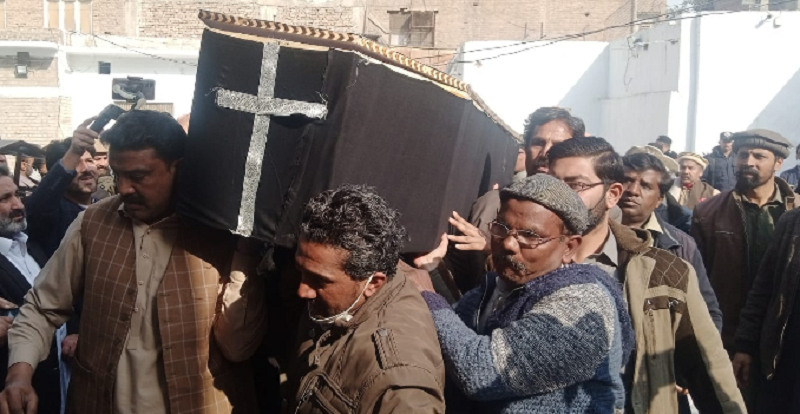 ---
LAHORE:
If living through the current double-digit inflation was not hard enough for low-income minority communities, now even death has become an exercise bound to burn a hole in the pockets of the bereaved.
Funeral expenses were already high for Muslim families and now the inflation rate, which has been going up for some six weeks now, has also impacted those that identify with other faiths. Lahore's Christian, Sikh, and Hindu residents feel that performing the last rites of their loved ones has become difficult since burials or cremation now cost anywhere between Rs 50,000 to Rs 100,000. Kashif Nawab, a social activist from the local Christian community, whilst breaking down the costs, said, "a locally made casket is available for Rs 8,000 to Rs 10,000. Apart from this a shroud, perfume, flowers, and grave fee at the cemetery costs another Rs 20,000 to Rs 25,000. Once you factor in costs like food for the mourners, a standard burial now costs Rs 100,000."
However, given the lack of burial spaces in the Christian cemeteries, these costs are likely to go up, as per Salim Iqbal, a local Chrisitian leader. "Most of our graveyards have minimal space left. Therefore gravediggers exploit the situation by asking up to Rs 8,000 just for the burial site," informed Iqbal. As for the Sikhs and Hindus of Lahore, only children below 12 years of age are buried, whereas the rest are cremated - separate crematoriums have been built for the Sikh and Hindu communities in the Babu Sabu area near the Ravi River. Sardar Bishan Singh, local Sikh leader, talking to The Express Tribune, said that even cremation was costly now.
"10 to 15 maunds of wood is required to cremate a body and these days wood costs Rs 1,000 per maund. After the last rites are performed, prasad is distributed amongst the mourners. All in all, a funeral ends up costing Rs 50,000 to Rs 60,000," said Bishan Singh. Kashi Ram, a priest of the Krishna Mandir in Lahore, concurring with Bishan Singh's information, told The Express Tribune that for the Hindu community in Pakistan, an added cost is sending the ashes of their loved ones to India.
"Some people wash away the ashes of their loved ones in a nearby river or canal but some choose to send them in jars to India, where the ashes can be washed away in the Ganga River," he said, adding that on the other hand, some lower Hindu castes bury their dead instead of cremating them.
Published in The Express Tribune, November 27th, 2022.
COMMENTS
Comments are moderated and generally will be posted if they are on-topic and not abusive.
For more information, please see our Comments FAQ