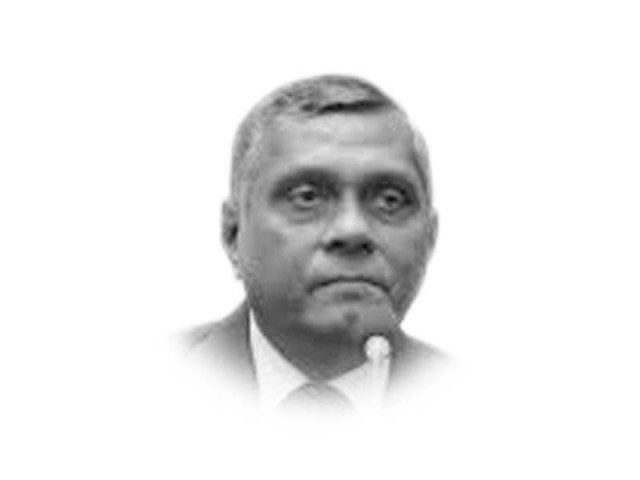 ---
Moscow's relentless use of colossal force to destroy Kyiv's command and control system, including its power installations, is another manifestation of Russia's last attempt to destroy its perennial adversary.
Russia's tormenting of Ukraine has been going on since 2014 when it occupied Crimea. Russia's failure to occupy Kyiv and its back-to-back debacles of losing Kharkiv region in the northeast in September and Kherson in November forced Moscow to retaliate by missile attacks over Ukraine's power plants plunging more than half of that country into darkness. Ruling out negotiations with Moscow, as covertly suggested by the US, President Volodymyr Zelsenky's adviser Podolyak made it clear that "when you have the initiative on the battlefield, it's slightly bizarre to receive proposals like you will not be able to do everything by military means anyway, you need to negotiate. Despite Russia's heavy military defeats in recent weeks, including Ukraine retaking the key southern city of Kherson, President Vladimir Putin still thinks that he can destroy Ukraine, this is his obsession and negotiating with him makes no sense."
Russia as a tormentor by destroying Ukraine's infrastructure and causing displacement of millions of people with its invasion on February 24, 2022 is however unable to achieve its strategic objective by occupying and then giving legal shape by holding referendum in four territories. British Prime Minister Rishi Sunak, during his recent visit to Kyiv, announced providing 55 million pounds worth of air defence system along with other military equipment so as to effectively counter Russian's continuous missile attacks. Yet, there is no let-up in Moscow's unrelenting military pressure, with key Ukrainian nuclear power stations being targetted so as to put people under psychological pressure by depriving them of water and power and making their lives miserable during winters.
How will Russia face international criticism of severe human rights violations and occupation of parts of a sovereign country? Will tilting military balance in the Russia-Ukraine war in favour of the latter culminate into the former's withdrawal from territories it had occupied including Crimea?
The human cost of war in Ukraine could be gauged from the fact that in the last nine months more than 100,000 people from both sides have been killed. Russia has suffered three times more casualties in Ukraine than it had in its 10 years of military intervention in Afghanistan. Billions of dollars of military cost of war along with colossal damage done to the country's infrastructure is another reality. Still, there is no let-up in the war as Moscow still thinks that it can sustain its territorial gains by striking a deal with the West by holding negotiations and getting the guarantee of Kyiv not joining NATO. A neutral Ukraine by giving legitimacy to the Russian occupation of Crimea and four territories in the eastern part of that country will be acceptable to Moscow but not to the Ukrainian people and the regime.
In its editorial, 'Dreams of peace' in the November 12, 2022 issue of The Economist (London) it is stated: "Imagine a victorious Ukraine in 2030. It is a democratic nation, preparing to join the European Union. Reconstruction is almost complete. The economy is growing fast; it is clean and diverse enough to keep corrupt oligarchs at bay." It may appear as a fallacy given the destruction of Ukraine and the bleeding of Russia, but the West has already started doing brainstorming about that future of that war-devastated country by offering a 'Marshall Plan' of rebuilding and reconstruction. The total cost of that plan is around 100 billion dollars which Kyiv and the West hope to retrieve from Russia as reparation, as was done by the victorious allied powers from defeated Nazi Germany after the end of WWII.
It may appear to be a wishful thinking but the ultimate objective of Ukraine and its Western allies is to bleed Russia to an extent that it is forced to surrender; and that it should pay reparations to Ukraine of its occupation, destruction and serious human rights violations. Trying Russian soldiers and officers for war crimes is also a possibility as stated by various Ukrainian officials from time to time.
Russia's tormenting of Ukraine will not work because of three main reasons.
First, the resilience and patriotism of Ukrainian people against the Russian aggression. When Russia attacked Ukraine in February, it appeared that Kyiv will not be able to withstand a superior Russian military and will capitulate. Defiance and the crucial help which Ukraine got from the West paved the way for a systematic strategic planning to give a bloody nose to the advancing Russian forces and launch an offensive to liberate some of the territories, particularly the southern city of Kherson. If Ukrainian military, helped by the resistance offered by people in occupied territories, are able to stop the Russian forces, the outcome will be a new Ukraine capable of protecting its sovereignty from any external threat.
Second, the hatred harboured by the people of Ukraine for Russia will diminish hopes of reconciliation between the two countries. When genocide is a state policy and the aim is to cleanse Ukrainians and replace them with Russians, the outcome will be eternal hostility and hatred among those who suffered a lot. According to a briefing entitled, 'The War in Ukraine' published in The Economist (London) of November 12, 2022: "With each setback, Vladimir Putin, Russia's president, has sought new ways to torment Ukraine. The latest is relentless bombardment that seeks to wreck Ukraine's infrastructure. Residents of the capital have been told that they may have to evacuate if the power grid collapses, halting water and sewage services." More than that, Putin is trying to give another colour to Russia's attack over Ukraine as "he sees today's conflict as a clash of civilizations between Russia and the West."
There is certainly no short cut to ceasefire and subsequent withdrawal of Russian forces from territories occupied in Ukraine since 2014. Diplomacy, mediation and backchannel negotiations could have prevented the Russia-Ukraine conflict from escalating, but the intransigent position taken by the parties concerned tend to further aggravate the crisis. Ukraine has rejected any solution barring the withdrawal of Russian forces and Moscow is adamant that it will not vacate Russian-speaking territories, including Crimea.
Third, tormenting Ukraine has backfired as it is Russia which is facing military debacles, sanctions and international condemnation. The war in Ukraine will only end when one party ceases to exist which means either Ukraine surrenders or Putin's regime is changed. As a result, the world order would be destabilised.
Published in The Express Tribune, November 27th, 2022.
Like Opinion & Editorial on Facebook, follow @ETOpEd on Twitter to receive all updates on all our daily pieces.
COMMENTS
Comments are moderated and generally will be posted if they are on-topic and not abusive.
For more information, please see our Comments FAQ